Review Time! The guys behind Team Revo have created a new portable clone console and were nice enough to send out a review unit to us again. This is the BittBoy!
Play games on the smallest NES/FC handheld.. anywhere, anytime.
The BittBoy surely isn't that advanced like Revo's GameBoy Advance clone console, the K101 you might have read about earlier, but it is more than enough to have some portable gaming fun for an unbeatable price like that! But one thing after the other;
The device comes in a nice reddish styled box together with a micro usb cable for charging and even a AV-out cable if you would want to connect it to your TV.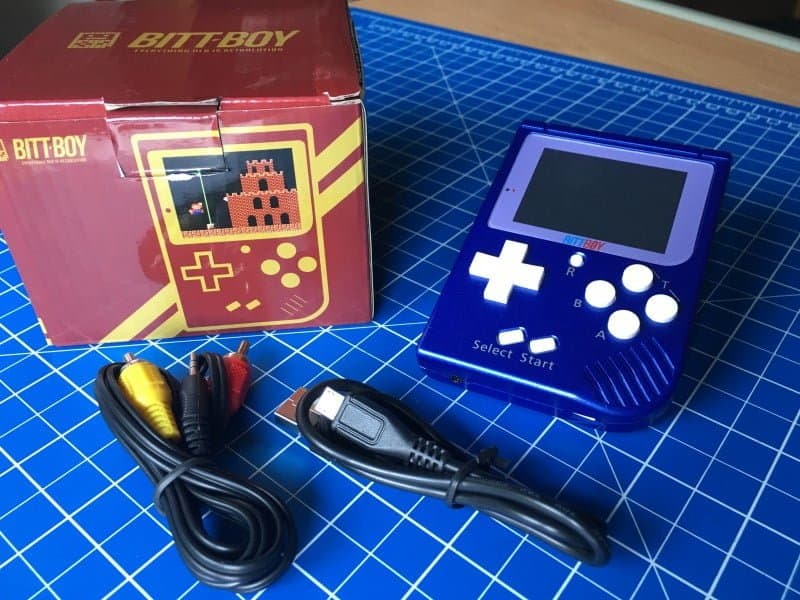 Colors: Blue, Red, White, Black & Yellow
Material: ABS
size at 6.8 x 9.9 x 1.3 cm
2.2″ IPS Display screen
TV Output
Languages: English
Supports FamiCom/NES games
New only English version and no Chinese
500mAh lithium battery
Weight: 200g
The 'Hardware part'
When opening the box my very first thought was; 'still a little bit bigger than I expected' so of course the first thing I had to do was comparing it to my GameBoys. But I will get back to that later..
On the top we have the power switch, on the right side a volume wheel and on the bottom there is the USB charging port as well as the TV out port.
For the buttons they are okay, maybe a little loud and especially the D-Pad sometimes feels a little bit clumsy but all in all working just fine. I have to admit I had to smile a little bit when taking a closer look at the Start & Select buttons, as they feel exactly like they do on a real GameBoy. What I mean is that they aren't as responsive as the rest and you sometimes aren't sure if the pressure was enough to make them trigger. (If you owned a GameBoy before you know what I'm talking about!) Anyways, lets move on..
The lithium battery can be accessed easily at the back and actually is the exact same one used in a regular GameBoy Advance SP! So thats pretty nice if you want to have some extra batteries with you. Although one battery will have enough power for 2-3 hours of gaming.
Without a doubt the Nintendo GameBoy was one of the most successful portable consoles ever and has had a lot of clones with a striking design resemblance within the years. Well, so does the BittBoy, BUT here comes the plotwist: The BittBoy doesn't run GameBoy Games! Thats right but it rather has 300 built-in NES classics, FamiCom and even some bootleg games.
Now as you may have noticed; Why is there a hole on the top which looks to be an SD card slot?! Sadly this one isn't in use at all. (so don't try to stick a card in there as it will just fall in the housing) It seems to be a left-over of some earlier plans Team Revo had in the first place with this design. So on the one hand you are bound to the pre-installed games but on the other you don't need to get an additional SD card or prepare anything before being able to play anything. And in my opinion thats totally fine for an insta-fun-console on the go like the BittBoy. There are plenty other devices that can do the former and more.
Okay so much for the hardware, lets finally boot that thing up!
The 'Software part'
After switching the powerbutton, it takes about 1 to 2 seconds to boot up and you will be instantly greeted with a nicely styled selection menu which even has background music! (its the Mighty Final Fall music from 1993 by the way)
To navigate you use up & down on the D-pad to select the game and left & right to turn to the next page. That makes a total of 30 pages with each 10 games for all the 300 build-in games. And there even is a small preview picture for every single game you have selected!
To load up the selected game you have to press Start and it will instantly be loaded and you are ready to rock!
While playing there is no delay with the buttons, emulation-lag, sound-problems or anything like that noticeable. However there are still some minor GFX glitches here and there and some games like Harry Potter won't be emulated correctly at all. Hopefully this will be fixed in the future if it isn't already.
Since the BittBoy is meant for portable gaming fun, the 2.2″ screen is once again sharp and bright (yes, even in the sun) and indeed still visible from all angles as advertised. And in case you want to annoy some people sitting next to you in the bus, the speaker can get EXTREMELY loud for a little device like that! 😀
I think all thats left is the TV out feature and all I can say is that it indeed works, although of course not in the best quality but still cool to have for whoever needs it.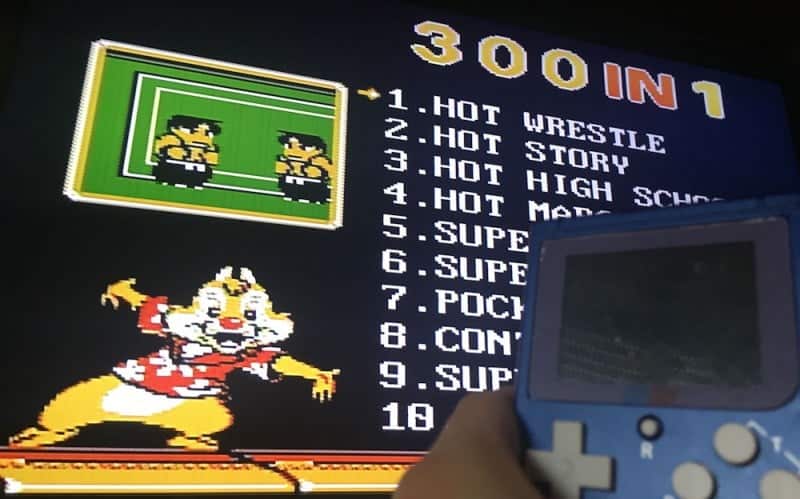 If you want to exit a game again simply press the "R" labeled small button and you will be back at the main menu!
Conclusion
All in all the BittBoy is quite nice for all your retro needs on-the-go and does what was promised. However there are some things to remember and I think are worth mentioning:
For the games selected to be build-in I have to say, there are some duplicates, some really weird bootled games and some missing classics I was hoping for so that got me just a little bit disappointed at first. And regarding that left-over, unused, quite confusing SDCard Slot, some people could feel the need to stick in a card to try anyways. (which would then result in needing to screw open the whole thing to retrieve the card)
Also as nice as a TV out feature is it might've been a better idea to add a Headphone jack instead, considering the BittBoy is meant for portable usage. But that might just be me though.
However in hindsight to my very first thought I was wrong, the overall size of the device is just about right to have a good grip for a comfortable gaming experience and it still fits in you pocket just fine.
Pros
great bright screen
loud and clear speaker
removeable battery
charging indicator LED
TV Out feature
Cons
you can't add or remove any games
no headphone jack
resetting doesn't always work right away ( Just like the real thing. lol)
Now I hope you liked this small review and in case this got you interested in getting a BittBoy, you can do that via amazon or directly in their store under www.bittboy.com!

Big thanks to Team Revo of course for sending us this review unit! Until next time.. 🙂