If you read our WWDC 2017 Highlights article yesterday (if not, the link is at the bottom of this page), you know that we only mentioned the iMac Pro. We said that we'd be doing a separate article about it. We decided to do that because the iMac Pro is very much a big deal. So read on as we will fill you in with the details that you so desire.
Apple said that they were giving us a "sneak peek" but it ended up being an entire segment with pictures, video, specs, and even pricing! So let's dive into those last 2 things now.
Specifications:
The iMac Pro will be featured in the Space Gray color that Apple has been come to be known for. It will have a 27 "5K display similar to the lesser iMac, but it will have a much brighter 5K display than the other iMac. It can have up to 22 teraflops of processing power depending on the model. It can have memory up to 128GBs of DDR4 ECC. And it can feature storage up to 4 terabytes of SSD. The iMac also features a newer thermal cooling system that uses 2 fans to circulate the air around the components and then out the sides rather than just blowing straight out the sides. The computer also comes with a matching Space Gray keyboard, trackpad, and mouse to keep the theme going. The graphics card can be configured up to a Radeon Pro Vega 64. Just loads of stuff (including High Sierra as the OS). So much stuff, that I'll let the list from Apple do some of the talking since their marketing has worded everything so well!
'1080p FaceTime HD camera

Simultaneously supports full native resolution on the built-in display at 1 billion colors and:

Two 5120‑by‑2880 (5K) external displays at 60Hz with support for 1 billion colors, or
Four 3840-by-2160 (4K UHD) external displays at 60Hz with support for 1 billion colors, or
Four 4096‑by‑2304 (4K) external displays at 60Hz with support for millions of colors

Support for extended desktop and video mirroring modes

Thunderbolt 3 digital video output

Native DisplayPort output over USB-C
VGA, HDMI, DVI, and Thunderbolt 2 output supported using adapters (sold separately)

Stereo speakers
Four microphones
3.5 mm headphone jack

10Gb Ethernet

Nbase-T Ethernet supports 1Gb, 2.5Gb, 5Gb, and 10Gb Ethernet using RJ‑45 connector
Four Thunderbolt 3 (USB-C) ports
Four USB 3 ports
SDXC card slot with support for UHS‑II

Wi-Fi

802.11ac Wi-Fi wireless networking
IEEE 802.11a/b/g/n compatible

Bluetooth

Bluetooth 4.2 wireless technology'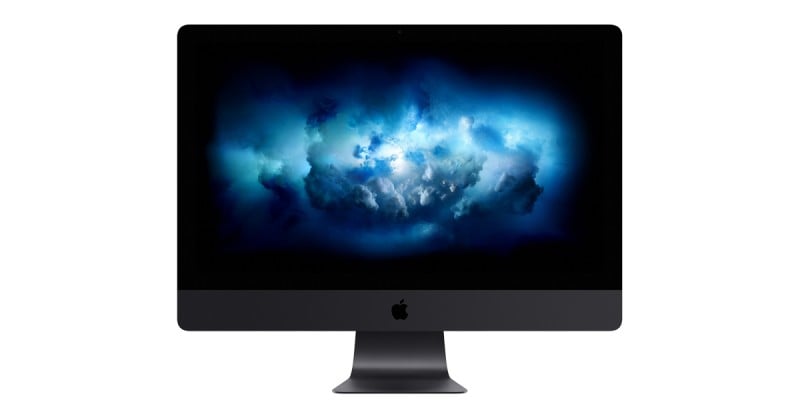 Pricing:
They explained to everyone that the cost of a PC that was made of this stature with the exact same parts would clock in at over $7000. But Apple intends to have the iMac Pro price starting at $4999 upon its ship date in December.
If you want to read about everything else that we found interesting about WWDC 2017, click here.
Stay tuned here on Hackinformer.com for all things Mac and follow us on Twitter @Hackinformer