PowerA Joy-Con Comfort Grip
This was the thing that I had my heart set on the most.  And, it's not indicated on here, but they had just reduced the price.  So, the first thing worth nothing is that it is not a GameStop exclusive, but at this time of writing and in my location, it is the least expensive at GameStop.  If you find it somewhere for less than $14.99 (plus tax), let us know down in the comments.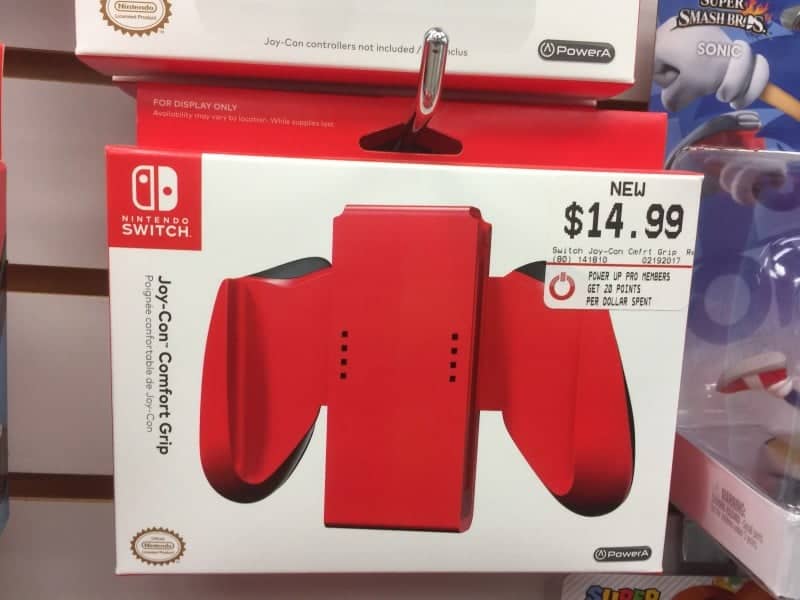 I'm going to break this review down into 3 parts, comfort, durability, and cost appropriateness.
Comfort:
 I would say easily, that it is more comfortable than your Joy-Con grip that came with your Switch.  The back of it, as you may be able to see in the picture of the box, is black.  It is not just two-toned for aesthetics like the red PS4 controller for instance, it actually serves a purpose.  The back of the grip is rubberized.  The rubber backing is soft and matte and does not have that old rubbery, make your hands sweat feeling like old Mad Catz controllers.
The strange part about the controller is that there is a place carved out for where I can only assume your middle finger is supposed to rest.  It is behind the ZL and ZR buttons.  I am only making a guess, but I've found it to only be useful and comfortable to put your middle fingers on them when your pointer fingers are on the ZL and ZR buttons.  However, if you're playing a game that requires L, R, ZL, and ZR and both of your pointer finger and middle fingers are being used, then this place on the Joy-Con grip is a strange thing to rest your ring fingers on.
Durability: 
In this field there are several things worth bringing up.  Firstly, the plastic used on this seems to be a harder plastic than the one that Nintendo used on their own Joy-Con grip.  The next being that PowerA did not use metal rails for the Joy-Cons to slide in on.  And the last being that PowerA also apparently used solid plastic, where as the standard Nintendo Joy-Con grip is indeed hollow where your hands rest.  The point that I'm getting at is that whereas PowerA used solid, harder plastic, involved rubber to the backside, and removed the crazy metal rails, I did still find myself confused at one point.  The very part on the back where the 2 main body pieces are screwed together is not terribly strong.  I mean this in terms of, I was able to bend the 2 handles of the item back and now they will not entirely return back to their original position.  PowerA should've maybe used a little less rubber.
Cost Appropriateness: 
Yes.  I would say that now that I can find this for $14.99 (plus tax), that it is worth the cost.  The main take away here is that clearly this is for adults.  We care about comfort and we usually do not play rough with our things (I only bent the arms of it back to test it for the review, for instance).  I'm not saying that a child would not appreciate it, I just feel like they took a few liberties on the design quality knowing that an adult would care more to buy something such as this, whereas a child would be completely content with the default Nintendo Joy-Con grip.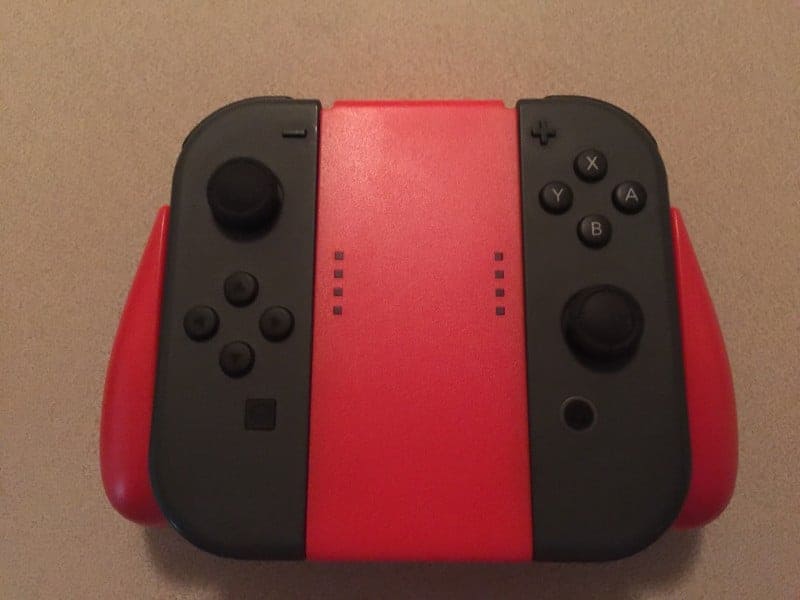 Amazon: PowerA Joy-Con Comfort Grip (Red) $14.99
GameStop: PowerA Joy-Con Comfort Grip (Red) $14.99
PlayAsia:  Original Nintendo Switch Joy-Con Charging Grip $29.99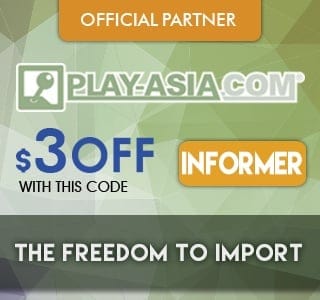 For a review on the Nintendo Switch Crystal Shell click here.
Stay tuned here on Hackinformer.com for all things Nintendo Switch and follow us on Twitter @Hackinformer !