Ready…Set…GO! The hottest racing kart game ever has returned, and this time it'll burn up the screen!
Lakitu dropped the signal, this means that the new Mario Kart 8 Deluxe is finally here, and this time it's bigger, longer, and full of new, incredible gadgets.
Strap in, put the pedal to the metal and experience U-shape turns, death-defying jumps, upside down detours, and incredible changing roads with exciting anti-gravity sections in the latest Kart Touring Race Championship spanned across the whole Mushroom Kingdom.
Inside the tiny cart of Mario Kart 8 Deluxe, there's a big dose of racing adrenaline, a huge roster of 42 pilots – Some names? Donkey Kong, Waluigi, Rosalina, and the extremely rare Gold Mario – and significant improvements compared with the previous WiiU version, including all the DLCs released so far!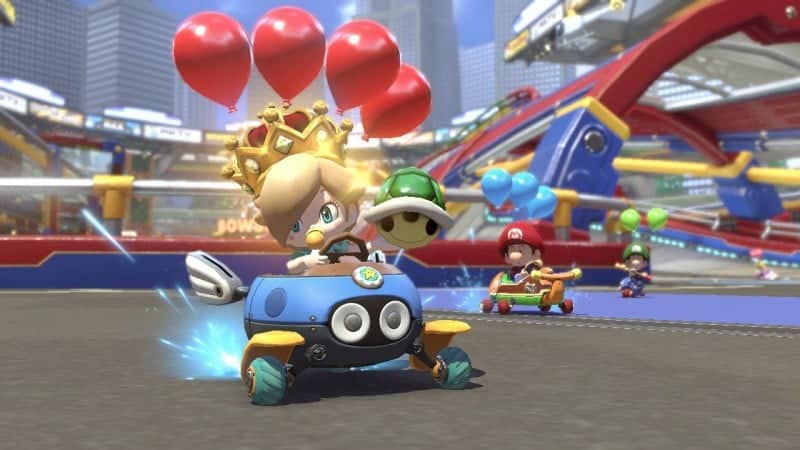 The biggest ones are the "Battle Mode", indeed in this new episode you can challenge your friends (up to 8 friends local multiplayer, and up to 12 player multiplayer online) along eight head-to-head circuits (Battle Stadium, Dragon Palace, Luigi's Mansion, Lunar Colony, Sweet Sweet Kingdom, Urchin Underpass, Wuhu Town, and Battle Course 1) designed specifically for the five funny battle modes that will strain your driving skills to the limit:

Ballon Battle
(burst opponents' balloons)
Bob-omb Blast
(burst opponents' ballons only using Bob-ombs)
Renegade Roundup
(one team attempts to capture the other using Piranha Plants)
Coin Runners
(collect as many coins as possible)
Shine Thief
(attempt to hold the Shine Sprite for 20 seconds to win)
And the "Smart Steering" feature, master it for avoid any accidents, and get a clean race!
Force out your opponents while playing head-to-head in high-speed action! Obviously, each kart will comes with its own unique characteristics, such as power, and maneuverability. Use speed boosts, jumps, and power-ups savvy to impress the audience with your bravest drivin' style!

In addition, to celebrate the first Mario release on Switch, we've created two fabulous Nintendo eShop Digital Bundles to give you the opportunity to get the game at Day One, and simultaneously saving money! To grab the Digital Bundle be sure to click on "Add both to cart"!
US Nintendo eShop 50USD+10USD Digital Bundle = $58.48USD
JPN Nintendo eShop 5000JPY+3000JPY Digital Bundle = $73.98USD 
 
So what are you waiting for? Get out there and kick the asphalt! Only you can be you the Champion of the Mushroom Kingdom!
In case you'd like to play with the Japanese version, but you don't read Japanese, we've prepared a super easy mini-guide for creating the profile on the Japanese Nintendo eShop:
– Go to accounts.nintendo.com
– Create a new account with a different email from your default account.
– Set your country of residence to Japan, and create your account.
– Create a new profile on your Switch, and link your new Nintendo account to this profile.
– You'll get an email with a four digit number in the account you used to sign up on Nintendo's website,  put that code into your Switch, and you're set.
– Log into the eShop using your Japanese profile, and the password.
– Wonderful, you're in!
Please note that this offer valid for a limited time only, while stocks last and don't forget to use our coupon code: informer to save a few bucks.
Mario Kart 8 Deluxe
Nintendo Switch | Genre: Racing Game
---
---