It's an exciting time over here and over at our friends XSEED games as one of their best games, Nitroplus Blasterz Heroines Infinite Duel, finally available on the PC, it's just a search away on Steam. I hope you're as excited as I am to be writing this, so without writing more stuff that you don't wanna read, let's get into the review.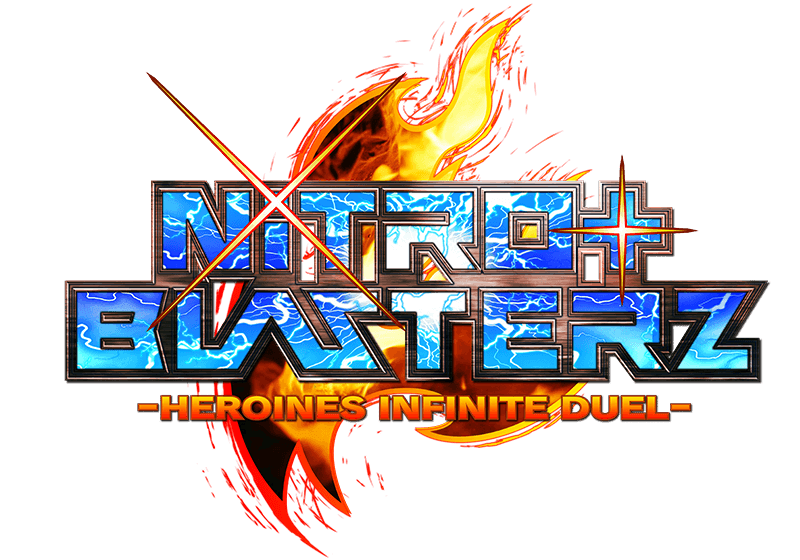 Now to get on board with the all-star roster for the game, you'll be happy to know it includes the likes of Super Sonico, Muramasa, Saber, Homura, Carol and more.
The Characters are split into Playable and Support, where each player gets to have 2 support characters for some sick combo moves.
For a total you have 14 playable and 20 support characters, all with different outfits and different color sets for every outfit, the color schemes are pretty nice and let you choose whatever style you like to go with, just to kind of let you make your character look as good as you can in your opinion. Here are some pretty sweet color choices for Ignis.
There's not an easy way to describe the graphics style, you can in a way sum it up as, 2.5D. The backgrounds are 3D while the characters remain 2D, you'd think it would look odd or displeasing, but not at all, it's quite amazing actually. The 2D visuals overall are pretty crisp bundled with the comparatively more subtle animated 3D backgrounds.
That's the start screen over there with Sonico at your command, a simple gateway to the variety of game modes and options available, which include but are not limited to local and online multiplayer.
Also, mind you, the 'Another Story' mode is a bit geared towards a little mature audience than your average 13-year-old so it's up to you parents to judge before you let your kids into that one.
Let's get on with it shall we, Ignis versus Sonico:
Sonico wants to bow before we get on with beating her up—manners and customs.
After a couple minutes.
Sonico and her buddies beat me, fair and square, well not really, Sonico's way too cute to fight.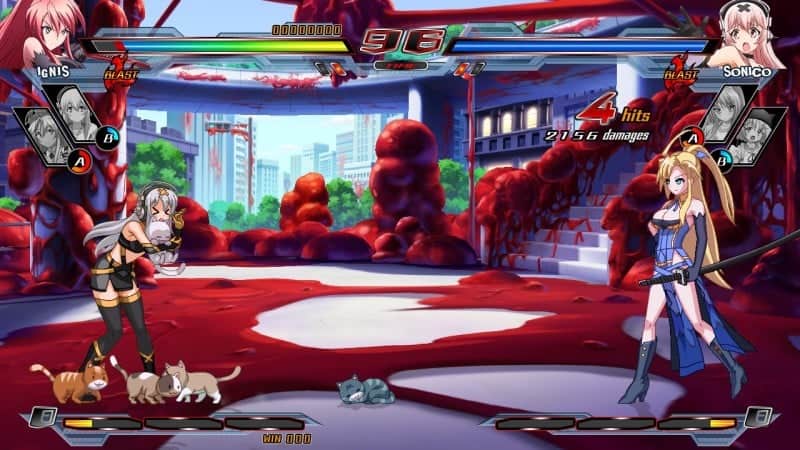 Well like i said you can get a pretty nice glimpse of the visual style and the epic art here.
Also, guess who that is !!!
Guessed correct? No? Well anyway.
It's Homura! One of my personal favorites from the Senran Kagura series and games.
Also..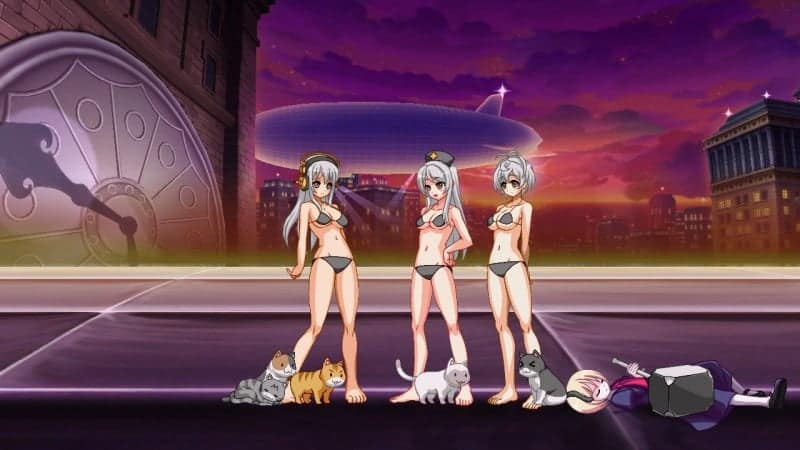 The cats are pretty cute in this one, right? The cats?
Also XSEED and EXAMU have integrated Steam Trading cards into this already much pleasing game to make it even better to regular steam users, get your favorite anime girls onto that steam account as badges and trading cards as soon as possible!
I've already got Ignis over here, hoping I can snag a Sonico or Homura soon.
Well, that more or less sums it up for the review of Nitroplus Blasterz Heroines Infinite Duel, hoping it was fun, enjoyable and informative for you readers, as I give it a 9 out of 10. XSEED and EXAMU have overdone themselves this time, and check the game out on Steam here, it's definitely a bang for your buck.
I'll be back later with some more quality content, so stay tuned.
Demolasher36, out for now