I'm here today to let you know about a Kickstarter campaign from the team at Martelo Nero out of Trentino, Italy that I think we all could get behind.
It's called Tower of Samsara a new adventure pixel art platformer for the PC, Mac, and Linux.
Also because of all the overwhelming PlayStation fan support, the team at Martelo Nero have decided to merge their previous PlayStation Vita stretch goal into their main goal.  Fingers crossed we can get this made!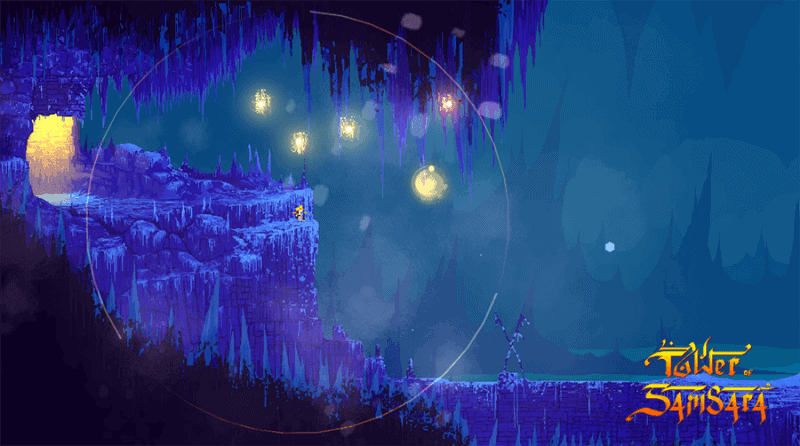 Tower of Samsara offers an amazing mix of lore from various different philosophies such as Buddhism, stoicism, Greek, and Roman mythology.
These will give new meaning to objects, actions, reality, life, and death. Additionally, your determination is tested on this journey towards Nirvana.
The player incarnates as a Shadow Spirit, a life-form from the planet Pluto, which finds the deities light wandering nearby.
Moved by its own curiosity, it follows this light which, in turn, grants him the blessing and powers that will be needed to venture forth toward the unknown in order to break the Samsara.
Tower of Samsara also features a unique message system in the form of haiku's that you can share with other players. This in itself leads to an interesting dialogue between other players.
There's also a system implemented where you can overcome an enemy non-aggressively. This feeds into a Karma system, wherein you can gain good Karma by sparing enemies and Bad Karma by killing them, significantly changing the outcome of the game.
Here is a short video from Sol Morningstar, giving a small preview of the game in action in its alpha phase.
I feel that this game will thrill us all with the many joys of gaming, and should be helped out on their way to greatness.
I encourage you to check out their Kickstarter page soon, as they only have 14 more days to reach their goal. You can also read more on their official website!
I also would like to thank the team at Martelo Nero for their hard work on this game and wish them the best of luck.
As always, thanks for reading and keep doing it for the love of the game.
LINKS:
Facebook | fb.com/towerofsamsara
Twitter | twitter.com/TowerOfSamsara
Website | www.towerofsamsara.com
YouTube | Tower of Samsara