Most of us love playing old school games on our consoles to revisit our childhood or if you always wanted a game or system that you couldn't get your hands on, like the NEO-GEO. I figure I would list the some of the best game consoles to turn into emulation stations, in my opinion. Now I know the PC's takes the cake when it comes to emulation as most PC nowadays have the power to run all of those great emulators like the Dolphin Emulator (Gamecube & Wii) but I wanted to talk about game consoles that can be turned into an emulation station fairly easy.
Original Xbox
The original Xbox this one of my favorite consoles to turn into an emulation station. Since the original Xbox was once of first consoles to have such a big homebrew community it has all kinds of emulators from NES to N64 and even PS1 games. The process to mod/soft mod the Xbox was very easy, which made even more people and homebrew developers get involved with it. You can visit xboxscene.com to find out even more info about modding the Xbox.
PSP & PlayStation TV
I know the PSP is a handheld and I'm talking about consoles for your entertainment center at home but it's still another great system to play emulators on. It also had a very big homebrew community and once the 2000 model came out you can even play everything on your TV. Then the PSPgo came out and didn't do so good in the US region but the PSPgo is the best to use on your TV since it can use the ds3 controllers, so no more wires. For the 1000 model, you could use a homebrew app called remote joy to get it to display on your PC but in my opinion, the PSP is still one of the easiest handhelds to play emulators & homebrew on and with the right model on your TV too.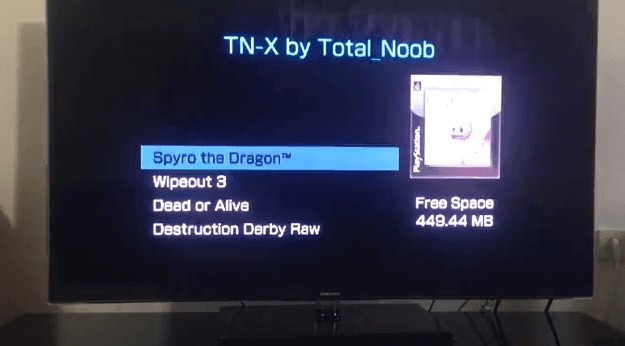 The PlayStation TV makes for another great emulation station since it can use almost all the same homebrew and emulators the PSP scene had to offer. Since the PSTV/Vita TV can do epsp and with the use of TN-V, TN-X,  Ark, or VHBL you can get the most out of it. There is one downside to using the PSTV as an emulation station as most PSP owners know that there is no two-player mode, for example, CSP1, CPS2, or NEO-GEO are emulators made for just one player just like all PSP games are. Next is getting one on the right FW like 3.20 would be the best since you have the PS1 exploit and be able to play two player games without a problem but 3.52FW will also do. Now that Sony has ended production on the PSTV/Vita TV this might be one of the cheapest home consoles you can turn into an Emulationstation. You want to find out how to hack your PlayStation devices, we have an all-in-one guide you can check out here.
Wii & Wii U
The Wii is yet another great console to turn into an emulation station, in my opinion, it's one of the third biggest homebrew communities for consoles. The Wii was another easy console to mod/soft mod and install the homebrew channel, which would give you access to all kinds of great emulators, homebrew games, and apps.
The Wii U can also use almost everything the Wii homebrew scene has to offer just like the PSP and PSVita/PSTV. Now Loadiine in your Wii U you can really get the most out of it. You want to find out how to mod/hack your Wii/WiiU, we have an all-in-one guide you can check out here.
Android
The Ouya, GameStick, or any Android TV device is very easy to turn into an Emulationstation since its Andriod you can get all of your emulators right from Google play store without having to mod it in any way, well most of them. There is a downside to some Andriod devices as they might lack the real power needed to play some emulators like Dolphin or PPSSPP. For the most part, you can still enjoy a lot of old school system like NES to even Dreamcast games on it. I put together a nice little emulator pack for Andriod devices here.
PS3 & Xbox360
The PS3 and Xbox360 are really great Emulationstation but with both of those consoles you have to do a lot of work to mod them. First, the PS3 needs to have firmware 3.55 to make use of any homebrew or you need to buy a tool to downgrade them like the e3flasher just to put CFW on it. The xbox360 is another one that needs a lot of work to Jtag it or glitch hack it with a modchip and by the time you get done with either of the systems, it might have just been easier to buy a $200 laptop, Andriod device or even a Raspberry pi. For the Xbox360 there's the CR4 XL, its a great solution for glitch hack, you can read more out it here.
 My list of the easiest & cheapest consoles to turn into an Emulationstation
The Android GameStick (if you can still find them for $17 dollars)
PSP 2000 with TV out. (pawn shops usually sell them for $45 to $60, plus the TV out cable)
Wii
PSPgo (might cost a bit as I seen some sell for $90 dollars still, plus the TV out cable)
Xbox ( only reason it's 5th is it might be hard to find one in working condition but imp it would be #1 )
PlayStaton TV/ Vita TV
Ouya or Android TV
Wii U
PS3
Xbox360