Just announced, Sony and Square Enix have teamed up again to bring the Dragon Quest shine to another Sony device in prep for the DraQue spinoff title, Dragon Quest Builders!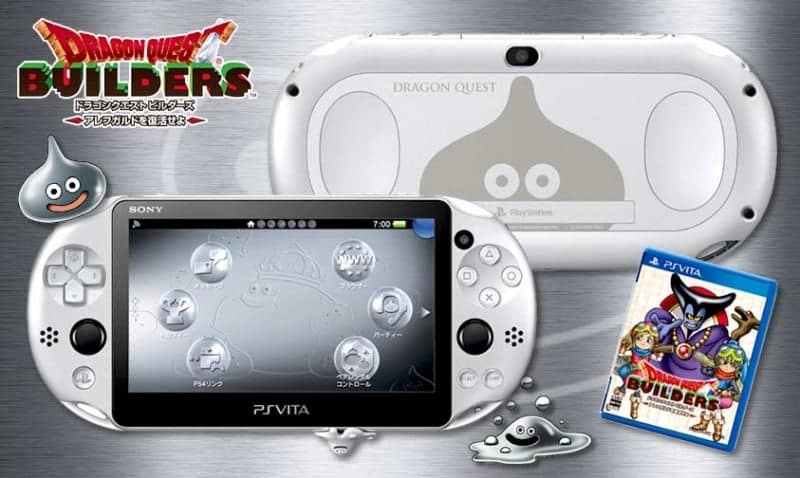 Taking inspiration from the Dragon Quest Metal Slime Edition PS4, this Metal Slime Colorway of the PS Vita (PCH-2000) has a bevy of details that fans of Japan's most beloved RPG will enjoy. Aside from the silver metal color and the iconic custom slime decal on the rear touch pad, the beauty lies within the details.
Instead of an up arrow on the direction pad button, the icon has been replaced with a slime icon! Of course, pressing it still means up, although we'd love to see what a slime button does. To top it all off, the headphone jack comes fitted with a metal babble earphone plug; these little guys seem to all over Sony's products… dawwww so cute~
Finally, everything in bundled in a special treasure box-shaped package that features the heroic sigil of Edrick (Roto) emblazoned on top, as to remind you that in Dragon Quest Builders, the mission is to rebuild what he once sought to protect. Of course, with each bundle, there is also copy of the Japanese version of Dragon Quest Builders!
PSVITA [DRAGON QUEST METAL SLIME EDITION]
Release: Janurary 28th, 2016 – Limited Allocation
PlayStation Vita [Dragon Quest Metal Slime Edition] (JPN) US$ 399.99