I'm back with another retro review! This time it's one of my favorite Super Nintendo games… Super Punchout! You're probably familiar with the original Mike Tyson's Punchout or Punchout on Nintendo. This one is the sequel to the original and, in my opinion, better than the first.
Don't get me wrong, I love Mike Tyson's Punchout and I loved pounding Tyson to a bloody pulp. It's funny to hear my friends talk about how hard he was and how they never could beat him. I owned Tyson back in the day!! This game, Super Punchout, has some new elements and a new final boss, even different from "Mr. Dream" who was the boss in Punchout when they removed Tyson.
Instead of "little mac" who we grew so fond of in the first, this time you have Mac, who seems to be a bit bigger and has a much better super punch. The original on NES made you hit your opponent at certain times to garner "star" punches and release them with the Start button. If you got hit when you were holding stars you would lose a star for every punch you took. With Super Punchout you build up a gauge and once it's full you can unleash either a super strong punch or a barrage of quick punches. The biggest advantage to this is that the gauge doesn't go down from use. It only goes down if you get hit. So as long as you can refrain from getting a beating you can keep that gauge filled and wail away on your opponent.
There are some new faces, like your first opponent Gabby Jay, and even some old familiar faces like Bald Bull and Super Macho Man. If you remember Bald Bull from the NES days you know that bull charge was tough to time right. I got nailed most of the time. It's much easier on this one.
The final two fights are twin brothers, Rick and Nick Bruiser. They can be a force to be reckoned with. One of the other additions to this game is the ability to not only dodge left and right but also you can, and at times must, dodge backwards.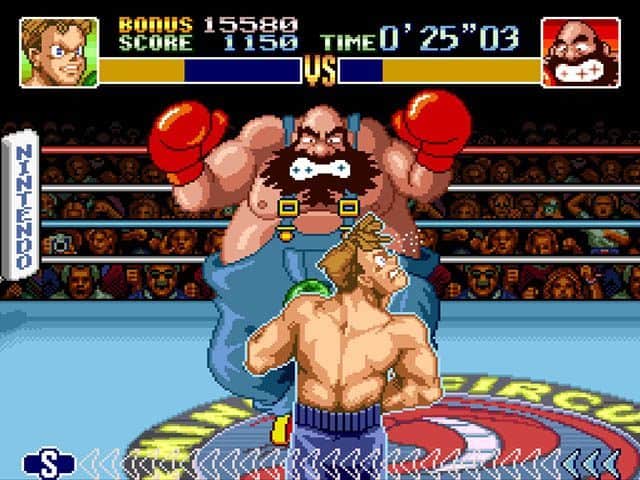 That's about all I have for you today so enjoy this game and let me know what you think about it. As always… HAPPY GAMING!!!