Hola everyone! ss4gogeta069 back with my top ten Super Nintendo games that I will never stop playing! We all have those games that we can pick up at any time and jump right into the gameplay. Well, here are my top 10 from the Super Nintendo. If you want to add to it or discuss why I picked a game I'll be glad to do so in the comments. I always love a good gaming discussion!
These games are in no particular order because I honestly can't rank my old-school games that way. They're all very near and dear to my heart as I, being and old guy, grew up playing these.
#10. Donkey Kong Country Series
"Donkey Kong is back with a new sidekick, Diddy Kong, in a crazy island adventure! Challenged by the crazed tribe of reptilian Kremlings, they endeavor to get back their stolen banana horde! Armed with lightning-quick moves, chest-pounding muscle and awesome aerial acrobatics, our duo is ready to face their cunning adversaries. With the help of Donkey Kong's quirky family and his wild animal mounts, they squabble and scamper their way through the unending monkey mayhem."
#9. Super Castlevania 4
"A century of Transylvanian tranquility is about to come to a shocking end. Once again the mortifying screams of helpless villagers shake the ground as they huddle against new nightmarish horrors unleashed by the Duke of Darkness, Count Dracula. And this time he has a tombstone with your name on it, Simon Belmont.
You must descend into Castle of the Undead and its gruesome ground, accompanied by the most chilling sound effects to ever tingle your spine. Inside, a freshly dug 11 levels maze features the treacherous Terrace of Terror, the dangerous Rotating Dungeon, the Sunken Ruins of Lost Spirits, torture chambers and creature filled caves. Use your whip like a grappling hook and swing past hundreds of traps and a host of ghost freaks, living corpses and hidden goblins. All while dodging or destroying the unpredictable spitting lizards, carnivorous coffins, and more.
Find the concealed weapons needed to defeat everything from eerie phantoms to haunted furniture. Then prepare to find yourself face-to-thing with hideous torments like the Tongue Lasher, the Darkest Knight, the Bone-Afide Horseman and the Granite Crusher. When your nerves get shot, use your password and take a breather. But forge on, Simon Belmont, because if you though Dracula was down for the count, he's only just begun to fright!"
#8. F-Zero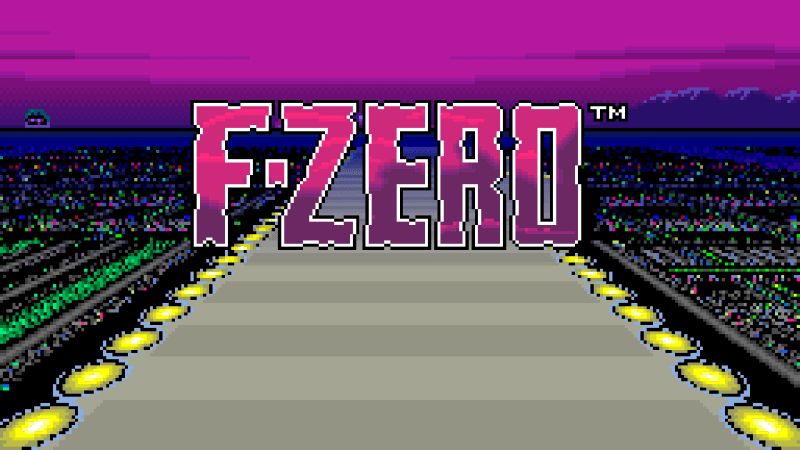 "The future of racing is here! F-ZERO, an intergalaxtic Grand Prix, uses machines that weigh more than a ton, reach dash speeds of over 500km/h and hover a mere twelve inches off the ground! Choose from the heroic Captain Falcon, or the suave, Dr. Stuart. Need more choices? Then try the sly alien, Pico or the not-so-honest Samurai Goroh, and race for intergalactic fame and fabulous fortune in the F-ZERO Grand Prix."
#7. Final Fight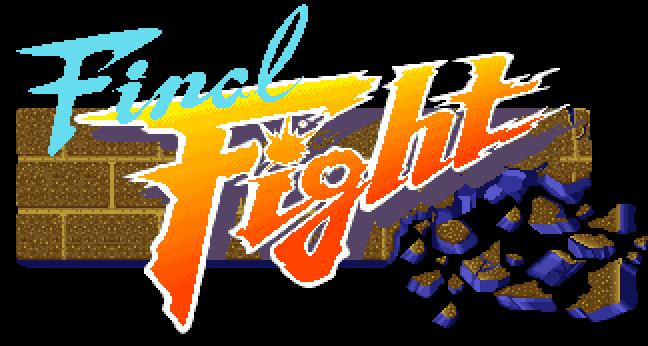 "Mayor Mike Haggar vows to snatch the streets of Metro City back from the crooks with his bare knuckles! But the Mad Gear Gang snatches his daughter Jessica. Now there's gonna be some bone-crunching dues to pay!
Jessica's boyfriend Cody hits the streets hard with Haggar, denting heads downtown and slugging it out in the slums. He's a one man army! His weapons are anything he can find — swords, knives, or pipes.
Now you're Haggar or Cody, each with his own fighting style. Demolish gangland henchmen, samurai swordsmen and musclebound crime bosses in a fist-to-nose frenzy!"
#6. NBA Jam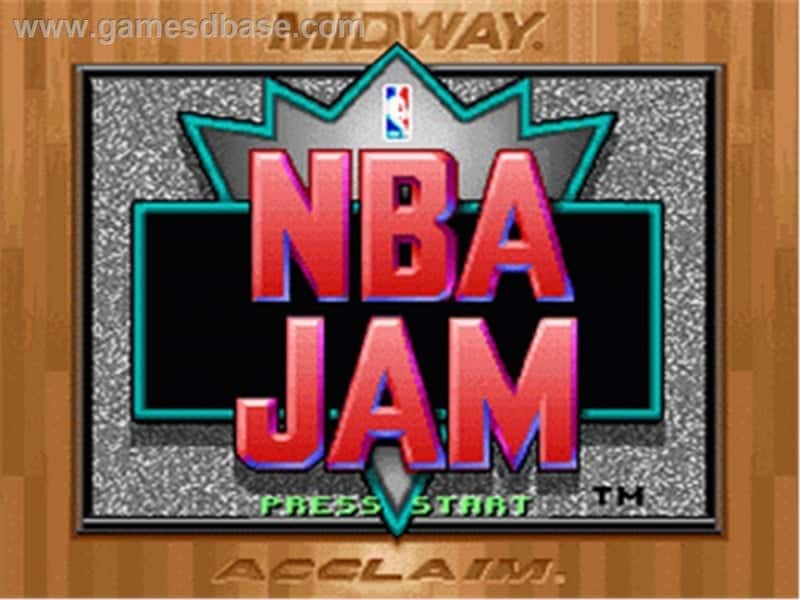 "BOOMSHAKALAKA! Jam home the #1 arcade phenomenon! From outrageous Tomahawk jams to wild full-court shots, you control the super moves, amazing blocks and awesome slam dunks of 54 of the NBA's hottest stars! Ultra-realistic digitized graphics and play-by-play. 4-player adaptable for true arcade competition. NBA JAM puts you on the court and above the rim!"
#5. Final Fantasy 2(IV) and Final Fantasy 3(VI)
"In the kingdom of Baron, powerful airships rule the skies. At the head of this elite fighting force is Cecil, Captain of the Red Wings, As our adventure begins, Cecil and his squadron are ordered to steal a powerful crystal from a rival kingdom. Upon their return, Cecil questions the King's orders and is stripped of his command. To prove his loyalty, he must slay a dreadful monster and deliver a mysterious package to a neighboring town. But when the package explodes, destroying everyone, Cecil and his friend Kain vow to fight the King's dark forces. Will you be able to save the world from their evil plan to control the crystals? Get ready for the most challenging role-playing adventure ever."
#4. Super Mario Kart
"The Super Mario GoKart Park is open for tons of racing fun! Hit the track with Mario, Luigi, Yoshi and the Princess. Get tough and lock fenders with Donkey Kong, Jr. and Bowser. Even Toad and Koopa Troopa will mix it up in an all-out quest for the Gold Cup! Race head-to-head with a friend or challenge the computer in great, split-screen, Mode 7 graphics."
#3. Super Punchout
"Slug your way through the grueling and sweat-pounding matches of the Minor, Major and World Circuits. Dodge bone-bruising punches and dance to the top of the supreme Special Circuit. Face off against old favorites including Bear Hugger, Piston Hurricane, Bald Bull, Mr. Sandman and Super Macho Man plus a cast of new and weird challengers. With a right hook! Body blow! And precise quick jabs! The referee announces "Knock Out!" Your opponent lies face down as you win the title of Nintendo Video Boxing Association Champion!"
#2. The Legend of Zelda: A Link to the Past
"Venture back to Hyrule and an age of magic and heroes. The predecessors of Link and Zelda face monsters on the march when a menacing magician takes over the kingdom. Only you can prevent his evil plot from shattering the land of Hyrule. In your quest, you'll venture into twisting mazes, dungeons, palaces and shadowy forests. Test your mettle with mighty swords and magical weapons. Or heft a boulder and hurl it at your enemies. If the going gets tough, dive into a river – you can swim to escape! Learn the powerful spells, locate magical artifacts and solve the mysteries of the evil magician and the hidden realm of Hyrule."
#1. Super Mario World
"Mario's off on his biggest adventure ever, and this time he's brought along a friend. Yoshi the dinosaur teams up with Mario to battle Bowser, who has kidnapped Princess Toadstool once again. Guide Mario and Yoshi through nine peril-filled worlds to the final showdown in Bowser's castle. Use Mario's new powers and Yoshi's voracious monster-gobbling appetite as you explore 96 levels filled with dangerous new monsters and traps. Climb mountains and cross rivers, and descend into subterranean depths. Destroy the seven Koopa castles and find keys to gain entrance to hidden levels. Discover more warps and thrilling bonus worlds than ever before!"
Well, there you have it guys. My all-time, go-to games for Super Nintendo gaming. I can pick up any of those games and play for hours. I said they are in no particular order but I have to say #1 & 2 are definitely the top 2 and are interchangeable. I don't think anyone can argue those are two of the best games on SNES if not the best in their respective series. I guess that about wraps it up. If you want to talk about any of the games on the list or want to suggest a game I left out feel free to let me know in the comments.
Thanks for reading and… HAPPY GAMING!!!
All descriptions were taken from gamefaqs and copied word for word.