I'm sure many of you were excited when Dessel wrote about AndroidDefiler. The main focus of this handy application is to cut the cord to the PC altogether. You now have the option of launching homebrew on Unity with just your android phone. After hearing some of you were having trouble using it, naturally I like to help when I can. This article is assuming you have already setup PSM+ for Unity and have VitaDefilerClient installed on your PS Vita. However if you need help doing that you can go here for all the needed files and instructions. Give a shout-out to Freakler and Major_Tom for all thier hard work to simplify the process. 🙂
Once you have all the required files from Dessel's article (Download here) your ready for the setup. Next you will need to get file manager to get the files you need in AndroidDefiler. I personally recommend using Cyanogenmod's File manager, its very simple to use and I've used it since day 1. You need to download CMAI (Cyanogenmod App Installer), this application gives you access the latest builds. CMAI allows you to install any Cyanogenmod app you may need on any Android OS. Grab it here and be sure to allow unknown sources in your phone to able to install it like AndroidDefiler. Click on the Menu Tab and select CM File Manager. Once you click download, pick the version according to your Android version. Example: I'm running 5.0.1 and I will need the 5.0 Lollipop build. Now you can install it and your ready to go.
Now just go here for all your homebrew needs and grab the elf files you need. I'll be launching NES4Vita and be sure to have your files in the main directory of your internal storage or SD Card. Place uvloader.bin, uvloader.vds and all homebrew.elf files you need into root of either directories. Use these paths as a reference.
Internal Storage: /STORAGE/EMULATED/0/
SD Card:               /STORAGE/SDCARD1/
Be sure to have the PS Vita and Android phone on the same WiFi Network or Hotspot. Now launch AndroidDefiler and press start and open your files from the File Manager option. It will ask you to pick your homebrew.elf file and you can switch the directory by clicking on the Lock icon. Now select your homebrew.elf of choice.
Now the homebrew.elf file will load and the rest will take place on the PS Vita. Launch the PSM Unity app and start up the VitaDefilerClient. AndroidDefiler will run the script and your done. 🙂 If you experience any errors, simply restart Unity and AndroidDefiler. Congrats, your now loading homebrew without the PC. Hopefully this will clear up any confusion and have fun using AndroidDefiler.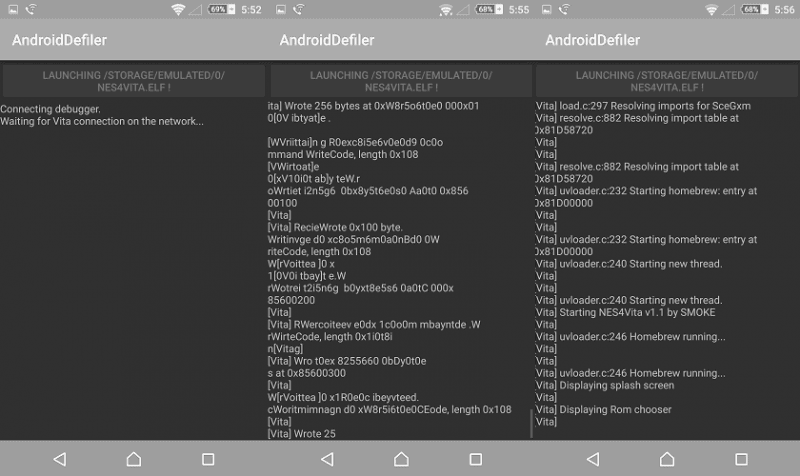 //
Team Hackinformer signing out