At Square Enix's E3 Conference yesterday, Kingdom Hearts 3 received the ultimate game-play reveal, after being trolled with a mobile Kingdom Hearts game by Square Enix higher-ups during the conference that is.
It has been two years since Square Enix announced the new instalment, and a running 10 years since 2005's Kingdom Hearts 2.  If you're an avid Kingdom Hearts fan like me, you have been waiting patiently (or impatiently), for more details and information on any slimmer of news with regards to the third title.
In a trailer showcased at the conference, audiences were shown a decent amount into what's in store for Kingdom Hearts 3. The gameplay mechanics were fluid, the visuals were stunning and vibrant and the music more nostalgic than ever. Let's just say it hit me right in the feels.
Anyone unfamiliar with the premise of this gem of a game showcases a universe fusing the beloved worlds and characters of Final Fantasy such as Cloud, Tifa, Cid and Yufi and Disney to bring you a spectacular work of art we all know and love.
The Tangled world was also confirmed as an addition to the KH universe as Square Enix commented:
"Fans of the highly-anticipated title from the celebrated series from Disney Interactive and SQUARE ENIX will see Sora and his truest friends, Donald Duck and Goody, adventure through the world based on the hit animated feature film, Tangled.

The trailer also gives new hints to the storyline and showcases gorgeous visuals, and new game-play elements."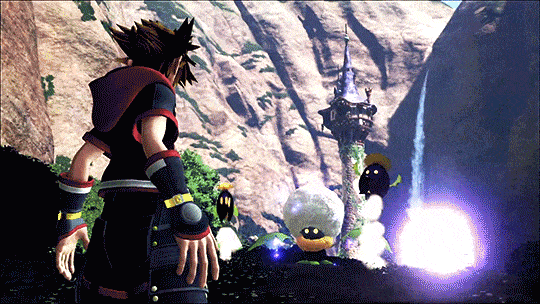 In accordance to the press release by SE, the world which is based on Tangled (See images above):
"Is one of the many big reveals the team has in store and is the first announcement in a larger, deep creative collaboration between Square Enix and The Walt Disney Animation Studios."
The games director, Tetsuya Nomura commented to the L.A. Times,
"As a core game, this is finally the third, and 10 years have passed. I couldn't call this a trilogy. There have been so many spinoffs. In Kingdom Hearts 3, the battles that the characters have been fighting for the past 10 years will come to a conclusion. That is the plan. But the series will continue. Only the particular enemy they have been fighting the past 10 years will come to an end."
What this means is that the series itself will not come to an end, only the conflict the characters have been battling against will come to its final conclusion.
The trailer itself begins with two characters in the midst of a game which appears to be a 3D chess, as they discuss the ancient keyblade war. These characters are a younger Xenahort and Eraqus.
The trailer shows Sora dual-wielding pistols morphed from the Keyblade, which shoot out kaleidoscopic, Kingdom-heart-esque colours in all its flamboyance, which was then shown to combine into one singular larger weapon.
Kingdom Hearts 3 will be released for PlayStation 4 and surprisingly the Xbox One, the first to come to a Microsoft console, however information on an official release date is scarce as SE announced during the conference that the title is still "in development."
Now here is the glorious trailer I basically had an emotional breakdown over yesterday [WARNING: Will hit you right in the feels]
For more information, updates and news on Kingdom Hearts 3 and more, stay tuned with us here at Hackinformer and be sure to follow us on our official Twitter accounts @Hackinformer and @geestaar74