Electornic Arts (EA) have given a release date for their highly anticipated title, Star Wars Battlefront during their gaming conference last night at E3.
For essentially a decade, fans have been anticipating the release of a new Battlefront title, however LucasArts just couldn't bring this request to life, especially since being bought out by Disney back in 2013. So, EA DICE (creators of critically acclaimed Battlefield series) decided to take the reigns on this project by snatching up an official licence for the title, and with the help of their Frostbite game engine, Battlefront was born.
Senior Producer at DICE, Sigurlina Ingvarsdottir commented last night at the conference, "with Star Wars Battlefront, we will immerse players in an incredibly authentic, visually stunning universe."
"We will give you the chance to live out the Star Wars Battlefront fantasies you've always dreamed of, and we can't wait to see all the memories you will create on your own."
"We have a variety of multiplayer modes that range from large scale battles between 40 players, all the way down to 8 player modes that deliver a more intimate experience between squads of rebels imperial soldiers."
The gaming giant showcased a five minute trailer  titled,"Walker Assault," situated in a place called Hoth.
This is the first real footage to be shown for the title for a long time, however people must keep in mind that this is pre-alpha footage, and can be subject to change.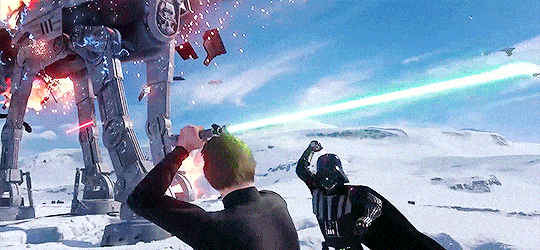 For those unfamiliar with the details of this game, Battlefront can be narrowed down to the combination of a Battlefield game-style and Star Wars universe to bring gamers as a first person shooter with 40-person multiplayer battles.
Who is hyped about this title progressing towards it's final stages, and what are your thoughts on what you saw last night from the EA E3 conference? For more details feel free to follow my on Twitter @geestaar74