What is C.H.I.P.? It's a new microcomputer that's very small. It's a Linux-based and super-cheap computer that's described as being "built for work, play and everything in between!"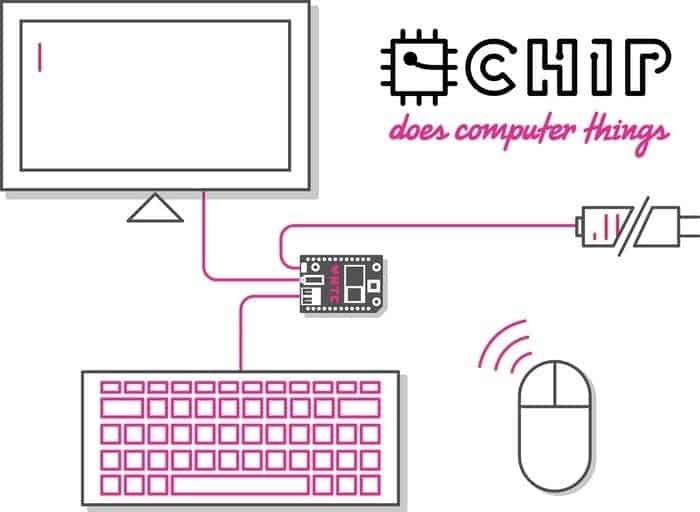 They built C.H.I.P. to make tiny, powerful computers more accessible and easier to use. A huge part of making C.H.I.P. accessible is making sure that it can change to meet the needs of the community. That's why both C.H.I.P. and PocketC.H.I.P. are both TOTALLY OPEN SOURCE. This means all hardware design files schematic, PCB layout and bill of materials are free for you the community to download, modify and use.
C.H.I.P. is a great computer for students, teachers, grandparents, children, artists, makers, hackers and inventors… Everyone really. C.H.I.P. is a great way to add a computer to your life and the perfect way to power your computer based projects.
At 1Ghz and with 512MB of DDR3 RAM, and 4gb of storage the C.H.I.P. is powerful enough to run real software and handle the demands of a full GUI just as well as it handles attached hardware. Best of all, CHIP runs mainline Linux which means it's easier than ever to keep teaching it new tricks without inheriting a pile of kernel patches.
C.H.I.P. is designed to work with any screen, old or new, big or small. Connect via C.H.I.P.'s built-in composite output or add a simple adapter for either VGA or HDMI.  It also has built in WiFi and Bluetooth. You can connect to the internet and attach a keyboard and mouse WIRELESSLY!
C.H.I.P. will also make for one super cheap emulation station. Since it already has bluetooth it will be easy to connect your controllers to C.H.I.P. and play thousands of games, both retro and new. Even those amazing DOS game from your childhood, C.H.I.P. plays them!
You can find more information about the $9 C.H.I.P here kickstarter.com