Activision announced Guitar Hero Live April 14 and Harmonix revealed Rock Band 4 in March. Music games are ready to return to the limelight and this fall the two series that have redefined the concept of expensive peripherals to the mid-2000s will battle once again.
Which of the two will win the fight commercial looming? Let's look at what developers Harmonix and FreeStyleGames have in the pipeline.
Gameplay
Rock Band remains Rock Band and Guitar Hero returned to something closer to its original shape. Both, in time, led to a real band with a lot of guitars, drums and microphone, but only Rock Band, this year, will keep this form while Guitar Hero will return to its roots of lone guitarist.
Speaking of raw gameplay, is that Guitar Hero is turning and in different ways. The most important part is that the colorful row of buttons is gone, replaced by two rows of three buttons – one white and one black.
This results in a cascade of notes that have been reduced from five to three files. In this way, the focus of the higher levels will be the pressure of multiple buttons at the same time and do not press as fast as possible along the top bar of the guitar as in the previous.
It is a simplification of the formula, but which potentially provides more space to reach a level of skill even higher. Guitar Hero Guitar Hero also includes Live TV, a network playable 24 hours 24 that plays music videos that can be played on demand, to reach the highest score or via matchmaking.
During the game, you play the role of a guitarist in a concert: the audience is made up of real actors that give the real feeedback your performance with a "boo" if the wrong notes.
Rock Band 4 instead is the quintessential Rock Band. The relative lack of innovation is closely linked to the desire to support the old devices  and Harmonix is ​​working to bring his vast catalog of downloadable tracks in the new game.
Which instruments are needed
Guitar Hero Live only supports a new device because of the changes in gameplay while, as mentioned, Rock Band 4 will support all previous devices as well as new ones made by Mad Catz.
Which will have more music?
Attracting big names will not be a big problem for any of the two games, but the vastness of the music catalogs could be. Harmonix has revealed in his video for Rock Band 4 is working to have more than 2,000 songs in the game. Guitar Hero Live will manage to get even? The power of Activision should be a certainty and they will need to keep afloat Guitar Hero TV, but will have the necessary music library?
Who's gonna win?
There are good arguments for each. Support for Rock Band 4 to old devices is definitely good news for fans, but we may doubt that the style of play is too similar, precisely because of this decision.
Guitar Hero will require that players purchase a new device, but its new gameplay – without forgetting Guitar Hero TV – could attract new players and improve the formula established by the latest generation of music games. That formula, however, needed changes?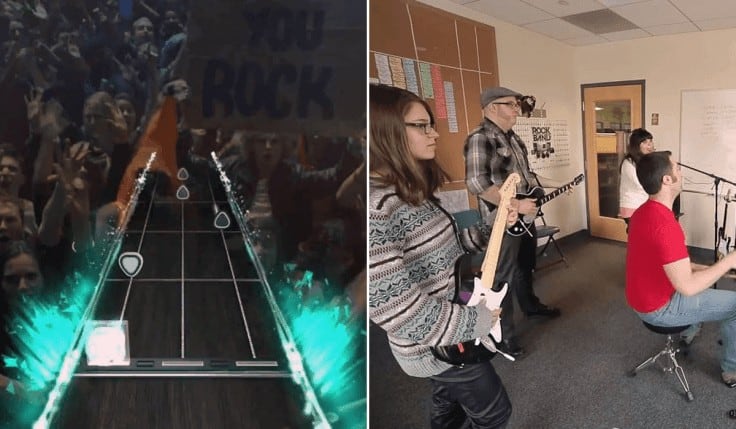 Who will win is a question to which you can respond when the packages will be marketed finals, but i can already tell who is winning: Rock Band.
These games are distributed as a platform on which players buy new songs over the years to come to market every year instead of a new chapter (a commercial approach that forced to cease Activision Guitar Hero series). In a sense, it is a battle more like that between PlayStation and Xbox instead Battlefield against Call of Duty.
As has been demonstrated by the success of the PlayStation 4 and the initials commercial difficulties of Xbox One, the key to success on the home console starts cuddling lovers and then expanding the audience. Microsoft missed communication, promising "innovation" when it was not wanted or needed, and Sony has just been sitting saying "this console works as you expect that features a console."
What Guitar Hero is offering is not as drastic as the initial policy for Microsoft Xbox One, but eliminating the backward compatibility you are entering into a more difficult situation; Rock Band instead has a large installed base that should only buy new disk if you already have the necessary peripherals.
Stay tuned for further updates by following my Twitter darkamon
See ya!!