A lot of you may have just got VHBL for the PSVita on firmware 3.36 or if you're just looking for Emulators and Homebrew to install. Well, we have everything you need for VHBL and they are very easy to install.(noob friendly)
Download one of the emulators or homebrews (at the bottom of this page)and unzip it. Now you will have a folder, open it up and put that folder in your game save dir for the PSVita. Then transfer them via CMA as they will appear in the psp games save on CMA.
Once you are done transferring all your emulator & homebrew via cma. Launch your VHBL and go to gave saves on VHBL, it looks like this.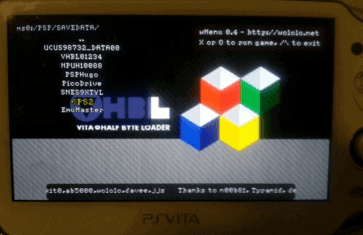 Select one of the game saves and hit X, it will ask you if you want to install your emulator or homebrew.
Hit X again and it will start to install.
That's it, 🙂 your emulators or homebrews now are installed
Let's thank riddle for putting up all the emulators & homebrew for you to download. If you want to put Games (roms) in your emulators, I suggest you make a ROMs folder zip of your favorite games for each System and put them in a game save folder, then transfer them via CMA. Now launch VHBL, run PSPfiler and move your ROM folder to the right emulator directory. Hope this little guide help you enjoy all your favorite old school games.
All the stuff we do is voluntary and is non-profit. But if you want to support us you can by donating to us here: Paypals .com or you can always checkout advertisers as you might find some you like.