The Nvidia conference wrapped up, so we will go over a brief recap on everything Nvidia had to offer from the floor.
A big thing for Nvidia's conference today was the use of AI with a mix of some gaming. This will be presented in what I consider most interesting first.

As stated, AI is a big asset in today's conference. It was announced that they are working on an AI Co-Pilot. This Co-Pilot will observe how many individuals are in the car, who is the driver, study the driver's movements with different tracking methods, observe the driver's patterns of driving, and provide assistance when needed to the driver. It is a Co-Pilot in every sense of the word and it is a pretty cool assistant to have in the car.

To go along with the AI-Copilot, Nvidia revealed that for nearly a decade they have been working on an automatic robot car. This car will drive its passengers around with no need of assistances, adhere to all safety laws, study the environment, up to date maps, make decisions with driving, and utilize all this to provided the best and safest drive for its riders. This seems like something straight from a SciFi movie. I am thinking it is something similar to the cars from I-Robot which are automatic robotic cars, but with a manual driving, feature to be used when needed. How will all this workout? Stay tuned to this week when we visit Nvidia's demo on the show floor. I am personally excited to see this and how it truly works. 

Following the car trend, Nvidia announced they will be implementing this AI and robot features with their partnership with Audi. They are building this AI car and will be available in 2020. Once again, this will be demoed on the show floor this week. We will try to capture footage of this and stop by if we can.
In the realm of gaming, The newest form of the Nvidia Shield was announced in two different variations. Preorders are currently open now. Each one has different specs and is designed to provide the best and most optimal streaming experience for your all your games and apps. Speaking of streaming devices….
Nvidia is now getting into the smart TV market. The Android-based TV was appropriately titled "Nvidia Shield TV".  This TV uses Google assistant with a built in Mic on the TV. In addition, this utilizes the Google Home Hub, which connects to your wifi to control your "Smart" Home devices.  Any app available on the Android store will work on this TV. The example given was you can call an UBER from your TV or order a pizza. This is the center of Nvidia's AI approach. This may also be on the show floor, but we will confirm if it is. I am interested to see how this is fully implemented and works.
For the GeForce approach, Nvidia announced GeForce Now. This is an on-demand PC streaming application. You will be able to stream every game from Steam or other gaming client platforms that utilize Nvidia on your PC/Laptop/Monitor. This is pretty awesome considering all the on-demand gaming services. This one will get much use from others, including me.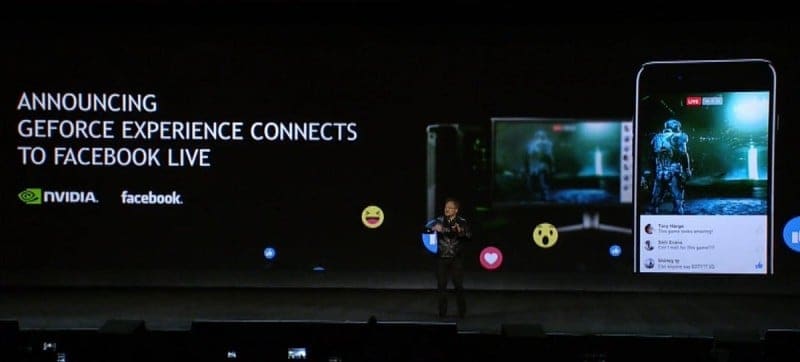 Another item on the GeForce front is the GeForce Experience. This allows your Nvidia GeForce device to connect and live stream straight to facebook. It is pretty cool, I would think Twitch.tv would be a more viable option for terms of gaming. However, I can see this being an introduction or improvement to the ever growing Facebook Live features.
Now we have a hybrid of AI and Gaming (and other features). This shows how the advancement of AI has progressed through the years. You can play Doom with AI, drive a car and much more. It is truly impressive that Nvidia went all in with AI in nearly every aspect of their business. It truly shows what they have come up with and what will be coming. We look forward to seeing all the AI stuff Nvidia has on the show floor.
Finally, Mass Effect: Andromeda was demoed in the conference and it will be utilizing Nvidia in its game engine. The game is scheduled to release this March.
That is all for the Nvidia conference today. Stay tuned for tomorrow when we are on the show floor tackling everything from Nvidia and all the other cool things we come across.
Til then, Mgs2master2 out!