Today we have a game review of a game that was shadow dropped on everyone and is a game from a beloved franchise. You're likely wondering if it can hold a candle to the games in the series that you do love from the past. We'll get into that as we talk about Magical Drop VI (Highball Games, Storm Trident, Forever Entertainment; $29.99).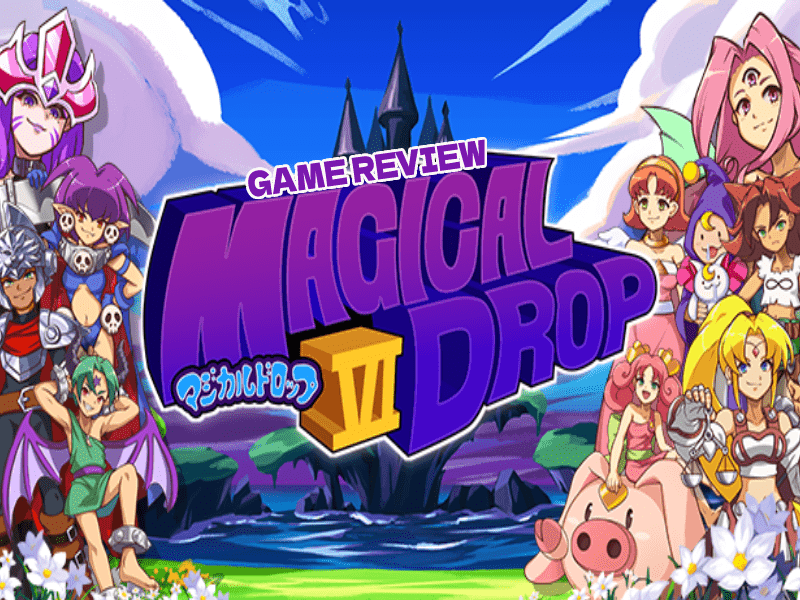 Description:
Magical Land is threatened by divisions. The heroes are turning against each other and nothing is the same as before. Will they manage to unite and make order reign again in the world of Magical Drop? Embark on a magical journey combined with dynamic puzzles and help to unite the land!
The Magical Drop series has become a beloved classic in the world of puzzle games. Thanks to its colorful graphics, catchy music, and addictive gameplay, the franchise continues to hold a special place in the hearts of many gamers.
Features:
• 15 playable characters each with their own unique story and music tracks
• Local and online multiplayer modes
• Dozens and dozens of challenges
• 6 Solo game modes
• …And many more surprises!
Trailer:
Pros:
Single Player Modes. There are various modes available in Magical Drop VI. So if you're someone that is thinking that you're just going to play single-player or against a friend, THINK AGAIN. Each one of the modes offers distinct game mechanics. You're definitely going to feel a connection to at least one of the modes, I know I am in love with one of them in particular. Among the single-player modes are Story, Match, Survival, Puzzle, Caravan, and Path of Destiny.Honestly, it's a lot to explain each mode to you. But let me see if I can simplify these modes down to their lowest common denominator real quick for you.

Story mode has you playing various activities and experiencing story-telling dialogues between characters based on tarot cards, such as World, Justice, and Fool. Playing on a game board with various paths composed of different fields can trigger special events and give you insight into the Magical Land.
Match mode is a classic mode where you select your character and battle against AI opponents. You can choose from three difficulty levels and face all the unlocked characters.
Survival mode is easy to explain. You try to survive as long as possible and set the new high score. The rate of drops slowly accelerates as the levels progress going from Easy to Hard difficulty.
Puzzle Mode is a game where you have to solve puzzles by moving and arranging drops in a special way. To win, you have to clear the game board using as few moves as possible before the time runs out. You have 50 seconds to finish the game. If you don't finish in time, a wall will quickly come down and end the game. But if you finish in time, the wall will go back up and you can move on to the next level. If the wall comes down and you still have drops left, the game ends.
In Caravan mode it's similar to Survival, but you must clear the board and make combos to stay afloat. This game is designed to run for mere minutes, but maybe your run time can outlast others'!
Path of Destiny is a game where you test your luck in three matches. The game field is similar to a classic board game. On each turn, spinning a roulette determines the number of moves you can make. Each landing spot has its own unique purpose, either positive or negative. For example, landing on a star will trigger a mini-game, and if you lose, you'll get a penalty. Landing on a question mark will give you a random event, like gaining coins or starting a mini-game. The game ends when you or your opponents reach the Goal field.

Multiplayer Modes. Magical Drop VI takes multiplayer to the next level (pun intended)! You can play with your besties/enemies using one console and two controllers. Or if you want, you can play online against a pal from afar with two Nintendo Switch family systems. And if you're feeling extra confident, show off your mad Magical Drop skills in online multiplayer matches against players from all around the world! With three different modes to choose from – Regular Match, Quota Crush, or Time Crush – the possibilities for fun and competition are endless…unless you keep rage-quitting.
Gameplay. Now we can finally talk about the gameplay. I decided to talk about the modes first since most people already understand how to play a game like this. Magic Drop VI has new abilities with the orbs, as one would expect, but the core gameplay is still in classic form. If you haven't played a game like this previously, then let's talk about that. The Magic Drop franchise has been known for decades for its highly addictive "match three" gameplay style. This type of game is easy to learn but difficult to master. The aforementioned modes all introduce challenge on top of the simplistic and challenging gameplay. To match three, you match three of a given color/design/pattern. The game further rewards you if you match more than three at a time. So yeah, I'm sure you can see how swapping, pulling/throwing the orbs will start off easy but then crank up to 11 really quickly!Match-three games are one of my favorite puzzle games after Tetris. I really dislike playing them on tablets/iPad though because you can simply sit there and drag your hand around on the screen and swap stuff rapidly and pass stages. Here you have to manually pull an orb(s) down to you and throw it up to a like color. You can hold several at a time too, thus making the gameplay even more of a hoot. I am very in tune with playing the Survival mode! I like challenging myself against myself, versus playing against another character. Speaking of other characters, I also think it's adorable how many unique characters that there are. And each of them has their own music, thus filling out the game more and not letting the visuals or sounds feel monotonous.
Extras. This game has more to come across than just what is playable on the main screen. The official marketing information has said it best, and since this part isn't opinion based, I'll share with you what they said about the extras in the game. "Magic Shop: in the Path of Destiny, you can win lottery tickets, redeem them in the Magic Shop, or use gold coins to buy additional items which can help you throughout the game. Gallery: access Magical Drop VI's key illustrations and unlock the three remaining ones by buying lottery tickets in the Magic Shop! Once a full illustration is unlocked prices in Magical Shop will be lowered! Music Room: enjoy Magical Drop VI's soundtrack and sound effects at will!"
DLCs?! Magical Drop VI will be officially released on April 25th, followed by the release of four free DLCs which will add new content. Each DLC will bring new characters, game modes, and features. The downside? There is no official release date yet for these DLC packs. The DLCs will be released at least once every six months, providing two years of new content for the game. Mid 2023, late 2023, early 2024, and mid 2024. The picture below further breaks down what you can expect to get in the packs. Man, this title already has so much content as it is for the price, but why not more?!
Cons:
Difficulty. For some reason, I can play a lot of the other game modes and get really far into them without issue. When it comes to playing the Story mode on the easiest difficulty, I was getting my butt kicked. And hard. Even when I thought I was acing the match, I would still end up losing. And when I say I would end up losing, I mean in the very first match. What sucks about that the most is the fact that then the game takes you back out to the main menu instead of letting you simply try again. You get one chance to replay the match, but not without 60 seconds of dialogue in between. Then if you fail it again, the game shrugs and says "better luck next time" and then boots you back to the main screen. And that is literally my only complaint about this game.
Final Thoughts:
Overall, I really, really do like this game. I'm bad Story mode so I rarely go back to that, so I only care for one type of gameplay. But— all in all, if you're a puzzle guru you're going to like it more than me. And with a $30 price point, it's exactly priced for all of the sheer content you get. So if you're like me and you only go in to play one mode, you'll already get your money's worth. And that's all technically before the free DLC drops. But the game is just so much more than that. This game is a true return to form for the franchise and includes plenty more new additions that are sure to be loved by OG players of Magical Drop!
Purchase Links: