The ModCase Ultimate Kit is another great product that comes with every accessory you could need on the go while still protecting your Steam Deck from front to back. The ultimate kit comes with a travel cover, metal bracket, flexible strap, M.2 SSD card enclosure, a cooling fan, and the 11-in-1 docking station.
JSAUX sells the Modcase in six different types of kits to pick from, there's the basic kit at $29.99, the Cooler kit at $49.99, the Hub kit at $79.99, M.2 slot kit at $39.99, the power bank kit at $79.99, or just get all the accessories with the ultimate kit at $149.99.
The JSAUX Mod case and kits came out about a month ago. It's probably one of the best protective cases on the market with a starting price of $29.99. It's very versatile with multiple accessories and a front protective cover that's top-notch. Thanks to JSAUX, we were lucky enough to pick up the ultimate kit that has everything you could need for the Steam Deck. Instead of rushing to review, I wanted to see how well things held up for 30 days.
M.2 SSD card enclosure

The JSAUX Modcase with an M.2 SSD card enclosure is a great way to add extra storage space to your Steam Deck. It's easy to install and use, and it's very affordable, plus comes with everything you need to protect your steam deck. However, there are a few things you should know before you buy one. First, the M.2 SSD card enclosure doesn't have a pass-through charging feature. Meaning you won't be able to charge the steam deck while using the M.2 card enclosure. While this isn't a huge problem, it's something to be aware of.
buy USB C Port Hub Charger Power Split Adapter
There is a solution to this minor flaw, by using a 3-port USB C power split Y cable or maybe JSAUX will update the M.2 kit to include this power splitter. The M.2 enclosure uses a flexible strap to hold it self-in place. It doesn't use any 3M tape or magnets to hold it in place. So it's not as secure and sometimes it can pop out of the straps if put on too tight, like in the picture below. Also, when using the M2 enclosure, the metal kickstand does not work as the enclosure touches down first, leaving the kickstand floating in the air.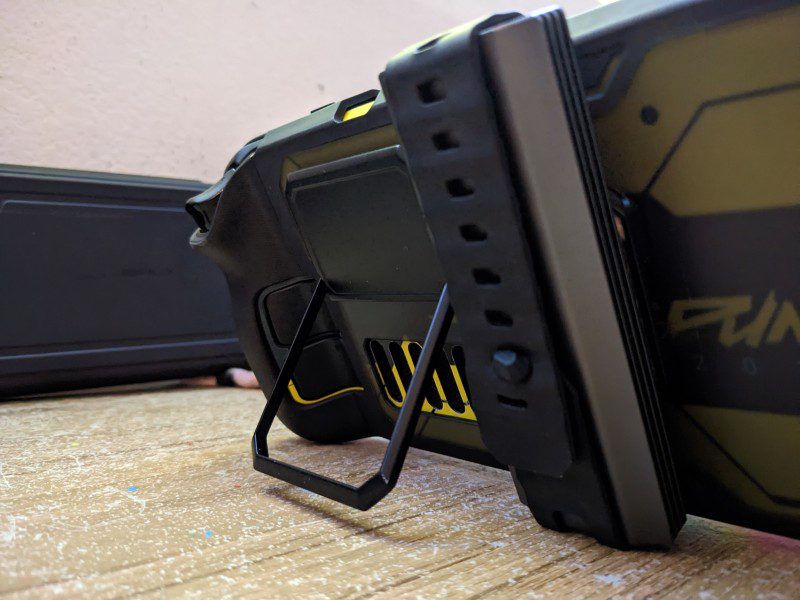 I was a little disappointed with how the M2 enclosure is attached to the Modcase. However, it's still a very good option if you're looking for one of the best protective cases on the market that can add extra storage to your Steam Deck,
Cooling Fan Kit

The JSAUX ModCase cooler kit is a must-have for anyone with a Steam Deck. The cooling fan sits on the back of the ModCase and helps suck out all that hot air rapidly. The cooling fan has its own battery pack built in so it does not take any power from the steam deck while it's in use. It has adjustable speeds and does about 6,000 to 6,500 RPMs. The fan's battery life is 4-6 hours depending on the speed of the fan.
Using it on max speeds I could only get the fan to last for about 2 hours. But at slower speeds, the battery could last for days on a full charge. It can cool the system down anywhere between 10 to 15 degrees making a big difference in how the steam deck performs, plus it doesn't create any negative pressure.
Another good thing about the cooling fan is you don't have to buy the ModCase to be able to use it. The cooling fan comes with a small mounting sticker allowing you to directly mount it on the back of the steam deck.
If the cooling fan runs out of power, it can hook up to a wall outlet and continue to use it while it's charging at the same time. The cooling fan by itself costs $35.99 and in my opinion for $15 dollars more, you can pick up the Modcase cooler kit. Hands down the cooler kit is a must-have and I'm really impressed with the build quality. JSAUX really outdid themselves, especially with the cooling fan as they could have made it a Modcase-only accessory but didn't.
I couldn't find anything wrong with the cooling fan after 30 days of heavy use. It had no problems docking to the official docking station or M.2 docking station. It works great and it does exactly what it says it's going to do. There's not one downside to this kit and I would definitely recommend the ModCase cooler kit with a price tag of $49.99. It's a great value for all the stuff you get with it.
Hub kit

The Hub kit comes with an 11-in-1 docking station allowing you to connect multiple devices to your Steam Deck. It has two USB 3.0 ports, one USB 2.0 port, an HDMI port, a DisplayPort, a Gigabit Ethernet, SD/TF slot, and a headphone jack.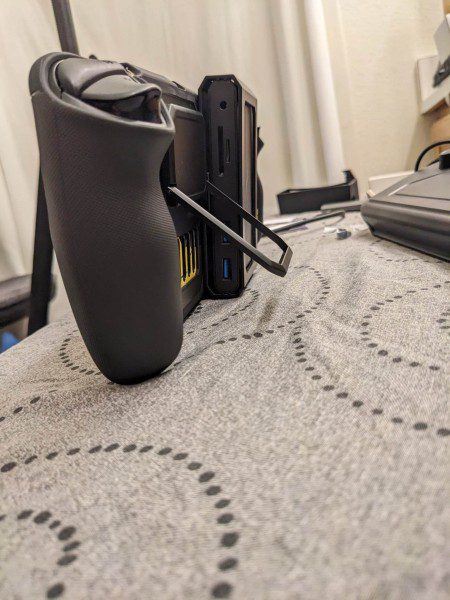 The hub is probably the first I've seen to have an SD/TF card slot and a headphone jack built into it. Even though I can't find any use for the headphone jack yet. Another good thing about this docking hub is that it doesn't need power from a wall outlet to work. It's just like other JSAUX docks, they can work right off the Steam Deck's power. Allowing you to take advantage of the hub's SD/TF card slot on the go. Just like the M2 enclosure, the docking hub also hits the surface before the kickstand. So the kickstand once again hangs in the middle of the air.
The only thing I did not like about the docking station was the writing on it, describing each port. It's really hard to make out and over time it will start to fade away and eventually disappear. These are two very minor things and probably won't even bother most people. The Hub kit is still a great buy with one of the most versatile docking stations I have seen yet.
My thoughts:
There are a few things that could be updated in the M.2 kit, but it's not a deal breaker. If you are new to the steam deck scene, the ModCase Ultimate kit is definitely worth picking up at $149.99. It has everything you would need for your steam deck. Now if you've been around the Steam Deck scene, you've probably picked up all the goodies you need. Well, there's one kit I can definitely recommend and that's the cooling fan kit. There's no downside to this kit or just the cooling fan depending on your purchase, but I see this one as a must-have for all steam deck owners. Plus, all Modcase kits come with the traveling cover giving it full-body protection from the front to the back, and even covers the top air vent. The Modcase is like adding a suit of armor to your steam deck, and that is just another must-have in my book.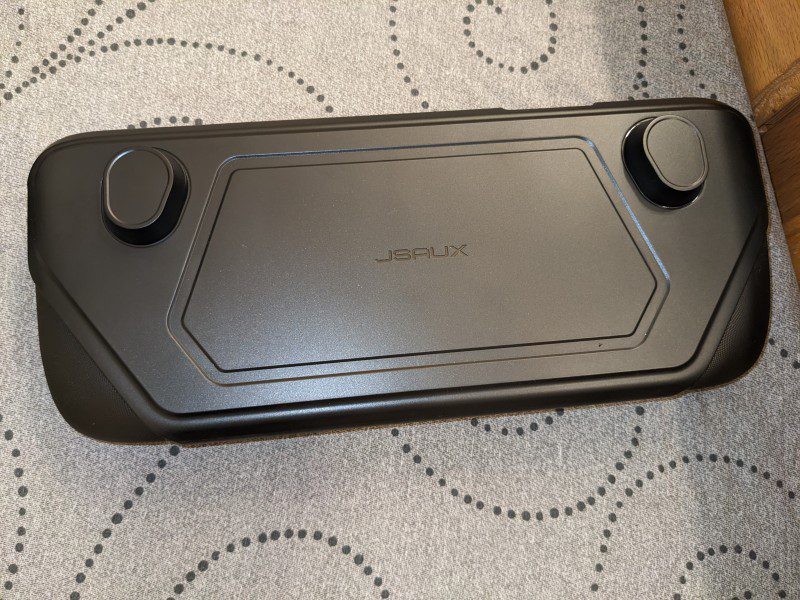 There's one thing I noticed after using it for 30 days, the metal kickstand will no longer stay shut and hangs down while using the deck. This is not a big deal since you can take off the metal kickstand at any time and it's not permanently attached to the Modcase.
If you're looking for the best protective case you can get for your steam deck, then I definitely recommend picking up the Mod case basic kit or cooler kit. Either way, JSAUX ModCase is definitely worth the investment whichever ModCase kit you choose to get.
Basic Kit & M.2 Slot Kit are in stock.
Hub Kit is out of stock now. The estimated shipping time is mid-late March.
Existing orders for Cooler Kits are expected to be shipped before the 10th of March, and orders placed after the 24th of February are expected to be shipped in mid-April.
The Power Bank Kit is expected to go on sale in mid-March.