I love giving coverage to small shops as often as I can. Today is no exception, BlueShell3D is both small and mighty! They have created (using their big brain) products that other sellers have never thought of! Today we're going to be covering the P-Wing and we'll be squeezing in some bonus items too. To quote a lyric from one of the world's greatest songs, The Whistle Song, "Let's begin"!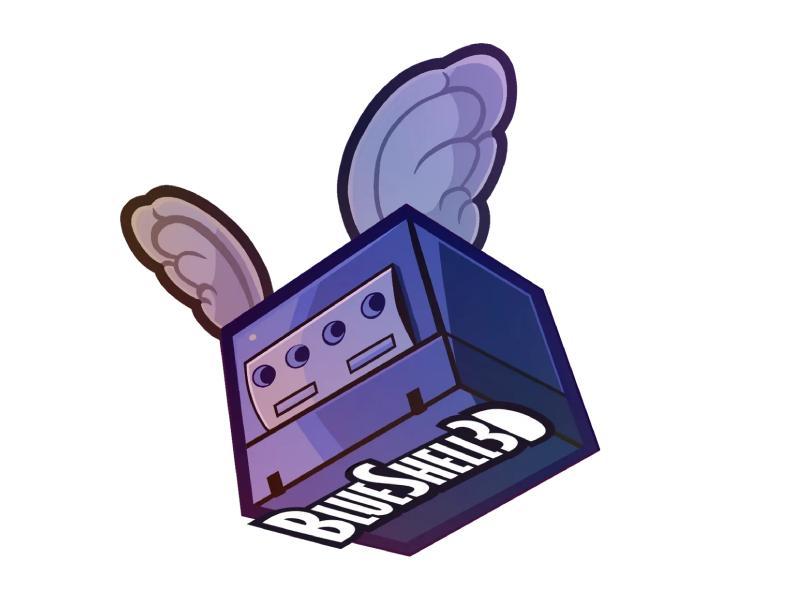 Unboxing Video:
P-Wing for GBA SP Description:
Having a hard time holding onto your Game Boy Advance SP for those extended play sessions? Our 3D printed custom grips will help you avoid fatigue by emulating a more modern controller design while still maintaining the portability the Game Boy Advance SP is known for. The Game Boy SP simply clicks into place for a secure fit.
P-Wing for GBA SP Overall Thoughts:
One of the tips that I discovered on the site is something that I don't quite know how you could manage it. But BlueShell3D does warn you of having dust and particles. This is due to the fact that if you trap dirt in between the two, with the tight fit, you may cause scratches on your GBA SP. This is something that I couldn't replicate, but just take it as a friendly warning. I'm guessing they said that as a precaution so that you couldn't blame them if your device became scratched.
They also mentioned something that I learned only after I experienced it. They clarified that the P-Wing is designed to fit an official GBA SP. And so if you've swapped out the shell for a third-party shell, you may have issues. I have two GBA SP and they are both third-party shells. One of them got  *STUCK* and it was incredibly hard to remove. The other worked as well as an OEM shell. That's the one that you see featured in the unboxing video.
There are several colors for you to choose from. Some match existing GBA SP models, others would be a fun contrast to your SP. The colors that they sell are black, fami, ruby red, sapphire blue, and emerald green. All of the colors are represented in the picture below. I was sent a sky blue one that was a test print and I think it looks great with the Blue Shell from Mario Kart emblazoned on the back. But the blue for sale is a deeper blue which looks fantastic!
If you watched the unboxing video, you'll see I gave it some strength tests. My final conclusion is that the P-Wing has flexibility in the correct places and has rigidity where it matters. You don't want the back of it to be as stiff as a board. You need it to flex a bit when putting a device in so that it doesn't snap. But the bottom and the sides are all tough as nails. Those are the areas that need to both hold the device and not give under the pressure of you squeezing while playing. There are 4 hex screws at the bottom to hold the P-Wing together and keep it strong. 
I'm bummed that I can't stand it up on its feet. Additionally, there are no "feet" on the back top corners. That would make it even better to set down. If there were just a nub the size of a M&M mini on the top of each handle on the back, it would be perfect for me. I'm tired of laying my devices flat on their backs. And while I'm aware that the GBA SP is tucked in the P-Wing, it still lays at a slant. Just an idea.
So the cost of the GBA SP P-Wing comes in at $24-25. Now, if you google, you'll find several 3D printed grips (that mostly look like bad prints), third-party, and Chinese products. They all ranged from $5-$15 and so it seems like $25 might be a lot. However, I could clarify that the 3D print grips all look like ass and they're charging ~$15 for those and the Chinese ones just don't exist anymore. At least not the ones that used to be sold on eBay.  I think the value is clearly here since these are tested thoroughly and printed superbly. 
One of the interesting things about being able to put in and take our your GBA SP is the clearance space. I don't even know if that's the right way to word it. What I mean is that I positively love that you can leave the game in your SP. So if you're like me and have an Everdrive or EZ Flash Omega, I leave it in all of the time. But if my partner wants to play my GBA without the P-Wing (she has smaller hands), then I can slide it out. When I pop it back into the P-Wing, the cartridge can stay in. Best of all, you can still swap out games. Some of the third party grips that existed required that you slide the GBA SP out and then swap games before putting the GBA back in.
I'm supposing with time what I'm about to suggest will come to be. I would honestly love to see more colors come available. I would especially like to see an all white color to match the white GBA SP. That is out there. It would be so sexy to see all white wrapped around a white GBA SP. The material used for printing these P-Wings is very easy to clean. If there was an all white P-Wing, it wouldn't be an issue. Furthermore, it would protect the white GBA SP from getting dirty!
I think it would be worth seeing another version of the P-Wing. I think it would be of value to make a version that is an extra millimeter added each direction for tolerances to support 3rd party replacement shells that get stuck easily. They could make it easy to order too. Each color that comes in an OEM or 3rd Party variant. There's probably hundreds of thousands of people that have been forced to change their shells. Whether it was due to breakage, scratches, filth, or just plain wanting to switch it up. And I can imagine a world where at least 100 of them would want a P-Wing. But as of now, the website deters them from buying one. 
So how does it feel when holding it in the hands? It helps larger hands play the GBA SP more comfortably. Let's talk about it from the bottom up. The very bottom corner rests nicely in the middle pit of my palm. Up a bit further, where the joints meet, is a slant for the fat/chubby part of my hand (the part of my palm just below the thumb). The thumbs then land exactly where the buttons are. This is perfect and doesn't do that thing where they're too close together or overlap. And then on the backside of the handles is a dedicated place for your remaining fingers to grip. It's not too much of a necessity since gaming on GBA isn't wild and intense like playing Call of Duty on a modern console. But I'm glad the option is still there if you're a "squeezer". 
I love the GBA SP but as I've gotten older, I've tended to prefer using my taco GBA. And to tell you the truth, it's only because of the width of the device. But now that I have the P-Wing handy, I have a place to rest my palms. However, I would love to see one of these built for my favorite Gameboy, the Gameboy Pocket. I think that conventionally it would work since the Gameboy Pocket has too since it also has a flat back and isn't huge (I'm looking at you DMG).
If you're wondering about the triggers, don't worry, I have you covered. So, the triggers have a section of space for them. This is for you to be able to depress them as they're supposed to. I tried to focus on it a bit in the video because it's truly one of my favorite things. It feels natural and comfortable and as if Nintendo had designed the product themselves. 
The divots for adjusting volume and powering on the device work well enough. I have an average finger size and I find it a bit snug. However, I do understand the concept is to keep the space as small as possible. I have to settle for using my pinky and it works well enough. Typically I leave the volume at halfway, so it's really just turning the device on and off that I do the most. And even then, I generally just close the device and let it sleep. 
The studs on the inside top corners of the shell snap into the GBA SP bottom top corners where there are holes. But it comes out easily because of the flex that I mentioned up above. The bottom two corners have holes in them to also help hold the SP in place. This is because the GBA SP has little studs on the bottom corners. When the GBA SP is in the P-Wing, it's really IN the P-Wing. Even if you turn it upside down and shake it, it doesn't fall out. I had no problem demonstrating that in my unboxing video. 
The Blue Shell logo for BlueShell3D on each one is a treat because my favorite game on the GBA is the Mario Kart Super Circuit. I suppose I would be bummed if I didn't really like Mario Kart. So while I love the logo, I think they should offer an option to choose a flat back. 
If you're interested, BlueShell3D also makes a model of the P-Wing for the Analogue Pocket for the bougie gamer out there. I don't have one to review, but I've seen others on social media love it. It has way more colors to choose from and is typically $33 but is on sale at the time of this writing for the same price as the GBA SP P-Wing. I put the link at the bottom with the other purchase links!

GBC/GBA/DMG Stands Description:
Stands are designed to have a small footprint in mind. This is because they're meant to not be noticed. 3D Printed in Overture PLA Professional for increased durability.
GBC/GBA/DMG Stands Overall Thoughts:
They come in multiple colors just like the other products from BlueShell3D. There are admittedly fewer colors to choose from, but they probably make more sense. I only say that because like the description said, they are designed to be unnoticeable. You can choose between light grey, black, and white respectively. All of these are represented in the images below. You'll have to click to enlarge them.
The cost of these is much more affordable at $5 each. I think that if you have one of each of the handhelds, these are the best bet in terms of cost. You can get one of each and only spend $15. I have only found stands that are affordable on AliExpress and the quality is…lacking in comparison.
The print quality is just as great as the P-Wing on these. They have no need for flexing with these since they're a support brace for balancing your handheld upright.
The minimal footprint means there is only enough plastic to do the bare minimum. That may sound bad, but a little goes a long way here. I tried shaking and rattling the shelf they were propped up on. I got nothing to fall and even when I pretended to "accidentally" bump them, I still couldn't get them to fall over.
When lifting up the devices, I was afraid that the stands were going to come up with it. I hope I'm explaining that correctly; I was afraid that I would have to manually pull off the stand each time. I'm happy to report that the inverse of that fear is true. These stands do not clip or snap onto anything. Your device merely rests within the stand.
If you buy a lot of them, you'll be relieved to know that you can't possibly mix them up. I was originally confused as to how I was supposed to know which device they were for. And then, on the bottom, they have the abbreviation of the device they're for printed into the PLA. I really love this cute and subtle touch on these.
I hope to see more stands from BlueShell3D in the future. I'm thinking Gameboy Pocket, Gameboy Micro, Gameboy Light, Sega Nomad, PSPs, and the Sega Game Gear! 
Purchase Links: