We're in an era where companies from all around the globe can have accessories for mainstream products ready to go as soon as they launch. Today's review features products from a company that does just that. We're going to be looking at several products today all designed to help a modern person protect, expand, and even charge up products. Let's dive into what JSAUX has sent over.
Unboxing Video:
OmniCase Pro USB-C Storage Docking Station:
Description/Features:
【7-in-1 USB-C HUB Practical Expansion】: Expand your laptop's USB-C port to meet more connection ports you need. This Type-C Docking Station supports Gigabit Ethernet network, up to 100w USB-C PD charging, 4K@30Hz HDMI, 2*USB 3.0 (5 Gbps data transmission), SD, and TF card readers up to 104MB/s fast transmission.

【JSAUX Exclusive Patent Design-Electronic Storage Function】:Not only a Type-C Hub, but also an Electronic Organizer. Comes with multiple types of cables and adapters, which can be conveniently taken out and connected to your devices. You will get: USB-C to USB-C Cable,USB-C to Lightning Cable(MFI Certification),USB-A to USB-C Female Adapter, Micro USB to USB-C Female Adapter, Eject Pin and Sim Card Slot.

【Power Delivery 100W & 4K HDMI】:This USB-C Hub Multiport Adapter is compatible with USB-C PD up to 100W, which can increase the charging speed for your laptop or other connected devices. The HDMI port supports 4K@30Hz Ultra HD and 1080P@60Hz, enjoying an excellent visual experience, high-definition, and stable projection in the meeting.

【Stably and Efficient Transfer】:2*USB 3.0 port, 5Gbps Superspeed data transfer, and 5W power supply. Built-in SD and TF card slots, which support simultaneous reading of 2 cards, and the speed is up to 104Mbps. Compatible with multiple types of memory card formats, such as D, SDHC, Micro SD, MMC, SDXC.

【Compact and Portable】:The New & Creative USB-C Hub combined with Electronic Organizer will be the best work partner. Compatible with MacBook Pro M1/2020/2019/2018/2017/2016, MacBook Air M1/ 2020/ 2017, iPad Pro/Air, Samsung, Huawei, Dell, Lenovo, Google, Microsoft, HP, ASUS, and so on. If your laptop is not in the model list, you can confirm whether the USB-C port of your laptop belongs to Thunderbolt ports / USB Type-C (Alt mode) / USB 3.1 Type-C with DisplayPort support.

Color: black
Hardware Interface: USB, USB Type C, Ethernet, HDMI, Thunderbolt
Compatible Devices: Tablets, Laptops, Card Readers
Item Dimensions: LxWxH 4.96 x 3.07 x 1.02 inches
Data Transfer Rate: 104 Megabits Per Second, 1000 Megabits Per Second, 5 Gigabits Per Second, 100 Megabits Per Second
Overall Thoughts:
Of all of the products that I got to review that are docks, it was the only thing that I couldn't review. I could leave this right here and move on to the next product, but I feel like I should at least explain what I mean. Upon unboxing, I thought that I was receiving all products for the Steam Deck. So in my mind, I see this product come out and I think, "Oh cool, a portable dock for my Steam Deck!" After that, I pretty much forget about it and keep pulling products out of the box. Then, later on, I come across a charger for an Apple Watch. At no point do I think about the fact that the portable dock must surely be for something Apple related or Apple laptops for that matter.
After the video was done recording, I tried to make this Omnicase dock work with my Steam Deck using another product they sent me (the USB-C to USB-C cord). It didn't work, so I chalked it up to the fact that maybe the USB-C cord was for charging only (more on that later). I shrugged my shoulders and went on to try out the other full-sized docks that we will soon talk about. They didn't require the USB-C to USB-C cable, since I only needed my Steam Deck charger to make them work. And they did, so I forgot about theOmnicase until it came time to put pen to paper for this article.
Upon testing this dock again with my Steam Deck, I was disappointed. I used the USB-C cord that comes with the dock only to find that I still couldn't get my Steam Deck to recognize it. Was this USB-C cable also only for charging? That wouldn't make any sense since it was built into the product. I then tried another USB-C cord that I know worked with my old dock and I got the same result. So there were only two possibilities from this point. Either the dock is broken (maybe the USB-C port or the HDMI port) or the dock is only for laptops. My summation, since it doesn't mention the Steam Deck at all, is that this doesn't (currently) support the Steam Deck. This is a real shame, but understandable nonetheless.
So now you have figured out the reasoning that I couldn't review it, because I can't fairly test it. The only thing that I have that has a USB-C video out port would be my Steam Deck. I don't have a Macbook or other laptop with USB-C video out capabilities. Nor do I have a compatible iPad (if that would even work). I'll be giving this product away as a giveaway within a week of this article going live, so follow me on Twitter.
Protective Standing Case for Steam Deck:
Description/Features:
【Unique Design】Specifically Designed for Steam Deck(2022 Release).
【Protective Case with Stand Function】Perfect combination between a protective case and a stand base has the advantages of both products. The steam deck becomes more convenient to play and adds more possibilities with this unique design.
【Fit Perfectly】 — All cutouts are aligned and the case will not block every port or button, half wrap design makes it easy to install and remove. Behind the Steam Deck, the opening holes solve the heat dissipation problem excellently.
【Ergonomics Design】The ergonomic design for this Steam Deck case made it more comfortable and easy to grip for extended gameplay, a texturing design on two sides for non-slip can bring a better hand feeling.
【TPU Material】TPU case effectively solves annoying fingerprints and the accumulation of dust and oil.
Overall Thoughts:
Now onto a fun product that I know absolutely works! If you didn't watch my unboxing video, the picture at the bottom of each topic will suffice in getting the point across. First off, let's discuss how it fits. When I was first putting it on, it felt like a tight fit, as if I were doing it wrong. Well, I'm here to tell you all that I was doing it wrong and I want to stop you from doing so! The way you put it into place is by putting the bottom handles into the case first. After that, you'll find it's easy to help the TPU top go over the buttons and port. If you do it that way, it will fit brilliantly and you'll find that it feels great in your hands. To take it off, do the same thing but in reverse.
TPU is a good segue into the next topic. Let's talk about the structural integrity and the build quality of the case. Aside from the TPU material that wraps around the top, sides, and bottom, there is also rigid plastic. You'll find the plastic across the back of the device. This not only adds the aforementioned rigidity but also is clear so that you can see the Valve logo on the back of your Steam Deck. The strongest stint of plastic is what makes up the kickstand on the back. Having a kickstand there is similar in nature to the original Switch.
What you'll find here is an improvement over Nintendo's design. This kickstand is wider than Nintendo's, likely to support weight, and has a larger finger slot to pop the kickstand out with. My favorite touches to the case are all over said case. Open buttons for pressing, open ports for plugging, open button slots for pressing (especially on the back), and open ventilation slots.
You'll find that this case on the Steam Deck still fits into the official carrying case too. It's a bit of a snug fit, but it does not negatively impact anything. If you want to hold more than just the Steam Deck in it's case, then you may have to get a larger carrying case, but JSAUX has those too.
Now, I have a bone to pick with the case. And I'm not certain if I should bring it up here or in the section about the docks. But I'll bring it up here so you know about it sooner. This case isn't compatible with the 6-in-1 and 7-in-1 multifunction docks that JSAUX sells. It's just too thick on the backside where the kickstand is.
Can you jam it in? Sure you can. Is that a dumbass idea? You better bet your butt it is. For that reason, I no longer use the case, even though it's the best case I can find for the Steam Deck. I would gladly buy the very same case without a kickstand just so that I can use it with the multifunctional dock. They have one that is similar, but it's not the same. On their other model, it goes around every button and sticks too, and I don't personally like that.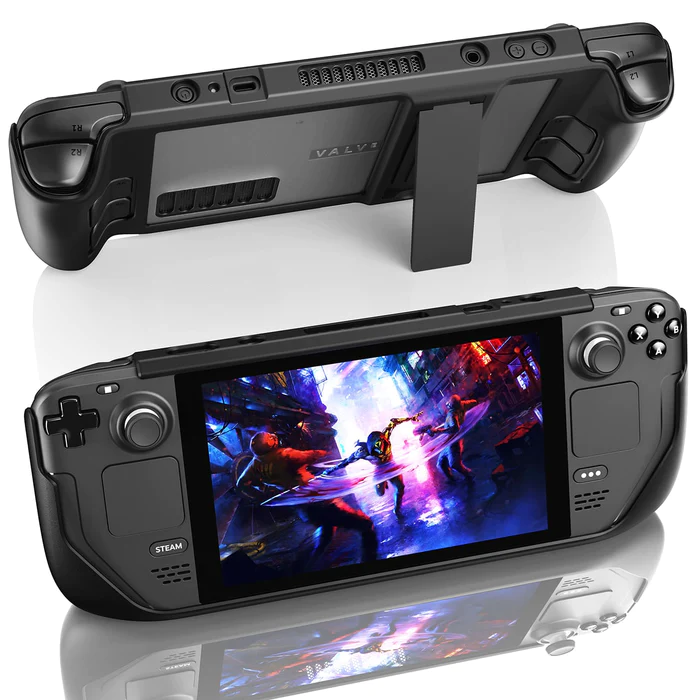 USB-C 6-in-1 Multifunction Adapter:
Description/Features:
6-in-1 Docking Station for Steam Deck. Equipped with an HDMI 4K@60Hz output, a Gigabit LAN Ethernet input, a USB-C port for charging, and three USB-A 3.0 ports, letting you explore a new way to play with Steam Deck.
It comes with a 4K@60Hz HDMI 2.0 output When it's connected to an external 4K monitor, it provides a sharper and smoother visual experience, so you can enjoy the visual feast on your games.
Full charging speed for your Steam Deck. The JSAUX Steam Deck docking station supports 100W max. power delivery, which is enough power to charge your Steam Deck at full speed (45W) when paired with the original charger.
The JSAUX all-in-1 Steam Deck docking station blends hub and stand together perfectly, so you can keep your desktop neat and organized.
The main difference between HB0702 and 0603 is that 0702 has one more DP port than 0603
Hardware Interface: USB Type C, Ethernet, HDMI, USB 3.0
Compatible Devices: Steam Deck, Valve Steam Deck
Total USB Ports: 3
Number of Ports: 6
Total HDMI Ports: 1
HDMI: 4K 60Hz / 2K 120Hz
Overall Thoughts:
Okay, you already know my negative thoughts about this case, so we can skip that part. I'm also not going to reiterate all of the information in the details just above. But I would like to discuss who this dock is for. This docking station is a 6-in-1, JSAUX also sells a 5-in-1 as well as the 7-in-1 that we haven't gotten to yet. The price of the 5-in-1 is $40 and the 6-in-1 is $50, the only difference is a single USB port. We'll talk about the 7-in-1 later on, but it's got more amenities, which is what causes a higher price point.
I honestly don't know if there is much reasoning in getting the 6-in-1 if you're someone who will be using your Steam Deck a lot. The $10 that you spend extra just to buy the 6-in-1 could be used to buy a USB hub and get more USB ports attached to the device. I suppose I think in terms of quantity over quality, so I wouldn't mind another little hub sticking off of the backside. To each their own, I suppose. But I think the price difference should only be $5 between the two. Let the 7-in-1 be the same price it currently is, making it $15 more, $5 to account for the USB port and the other $10 for the Display Port
So who is this for? I think it's for someone who only has a Steam Deck, a USB drive to load additional games from, a USB keyboard, and a USB mouse. I think that if you're swapping back and forth between a controller and a USB keyboard and a USB mouse, you're going to get frustrated. If you have all of the games you'll ever need, then maybe you could ditch the USB external drive and use one port for the controller and the other two for the keyboard and mouse. The ethernet jack on the side is on all of these docks, so there's not much to talk about. But I will say that no matter which one you buy, it's a godsend to use rather than wifi.
90 Degree USB C to USB C Cable Right Angle Fast Charge Cable:
Description/Features:
【Unique Right Angle Design】: 90 Degree USB C with L shape design, in order to reduce the stress of the end from bending to tight, and the right-angle plug makes a nicer fit in your hand without breaking. Specially Designed for Games, Compatible with Steam Deck, Switch, Samsung Galaxy, Pixel, MacBook,iPad, and More.

【 USB-C to USB C Cable】: This is the USB-C to USB-C 2.0 cable, which means it has the same USB-C plug on both ends, Please be aware that [❌ It is NOT a regular USB cable/ USB-A to USB-C cable.❌ ]

【60W High-Speed Charging】: Output power up to 20V 3A, which is ensured by high-speed safe charging, and the USB 2.0 supports data transfer speed can reach 40~60MB/S (480Mbps). NOTE: This product does NOT support video output.

【Ultra High-Quality Assurancel】:Upgraded 3D aluminum connector and exclusive laser welding technology to prevent terminal detachment or rupture. The most flexible, powerful, and durable material increases tensile force by 200%, which can bear the 15000+ bending test.

【Compatibility List】: This Right Angle USB-C to USB-C cable apply to most USB C Devices, compatible with Steam Deck, Switch, Samsung Galaxy S22/ S22+/ S22 Ultra/ S21/ S21+/ S21 Ultra/ S20/ S20+/ S20 Ultra/ Note 20/ Note 20 Ultra/Note 10/ Note 10+/ A80, Google Pixel 2/3/4/5/6, Macbook Air/ 13", iPad Pro 2018/2020/2021, iPad Air 2020 10.9″(Gen 4) , iPad Mini 6 and more.

Max Output: 20V 3A 60W
Data transfer: USB 2.0, 40-60MB/S (480Mbps)
Overall Thoughts:
This cord is the cable that I mentioned when I was talking about trying to use the Omnicase dock on my Steam Deck. There isn't much to say about the USB-C cable that hasn't already been said in the details above. There are several things to love about it though that are not mentioned just above. First off, the length of the cable is around 8 feet long. I find that the longer a cable is, the easier it is to lie in bed and game. The same could be said if you're just in bed using your phone while charging it. Now, they mention how to get full fast charging to your phone. They encourage you to use the official USB-C wall charger that your phone comes with.  Or you can purchase a high-quality charger that can support quick charging 2.0/3.0 and USB power delivery fast charging.
On the front of why it didn't seem to work with my Omnicase, well that's because it wouldn't work with my Omnicase even if the Omnicase worked with my Steam Deck. The cord is only for charging and data cable. So while it can charge your device quickly and transfer info from your PC to your phone and vice versa, it cannot do anything more than that. JSAUX has stated that it is not Thunderbolt 3 cable so it cannot output video. "These cables are designed according to the USB 2.0 specification, so they cannot reach the speed of USB 3.0 (5 Gbps) or 3.1 (10 Gbps)."
The downside to the cable is that the most phones, if not all phones, that use USB-C to charge have their USB-C port on the bottom. This is a super strange thing for the right-angled cable. If you're using this cable exclusively for your phone, you'll need to plug the angled end into the wall charger and the straight end into your mobile device. The braided aspect of the cord is the tightest and smoothest braid I've felt on a cable. It is like having a higher thread count sheet set on your bed than when you were in college. It's a nice quality and the tight braid affords it to be more flexible.
2-Pack Screen Protector for Steam Deck:
Description/Features:
【Design for Steam Deck】7 inches tempered glass screen protector with full-screen coverage.

【5X More Durable】Extra-reinforced at 500℃ for several hours, 5X more durable than other regular screen protectors that have been reinforced only once.

【Ultra HD Clarity】With 99.99% Transparency, you can enjoy the original clarity without any additional blemish.

【Superior Protection】9H hardness and Extra-reinforcement allow the screen protector to protect the screen of the Steam Deck from bumps and scratches.

【Anti-fingerprint】With the oleophobic coating, the JSAUX Steam Deck screen protector will keep your screen clean and tidy at all times.

Screen Size: 7 inches
Thickness: 0.33mm
Hardness: 9H (Extra-reinforced)
Clarity: 99.99% transparency
What You Get: 2 Packs of Steam Deck screen protectors, wet wipes, dry wipes, dust removers, and a bubble remover
Overall Thoughts:
This is likely to be the shortest section across this whole review. You'll be happy to know that the installation of the screen protector that you saw in my video is exactly as easy as it was. What did it take, thirty seconds at most? I couldn't believe it because it usually takes so much more to install a glass screen protector. The glass screen protector is quite large, making it an even more daunting procedure overall. Thanks to the aligning bracket, it really makes it so that you cannot fail.
The set comes in a 2 pack, though I'm not certain what I would do with the other one. I tried to hurt the screen protector and found that I couldn't do any damage to it. For instance, I dropped my Steam Deck, I scratched it with a key, got my fingers greasy and wet (with Thanksgiving turkey) then touched it. I just couldn't do any lasting or permanent damage to it. The only thing I could think is if I dropped a large, heavy rock from shoulder height onto the screen while it was on the ground. It would take a tremendous amount of weight and force to hurt it. But you can rest easy knowing that the average things like drops and spills are safe with this.
Finally, if you want some of the same quality of screen protectors from JSAUX, but have more features, I can tell you they have others. One of them is the same concept, but it also includes a blue light filter to them. Additionally, you'll find another kind that has an edge that tapers and disappears into the bezel of the Steam Deck. The edge has a design that is painted/printed on so as to give your Steam Deck more customization and character.
Watch Charger Stand for Apple Watch:
Description/Features:
【MFi Certified】: JSAUX Apple Watch Charging Stand has completed MFi certification requirements. The Apple MFi certification and JSAUX strict quality testing ensure the safety of your Apple Watch devices and provide you with stronger magnetic hold, stable charging, and over-heat protection. (NOTE: Using non-MFI certified accessories may damage your iOS device)

【USB-C and USB-A Dual Connector】JSAUX Apple Watch Charging Dock have a dual input connector, one Type-C port, and one USB-A port. Compatible with the traditional USB wall charger and the new USB-C power adapter both. in addition to this, It is also compatible with laptops, car chargers, power banks, and desktops with different ports, you can charge your Apple Watch where ever you want.

【Foldable and Portable Design】The foldable design give you the option of folding down for horizontal charging or folding up to activate nightstand mode which Allows you to use the watch as a night-down clock with a comfortable viewing angle. And the compact and portable size allows you to take it along for work or travel.

【Compatible with All Apple Watch Models】JSAUX Manetic Charging Stand Compatible with all Apple Watch models including Apple Watch Series 7 / 6 / SE / 5 / 4 with 45mm / 44mm / 41mm / 40mm and Series 3 / 2 / 1 with 42mm / 38mm.

【What You Get】: JSAUX Magnetic charger stand for all series of Apple Watch, built in a 5ft(1.5m) Type C/USB-A Cable. 18-Month warranty and 7×24 hours of friendly customer service.

Compatible Devices: Apple Watch Series SE/7/6/5/4/3/2/1
Compatible Phone Models: Apple Watch Series 7 / 6 / 5 / 4 / 3 / 2 / 1 / SE
Connectivity Technology USB
Special Feature: Magnetic
Connector Type: USB Type C
Total USB Ports: 2
Input Voltage: 5 Volts
Color: White
Output Voltage: 5 Volts
Overall Thoughts:
This product may very well be the most genius of them all. I love the fact that it looks as though it's designed to sit on your bedside table. But its foldability is an interesting wrinkle. The upright position makes it look like it's something akin to an alarm clock. If you're folding the charger down into the body, you can still charge it and your watch will sit flat. The fact that it can fold up like this also makes it an easy companion for traveling with.
I also want to take a moment to bring up the cord length. They don't mention it in the official marketing. My partner uses it for her Apple Watch and it's the perfect length to get from the wall outlet to the side table. The length, without measuring it officially is at least longer than the official one. An original Apple Watch charging cable length is one meter in length which is just over three feet long. So it may sound contradictory that I said this is a very portable charger but then I said it is longer. It's still the Apple Watch charger that my partner prefers to take on trips.
The preference comes down to convenience on a few different points. First off, the much stronger magnet that is inside keeps the watch from sliding all around on the charger. It's sort of a pain trying to get the Apple Watch to sit perfectly on its charger. Once you do, it's fine, but fiddling with it right before bed when you're sleepy can be frustrating. The other key point is how versatile the plug end is. If you have a USB-C port to plug into, you can do so with this. If all you have around is a standard USB-A port to charge with, this has an adapter on the end that can swivel and snap into place. This means whether you bring your own wall plug or are using a friend's, you'll always be set.
USB-C 7-in-1 Multifunction Adapter:
Description/Features:
7-in-1 Docking Station for Steam Deck. Equipped with an HDMI 4K@60Hz output, a Gigabit LAN Ethernet input, a USB-C port for charging, three USB-A 3.2 ports, and a DP port, letting you explore a new way to play with Steam Deck.
It comes with a 4K@60Hz / 1920*1080@120Hz HDMI 2.0 output When it's connected to an external 4K monitor, it provides a sharper and smoother visual experience, so you can enjoy the visual feast on your games.
Full charging speed for your Steam Deck. The JSAUX Steam Deck docking station supports 100W max. power delivery, which is enough power to charge your Steam Deck at full speed (45W) when paired with the original charger.
The JSAUX all-in-1 Steam Deck docking station blends hub and stands together perfectly, so you can keep your desktop neat and organized.
Support DP, simultaneous connection of HDMI and DP port, two monitors can output 4K@60Hz at the same time, expand the screen and enjoy the ultimate gaming experience.
The main difference between HB0702 and 0603 is that 0702 has one more DP port than 0603
Interface: USB Type C *1, Gigabit Ethernet port *1, HDMI, *1, USB 3.2 *3
USB-A: USB 3.2( up to 800MB/s)
USB-C: PD 100W Max
LAN: 1000Mbps
Single HDMI: 4K 60Hz / 2K 120Hz
Single DP: 4K 60Hz / 2K 144Hz
Simultaneous HDMI and DP connection: Two monitors output 4K 60Hz at the same time
Overall Thoughts:
For this section, since the product is so similar to the 6-in-1, I thought I would test the features to make sure they all work as advertised. First let's discuss the internet speed via the gigabit ethernet port. I pay for 2 gigabit speeds via Google Fiber, so I won't be able to use all of that via this dock. But I was happy to find that the Steam Deck hardwired over ethernet pulls faster download speeds than my laptop. I tested downloading the same game on my laptop's Steam client. The game, Binding of Isaac which is 50MB's. I also tried to make sure that there was nothing else running on the laptop. It took the laptop about 20 seconds to download the game. The Steam Deck was about 12 seconds. I'm not counting install time.
The rest of it was all visual tests. I say that simply meaning that of course the USB ports on the back all work. As I mentioned before, you can connect USB storage drives, controllers, mouse and/or keyboard too. I wanted to make sure that both the HDMI and the Digital Port video work independently. Also, that dual simultaneous output to two monitors also worked. The first test worked swimmingly. When you connect the Steam Deck to the dock, just make sure you already have the HDMI cord plugged in for the best results. Once I set the Steam Deck on the dock and plugged it in, the image showed up in less than 2 seconds. Then everything that appeared on screen seemed to have little to no perceivable latency.
For the Digital Port test, I had to get a PC monitor that I have. Most HDTV's that I've seen, if not all of them, are free of Digital Port support. Maybe ones that are marketing themselves as a monitor or a TV might also have one. I did the same test as I did for the HDMI. I started by unplugging the HDMI cord, just in case. Then I plugged in the DP cord into its port. I then docked the Steam Deck and plugged it in. It worked eventually, it took closer to 5 seconds before it showed up. My conclusion is that my individual monitor was the culprit. Your results may vary but once it appears it runs as it should, no latency is perceived.
So the ultimate test was that of how well I could get these to run at the same time. I always have my doubts when it comes to outputting games to dual displays. I have fears that they will not be uniform in response time. My tests had to be rudimentary, unfortunately.  I did pull up YouTube using the method of getting a web browser to run on Steam OS. Once the video was playing I paused it and unpaused it every so often seeing if I could hear the music video coming from the HDMI while the DP video was still playing. Or I would see if the video would start playing on the DP before the music started on the HDMI screen. My results were so imperceivable, I feel like I could almost notice something.
The takeaway from this project is that if you want to dual output, you can. The only caveat when using the Digital Port is that the audio doesn't come through over that connection. You have to make sure that you have a way to get audio out of the Steam Deck. Unless your DP screen is next to your HDMI screen. That way HDMI screen has ample audio to share between both screens. Finally, I didn't have a 4K DP monitor, so I cannot confirm if it goes from being 4K as a single monitor to 2K (1080p) as a dual monitor. But I would believe that that is likely true considering my 4K HDMI TV looked like it was running 1080p while being a dual monitor.