RetroArch on the new Xbox series, S has been quite amazing with the ability to play so many games even GameCube, PS2, and Wii games at full speed. Now before the Xbox series S/X was released, the Xbox One was introduced to RetroArch via developer mode and windows UWP program back in 2018. It never got the attention as it did with the new Xboxes as the Xbox One just didn't have the power to push PS2, Gamecube, Wii, games, and more but once the series S and X hit the market everybody was giving RetroArch a try on it.
The opportunity arose and I was able to get my hands on an Xbox series s and of course, the first thing I wanted to try on it was retroarch, to see if it really could push games as you see on those YouTube channels. So I paid the $20 to become a developer and loaded up retroarch, which is super easy to do. To my surprise, it was playing PS2 games at full speed, even GameCube, and some Wii games.  You can set up a dev account here or just download the dev app and follow the step on the xbox.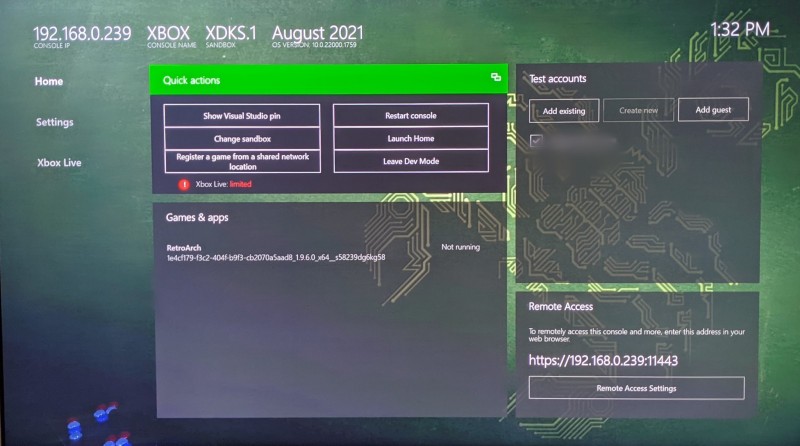 Now for quite a while, everything was working great and I never touched any of the settings. Then all of a sudden a lot of the games just stop working or wouldn't load anymore and would come up with errors. After doing a little research I found out that you always need to keep about 10 gigs free inside your Xbox as some of the games are loaded completely into the temporary memory so it's best to be safe than sorry and always keep an extra 10 gigs free inside your Xbox.
Once I found out why some of the games stop loading and deleted some space everything started to work great. Then I started to tweak the settings to get the games to run even better and depending on how you like the games to run you can adjust the settings all day long to get the best performance. Now some games just won't load and there is no reason why or I do not know why they do what they do or some will load and you have no video but for what it's worth it works great right out of the box which I was very surprised with.
Now, would I run out to go get an Xbox series S or X just to play retroarch no, you would be better off saving your money and buying a used PC to do all your emulation on as you can get that to run games 10 times better than any game console out there? Is it a nice perk that it can do this? Yes, without having to do too much other than hand over $20 bucks. It's a great perk that the Xbox can play all your old-school games and even some of them will run in 4k.
So if you're in the market and you're already going to buy one of these xbox consoles then I would say go ahead and spend the extra 20 bucks to give retroarch a try. You might find that you love it or hate it, but for me, it's really nice getting the taste of both worlds on a current next-gen console. So I would say retroarch on the Xbox series S/X is a win-win for everyone.
As you can see, the budget Xbox One S offers fantastic emulation performance on so many games it's crazy and can be one ultimate emulation station. This is no doubt one of the easiest ways to relive your childhood on the big screen.