For all of you PS4 and XBOX One fanboys out there, I'm back again with a product review from KMD. Don't ask me what it stands for, but they sent me a box with nine items inside to review and I intend to do so. Some are good, some are not so good, and some are worth stopping what you're doing and order them right then and there. Enough of the chit-chat, let's just get right into these gaming accessories!
All KMD Review Products Being Unboxed:
PS4 Dual Controller Charge Dock
Features/Description:
'Simultaneously charge up to two PS4® controllers with this convenient dual controller charging dock. Includes 2.5ft/80cm charge cable and is designed to seamlessly fit into your gaming setup with a clean and modern look.
Stores & charges two PS4® controllers simultaneously
Requires 5v input
Provides real-time display of charging status
Includes a 2.5-foot USB® power cable'
Pros:
Build Quality. Hands down, KMD just has a really great build here. You'll find that there are rubber feet on the bottom to keep it from sliding. But more than that, we have great indicator lights to let you know when the controller has connected and charger then it shows when it's done. The male USB plugs that insert into the controller have a nice grip that doesn't fight you too much. The USB port on the device holds onto the microUSB cord nicely, but you can easily unplug it if you need to. The weight of this device is nice too. It's not so heavy like a power brick but it isn't so lightweight that you can accidentally knock it off a shelf.
Simple. It truly is a plug and play kind of set up here. If you can't figure out how to plug it into a USB power source and then turn your controllers upside down into it, you don't deserve this product. I really have to applaud them for finding a way to keep me from having to have USB cords strewn across the floor to charge the controller.
Fit. We kind of already touched on it in terms of how the controller connects to the device. You simply turn it upside down and it snaps cleanly into position. The fit is also really perfect and once it's on the male USB plug, you'll find that the position of the controller is already correct. From that point feel free to let it relax at the lean. When it's fully charged, you then have the two legs of the controller facing straight up and you can just grab it out of its slot.
Cost. $20.00 is probably the most I would ever pay for a product like this. Thank goodness KMD comes in underneath that. They're selling this at $18 at the time of this writing and I find that to be an absolute perfect price for this product. It's not the only one of its kind on the market, but for the cost and the attributes, I'd buy this before buying the competition.
Cons:
Design. It's not pretty to look at. I'm seeing where they tried to make it look like the same sort of shapeliness that the PS4 controller has. But it simply looks too much like a toboggan to me.
Length. The cord length isn't terrible, but it could be better. Thirty inches isn't that far in the grand scheme of things. I'm guessing that they anticipate you simply plugging it into your PS4's USB port. I wanted a dedicated cord that could plug into the wall and reach my charging shelf. Yes I can get a power brick and a USB extension cord, but I'm just bummed that the cord isn't just longer in the first place.
Purchase Link(s):
Click here to buy this now.
 XBOX One Pro Gamer Headset
Features/Description:
'Plug and Play directly into the Official Xbox One® Controller
Lightweight for travel and Adjustable Boom Mic
Independent Volume Control and Muting capability
5ft cable between the gamer and controller for more flexibility
Cushioned headset and durable cable'
Pros:
Cost. $23 is an absolutely prime price for a product like this. Too high of a price point and you'd never buy it because it'd be too close to just getting an officially licensed headset. Too low and you'd think it was junk. Not only is it feature rich, $23 is actually too low of a price for it, but I see why they're pricing it at that point.
Build quality. I don't need to go too deep into this, as you know KMD just makes quality hardware by now. But just be aware that this doesn't seem to stretch or break easily if you have a larger head. This can really extend to fit any and all standardized head shapes. The plastic is a beautiful matte finish so it's smooth to the touch. The padding on the inside is a brilliant XBOX green and feels incredible on the top of your head. The cushions are also incredibly easy on the side of your head and help keep out extra sound.
Sound Quality. Another place that this headset shines is in the audio department. The box doesn't state the audio quality or the size of the drivers. However, I would state that it's at least giving you a solid stereo sound with no extra noise. As I mentioned previously, the cups also provide a layer of protection from exterior sound. All in all, I would say that this headset is great if you're looking for great sound quality. Especially if you can live without surround sound or surreal sound.
Design. So I truly love the look of this headset. It really does capture the look and essence of what XBOX lays out in their culture. That matte plastic really adds to the aesthetic of it and matches my XBOX One X nicely. If you have the original VCR looking black XBOX One, it will also match that. One thing that I haven't touched on yet is the detachable microphone. You can choose to simply use this headset as just that. However, if you need to include yourself in the conversation of the game you're playing, you can snap in the microphone. Whether it's because you need to discuss plays in Madden/FIFA or maybe you need to crap talk people in Call of Duty Warzone, this microphone will work beautifully. It matches the overall design nicely and the headset doesn't look strange without it
Inline controls. The cord is incredibly long, but they do have the inline control on the cord. And they put it a lot closet to the actual headset rather than the controller. That means you'll have access to the giant mute switch as well as the volume wheel should you need to turn down the squeakers on the other end.
Cons:
Length. My complaint here isn't about it being too short. I feel that after using it that the cord is too long. Who needs five feet from their head to their controller? If this is being used for what it's advertised for, you simply don't need that kind of length. You end up with a potential mess of cord in your lap or next to your lap.
Compatibility. The headset isn't compatible with controllers older than 2015. This isn't necessarily the fault of KMD, but it's something to be aware of. They do not include any kind of adapter to make it work on older controllers. Make certain you have the controller revision that has the headphone jack on the bottom and this will work. Those were made starting in 2015.
Purchase Link(s):
Click here to buy this now.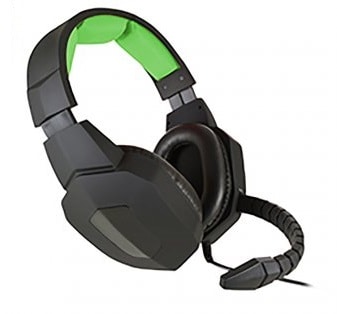 PS4 Gaming Headset
Features/Description:
'Compatible with PS4 controllers

Flexible mic for speaking comfort.

Adjustable headband and cushioned ear pads.

Connects directly to the 3.5mm jack

Approx. 4 ft cable'
Pros:
Price. I think the price is great for the features given. $15 is a godsend for a decent pair of gaming headphones.
Comfort. The comfort is definitely there, just not like the XBOX headset that we were just talking about. It's alright to use for about an hour at a time before it's cups start to become uncomfortable. The same with the band across the top of your head. It's relatively comfortable, but once it starts to overstay its welcome it's probably time to take a break anyway. I know it sounds as though I'm speaking ill of it, I'm truly not. These things still best most of the weak headsets sold at Gamestop and they feel better for longer.
Sound Quality. The sound quality isn't the best, I'll be honest. After testing the XBOX One headset, it's a noticeable difference. So if you're using it to hear games while someone else needs quiet, this is not an ample replacement for surround sound. However, if you're looking for drivers that are good enough, this is good for the price. You can still hear your teammates' voices in your ear without any major distortion. I just wouldn't get this to replace your main speakers.
Cons:
Build Quality. I just don't know how long these will hold up. Every other product I reviewed so far from KMD has used quality material and this is no different. But it's so much thinner that I'm not sure about how long it can hold up. But if you're an adult who manages their gaming room appropriately and handles things properly, this should be just fine. If you're buying it for your kid that is younger than a teen, I'd hold off. Stick with the earbud that the PS4 came with.
Purchase Link(s):
Click here to buy this now.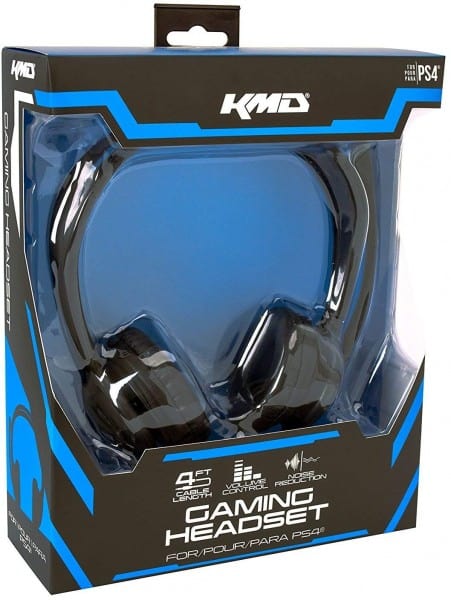 XBOX One Dual Charge Dock
Features/Description:
'Don't leave your Xbox One® controllers lying around carelessly! The KMD® Dual Charge Dock for Xbox One® controllers comes equipped with two long-lasting rechargeable batteries that give you 8 to 10 hours of game play each on a full charge. This heavy-duty charge dock securely and conveniently stores & charges up to 2 controllers simultaneously. Connect the charge base directly to your Xbox One® or any USB® port and charge your controllers while keeping them safe from drops and scratches during rest periods!
Compatible with official Xbox One® controllers
Securely store and charge up to 2 controllers simultaneously
Full charge in approx. 9 hours (for 2 controllers)
Includes 2- 1200mAh Ni-MH batteries
Light indicators for each controller being charged
USB® charge cable included: approx. 6ft. (1.8m)'
Pros:
Length. Six feet is great! Remember how up top I complained about the PS4's dual charger only have thirty inches? Yeah, well it's like they knew better and did that anyway. This six-foot cord is a godsend and it reaches the charging shelf that I use.
Simple. Coming back to the same point that I made for the PS4 controller charging dock. It is a nice plug and play setup. We've already mentioned how it connects to the device. You simply turn it upside down and it sits easily in the dock. The fit is perfect and the controller rests nicely once it's resting in the dock. After that, it's just a matter of waiting for the controllers to finish charging. When it's fully charged, you then have the two legs of the controller facing straight up and you can just grab it out of its slot.
Lights. These products come with an indicator light to help you know if the connection is accurate. After that, you'll see the light change once the batteries are fully charged. I don't have much to discuss here, but I'm glad that KMD took the initiative to include lights. These should always be commonplace on chargers, but not every company does that.
Price. It's selling for $25 and I think that that's a fair price for the fact that you not only get a charger but the batteries too. This means you'll never have to buy AA's again. Or worry about popping out the rechargeables you already bought and popping in the charged ones.
Cons:
Charging. Nine hours. It takes nine hours to fully charge the batteries. Take that information and mull it over. I know it's one of those things you can do when you're not playing. In that regard, maybe it isn't that big of a deal to you. If it is, maybe just keep doing what you're doing for your controllers.
Look. The PS4 dual charger looks like a toboggan, but this looks like some kind of military boat. It looks heaps better when the controllers are on it. However, that isn't most of the time as you can just put your controllers on it and sleep. When you wake up, you take the controllers off and it's back to looking u̶g̶l̶y̶ unpretty. Worst of all, if you charge controllers while you sleep, you hardly ever get to see the dock looking cool since you're unconscious.
Look:Part 2. It only comes in black. This means the charger is black, no big deal. However, it also means that the battery packs that it comes with are also black. This will mismatch with your controller unless you're using black controllers. Therein lies the problem as tons of you have special edition colors or custom colors. Maybe you can paint these packs to match your custom XBOX One controllers?
Purchase Link(s):
Click here to buy this now.
Overall Thoughts:
I'm very keen on the dual chargers. They make any gaming room have a much cleaner and more organized setup. As far as the headsets are concerned, the marketplace is flooded with them and your options are plenty. However, I will say that the PS4 offering just doesn't touch the XBOX One headset in terms of quality and features. That doesn't mean that it's a bad purchase if that's the price point that you're looking to stay within. That is probably one of the best PS4 headsets for the cost. The XBOX One headset is just incredible and a fair alternative to the official XBOX offering out there. If you're in the need for an XBOX One headset and you don't want to pay out the nose, look no further than KMD's offering.
If you like the author's work, follow him on Twitter @V1RACY and don't forget to enter the weekly giveaways!
And as always, stay tuned here on Hackinformer.com for so much more and follow us on Twitter @Hackinformer