Hey everyone! Earlier this year we covered the newly released Sega Genesis and Sega Saturn controllers from Retro-bit (read all about that here). At the time, we knew that Retro-bit had gotten the license from Sega to do what they will. We got wind that they not only would be releasing 1-to-1 clones of the original controllers but also that they were releasing wireless versions of those controllers for $29.99 each. Well, guess what? We got our hands on them and cannot wait to talk about them! Scroll on, my friend.
Unboxing Video:
Sega Genesis Features:
'Officially-licensed wireless controller featuring Bluetooth® Technology
Compatible with Steam®, PC/Mac®, Android®, and Switch
Rumble capability on supported games
30ft/10m range
550 mAh rechargeable battery
Micro USB® charge cable
Up to 20 hours of gameplay on full charge
Features Home & Select buttons and X-input/D-input modes
Compatible with original Genesis® consoles via Retro-Bit Receiver with Bluetooth® Technology (sold separately)'
Sega Genesis Pros:
D-Pad: So in my unboxing video above, I talk about the fact that the D-Pad is more raised on this controller. I chalked it up to being a better scenario for the fighting games that exist for Genesis. So naturally, after connecting the controller to my PC, I tried some fighting games on the Genesis. And yes, your Mortal Kombats and your Street Fighter IIs especially work very well with this D-Pad. Even more surprising, I found that by having a taller D-Pad, that most games I played were just easier to control. This was the opposite of how I thought the whole thing would go. I originally thought the raised D-Pad would make things more awkward and not feel nostalgic at all. And while this isn't mentioned on the box, I feel like it's one of the best features that this controller has going for it.
Weight: I love the weight of this controller in my hands. The same can be said about the Saturn controller too. They both have a fantastic weight and balance to them. You'd think by the cord being absent that it would weigh a lot less when playing a game. However, the battery inside replaces the inane weight that the cord used to give. And you'll also notice on the clear controllers that Retro-Bit further balanced the weight of the controller by centering the battery down the middle and putting it on the back behind the circuit board.
LEDS: LEDs are always a must for modern-day controllers. What we have in the best case scenario is that people are playing co-op games with you. You all have your different controllers and they're all connected via different methods to the console of your choice. Having the LED indicators to let you know who is what controller saves you from guessing who is supposed to control the main menu of the game. It also helps you remember who is what character on screen, especially if a controller dies and someone has to swap. All that I'm saying here is that Retro-bit most certainly could've skimped on this and they did not.
Ergonomics: Previously I had mentioned that I loved the way that these controllers felt in my hands in terms of the weight. The grandeur of this controller doesn't stop there. Now, it obviously takes the original design that Sega nailed in the first place and improves upon it. The shape of the controller is definitely humorous if you have the cord out of the scenario. It's more of a boomerang looking controller. But looks aside, everything is so well placed and within reach. I just hold it in my hands even when I'm watching TV and kind of mess with the buttons like a fidget cube or something. It's so damn smooth and satisfying. When you're playing games, you truly don't pay the controller any mind mid-game.
Bluetooth: Just wanted to now talk about the wide range of devices that this can connect with seeing how it's a Bluetooth device. Now, I'm not going to list everything that this can connect to, just the important and more prevalent ones. There's a full compatibility list at the bottom of the page.  So out of the box, just as is, the Genesis (and Saturn) Bluetooth controller can connect to PC and Mac, Android devices, Steam Boxes, and Nintendo Switch. There are some one off systems that you can connect this to as well. The PS3 and the Super Retrocade are among those oddities. Lastly, you will soon be able to use this on the Sega Genesis Mini using the official adapter and the original Genesis as well with that very same adapter!
Sleep: And finally, the last pro. This can be said of the Saturn controller as well, but I had to talk about Sleep Mode. It's something I didn't even know was a thing as it is one of the few features not advertised on the box. So as much as I wish I could just enable it myself, I figured out that Sleep Mode is automated. If you are using the controller and then you walk off to make a sandwich or something, the controllers will go to sleep on their own after a length of time. Now, if you're back to the controller within 5 minutes, then you will still have a live controller. However, should your time away from it exceeds 5 minutes then you will have to wake it up.
Sega Genesis Cons: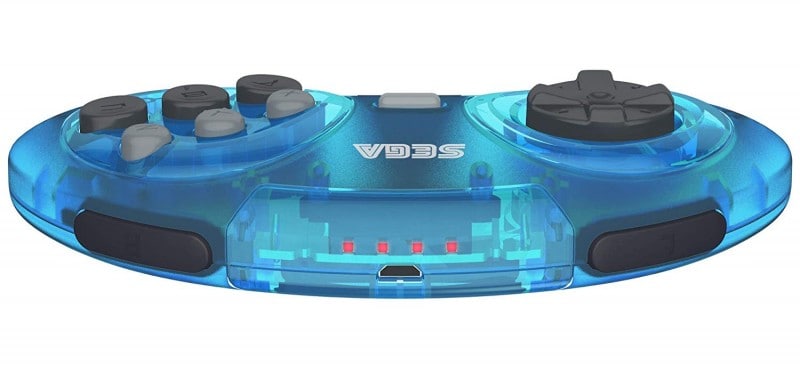 New Buttons: Now let's talk about the Home and Select buttons. They're flush. Too flush. Maybe in their testing, someone might accidentally strike them off of the X and A buttons. But in my testing of having several friends of various hand sizes use it playing intensive games; nobody ever accidentally slid their fingers off of the primary face buttons.
There are also shoulder buttons on these controllers. I talked about this in the previous article covering the USB controller version of this. It's a pro, most definitely. But since I'm talking about new buttons in the cons section, I didn't want you to get the wrong impression and think that the added shoulder buttons were bad.
MicroUSB: These microUSB ports really have to fizzle out. The port is way too asymmetrical of a design to have to charge something as I play. These are known to have the cord snap off inside of the port or make the port become loose in the future. So I just don't even risk it. I charge the controller while not using it and unplug it while I use it. This means, like the Teslas, I have to charge it and not use it during that time. This can really cut into my game time when the controller finally starts to die. You may not personally care, and that's fine, but for me it's definitely a downer.
Sega Saturn Features:
'Officially-licensed wireless controller featuring Bluetooth® Technology 
Compatible with Steam®, PC/Mac®, Android®, and Switch
Rumble capability on supported games
30ft/10m range
550 mAh rechargeable battery
Micro USB® charge cable
Up to 20 hours of gameplay on full charge
Features Home & Select buttons and X-input/D-input modes
Compatible with original Saturn® consoles via Retro-Bit Receiver with Bluetooth® Technology (sold separately)'
Sega Saturn Pros:
Range: Now this point can be associated with both controllers, but for some reason, my specific Saturn controller reached a bit further away from the game I was playing than my Genesis controller did. Granted it was harder to see my PC screen from that far away playing the Steam port of Game Tengoku CruisinMix Special from the Saturn. So I can happily state that if you can see from nigh 35 feet away, then this is a plus for you. All I know is that the connection never broke during gameplay unless the battery died.
Rumble: The other games I chose to test this with had plenty of rumble in them and this controller did so well with it. It felt like a nice rumble, no over the top stuff that sounds loud from across the room. The Genesis controller also has rumble, but I tested Genesis games with it each time, so it wasn't anything I was thinking of rumble with that one. But let it be known that it specifies that the game has to support rumble in the first place. So when I mentioned games that I tested that gave me feedback, it wasn't every game. But it was still way more than the Genesis games as they have zero rumble support.
Battery: They both have the same battery life, but I did want to focus on the Saturn a little bit more. The battery life between the two, for me, was very different. I'm guessing it's for the same reasons as I just mentioned. If you are using a Saturn controller on more intensive games with rumble and such, you're probably going to burn through the battery quite a bit more. So naturally, my Genesis controller lasted longer than the Saturn controller. That's not to say I couldn't have used the Genesis controller for the same games and then gotten the same battery life as the Saturn. That is probably definitely true, but in my testing, the Saturn got about 5 hours less than the Genesis controller. The bottom line here is it's all dependant on what you use it for.
Comfort: Just like the ergonomics section for the Genesis controller, this too is a great design. We can definitely thank Sega for that part. Aside from the overall design of it lending to the comfort, there are some points we can thank Retro-bit for. The fact that they didn't put any of the new buttons deliberately in the way is a plus. Not to mention that the microUSB port on these Bluetooth controllers is in the spot where the controller cord would normally come out.
Build Quality: The build quality of both the Genesis and Saturn controllers is above high quality. These mirrored images of the '90s are built with some brilliantly strong plastic and simply must use the original molds with some modifications. I will never get over how these controllers feel like being a child again and holding brand new controllers. The nostalgia is high here, however I also believe that the quality of plastics nowadays are better and the application of manufacturing the parts is superior. So not only do these feel as though you can drop them down the stairs or accidentally sit on them, but they also feel they'll last decades longer than the original Genesis and Saturn controllers.
Storage Boxes: Both of these controllers came with storage boxes. This is great because while not everyone will use it, I personally hate even the smallest amount of dust accruing on controllers. I'm bringing it up especially because of the fact that the Saturn controller they sent me is black and it shows a heap more dust than the Genesis controller. I love just dropping it into the box, popping the lid on it, and knowing that nothing is going to hurt it. It would be even better if there was a small opening in the box so that I can charge the controller while it's boxed up.
Sega Saturn Cons:
New Buttons: Same complaint as earlier. I either want them ever so slightly raised or maybe right next to the forward and back symbols where the triggers are. I don't mind being inconvenienced when it makes sense. Having to reach for them is a far less inconvenient movement than having to feel for them and then press them and be uncertain if they actually worked or not. There has to be a happy medium here. I'm sure it's too little too late now, but I hope they hear my complaints about this!
D-Pad: While there is a perfectly 1-to-1 D-Pad on this Saturn controller, I'm a bit sad that the raised D-Pad isn't present here. I know, I know, this is more accurate. But why is only one of the newest controller iterations being released with that enhanced D-Pad? Either way, I'll obviously live and it's a great controller despite the D-Pad. But if you want the raised D-Pad, just get the Genesis controller and not this one.
Interested in the Black Sega Genesis Bluetooth controller? Click here. If you'd prefer the Clear Blue Genesis controller, click here.
How about the Sega Saturn Bluetooth controller? Click here. If the Slate Grey Saturn controller sounds better, click here. 
SEGA® x Retro-Bit® Controllers – Compatibility Chart – 10-2019
If you like the author's work, follow him on Twitter @V1RACY and don't forget to enter the weekly giveaways!
And as always, stay tuned here on Hackinformer.com for so much more and follow us on Twitter @Hackinformer