As promised in the PowerA Gamecube controller review, we're back again with another controller. The idea was that we would be testing out some of PowerA's more recent controllers and how they work with Smash Bros. Ultimate. Obviously, the testing doesn't stop there, but we knew that that was everyone's real question. Sure, a controller might be great, but how does it feel and handle in Smash? So let's take a look at the Enhanced Wireless Controller ($49.99, PowerA).

Features:
• 'Bluetooth Wireless freedom
• Mappable Advanced Gaming Buttons on back
• Integrated motion controls
• 2 analog sticks: precision tuned to eliminate dead zones
• 8-way plus shaped Directional Pad (D-Pad)
• Integrated motion controls
• Ergonomic design with standard button layout
• LEDs for power, button mapping, player number and low battery warning
• Includes two AA batteries for up to 30 hours of gameplay
• Official licensed product with 2-year limited warranty'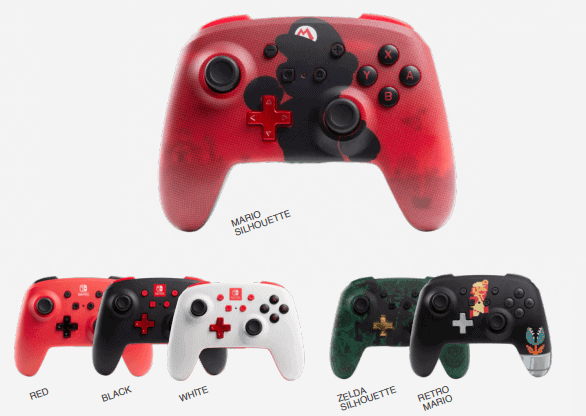 Description:
'Play your favorite Nintendo Switch games* like a pro with this officially licensed PowerA Enhanced Wireless Controller. Designed for comfort during extended gaming sessions, this Bluetooth wireless controller features classic and iconic designs, mappable Advanced Gaming Buttons, motion controls, standard layout, and metallic D-pad. Enjoy up to 30 hours of gameplay with new alkaline batteries (other variables affect play-time).'
Unboxing:
Pros:
Right as soon as you pick this controller up, you'll be able to feel that it has incredible build quality. None of the plastic feels cheap or weak. The buttons certainly don't feel squishy or that that might fall into the controller itself. That's always been a fear of mine ever since the PS1 days when I used third-party controllers. I remember a few of them had buttons that fell in and became almost flush with the surface of the controller. Anyway, I digress. The controller doesn't have any button with too much travel either. Every button feels, travels, and clicks beautifully. I forgot I was reviewing the controller after a while and just fell into video game mode.
Body shape is very, very similar to the Switch Pro controller. So much so, that you could probably bail on buying a pro controller unless you need some of the features that this is missing. More on that in the cons section down below. This controller also features full motion control. This helps when it comes to games like Mario Kart to steer manually rather than with a thumbstick. It may also help in scenarios like Breath of the Wild or hat throwing in Mario Odyssey. But generally those are more so motion for Joy-Cons, so it may not feel very great. But it does technically work, as I drove a race in Mario Kart 8 Deluxe just dandy.
Just like the PowerA GameCube Controller that I reviewed, this controller has all of the right buttons. And by that, I just mean that instead of having a generic start and select button only, it actually has plus, minus, home, and screenshot buttons. I'm sure I'm not alone when I say that all good third-party controllers should have the standard buttons. And by the way, the home button can power on the system. This is not a feature that all third-party controllers come equipped with.
Continuing on, there are indeed programmable buttons on the back as per the features list. They are on the left and right side of the back. It's a laughably easy process. You simply hold the middlemost button on the back, then press any face, direction, or shoulder button, then just tap the button that you want to set it to. Additionally, they're great fun to use in conjunction with the standard buttons. I think it's fun having the both of them being the A button for shooters, then I just button mash all 3 A buttons and get maximum shots in. Just be aware that they are not turbo buttons. So literally duplicate the button and so you have to press them the same way that the original button needs to be pressed.
So if it wasn't clear by now, this bad boy is fully wireless via Bluetooth. The distance on it, I've found, is roughly 35 feet. It can probably do further away, but my living room doesn't stretch that far, so it was hard to test overall. But you really shouldn't need anything further away than that anyhow. For power, it does require the use of AA batteries. Get yourself a set of rechargeable AA's in this puppy and it will last even more than the estimated 3o hours that a standard set of AA's will get you (since they can be recharged). The battery door on this device stays firmly snug and doesn't pop off randomly like crappy battery doors do. And the batteries do not seem to add any weight to the controller that the Pro controller doesn't already have.
The D-Pad comes up the same height as the Pro controller's does, this one is a few more degrees concave than the official controller. The biggest difference is the shoulder buttons. They have slightly different shapes on the Enhanced Wireless controller from PowerA than they do the official one. I'm not saying it's a bad thing, they work just fine and feel like they have the same amount of travel. They're just different and to know if you would like that or not really is up to you. I don't mind it or really notice a difference at all. The same goes with the thumbstick caps, they're different, but not bad at all. In fact, I didn't even notice they were different until I placed the two controllers side by side.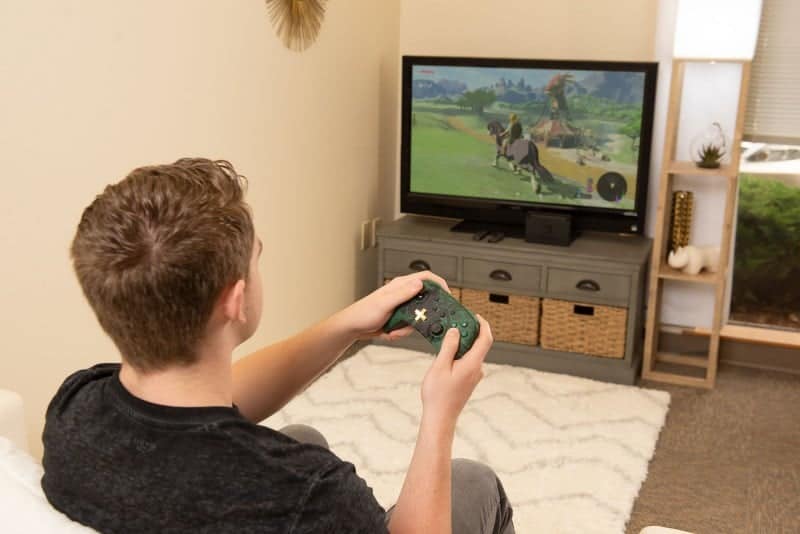 Cons:
The obvious cons for this are that these controllers do not have rumble or NFC (amiibo) support. I don't really think that that is much of a con, myself. If you need those things, stop reading now and go buy a Switch Pro Controller. Then there is the issue of the D-Pad. Now, this may be my personal preference, but my D-Pad was just too slick. On the model that I tested specifically, the D-Pad was made to be golden. So the material that makes up the D-Pad feels strange to me. This makes the D-Pad a little bit slippery as it's a glossy plastic that's made to be like metal. I would probably prefer the other colors that have a standard plastic D-Pad. Plus the corners to the D-Pad are pretty "sharp" corners.
Next, it's worth mentioning that you can't program the buttons to be, L3, R3, plus, minus, home, or screenshot. Also, you lose the programmed buttons from the memory once you power off the system. I know that it's expected for controllers with programmable buttons, but why? This is 2018, man! I feel like having a small memory inside the board that keeps the programmed buttons as long as there is battery life should be the norm. And finally, the only other "complaint" I could muster was the fact that larger-handed people may accidentally press the programmed buttons.
Overall Thoughts:
With such few amounts of cons and the fact that this controller is always apparently on sale. So based on the fact that you can save $20-$30 over the Pro controller rocks. I would take this option over the official pro controller any day. I don't really like rumble all that much as it's an unnecessary use of the battery. And I hardly ever even use Amiibos, but if I did, I would just whip out a Joy-Con right quick and use them that way. And best of all, the fact that you can program the back two buttons to be anything you need them to be is great.
All in all, this seems a better option than the wired version that PowerA also has, but I haven't had a chance to officially review one yet. So maybe I'm wrong all in all. I'll try to get my hands on a wired version. But nevertheless, I think that either this could be a good Pro replacement or a stepping stone toward a Pro and then when you have one, this is a good backup to use while the Pro charges or when you have a friend over. This controller is so close to perfect!
If you'd like to buy one of these, I have a link here for you.
If you like the author's work, follow him on Twitter @V1RACY and don't forget to enter the weekly giveaways!
And as always, stay tuned here on Hackinformer.com for so much more and follow us on Twitter @Hackinformer