Retro gaming has become very popular in the past few years and there are so many devices out there to play one of your favorite old classic games on. Without having to purchase the original console and game just to play a 10 to a 20-year-old game.
Of course, there are some games you just want that original feel, like when you were a kid. For example games like Asteroids, Galaga, Rampage, Gauntlet, Pac-Man where best played in the Arcade but to get an original arcade unit or even a replica of a full-size arcade unit can be super expensive.
Over the years we've seen plenty of Arcade DIY kits but they never measure up being either too small or only one player. Then finally in 2018, Arcade1up hits with six different mini in-home arcade units that weigh around 50 lbs. We had a chance to play these at Evo2018 before the launch and really like what Arcade 1up had done. They were the perfect size for any home, apartment, studio, or even the workplace. Plus each mini arcade unit had more than one game on it.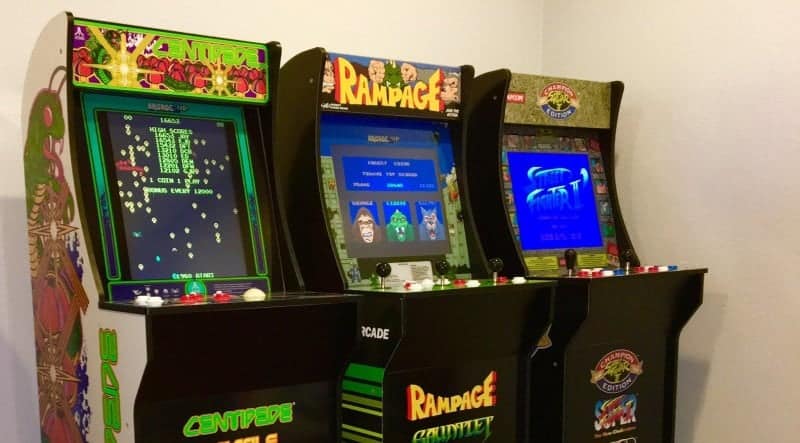 We were lucky enough to get our hands on the Street Fighter 2 edition. It comes with the original Street Fighter 2, Street Fighter 2 the new challenges and Street Fighter 2 turbo edition. The unit looks exactly like the original Street Fighter 2 arcade ones and they even have the iconic misspelling of balrog name in the character icons around the screen.
The unit will take only about 45 minutes to build and has very simple instructions that kind of feels like an Ikea manual. I even let our beta tester help with building it. The 17inch screen comes all assembled with the screen overlay and an easy plug and play setup for the joystick hook up. Once it was all together we plugged in power adapter and turned it. We were greeted with the Arcade1up logo and then get to choose one of the three Street Fighter 2 games to play.
It has a simple user interface with an on & off switch, volume switch with three settings, off, low, high and player 1/ player 2 buttons. The buttons and joysticks are set up just like the original Street Fighter 2 arcade unit and feel great in gameplay.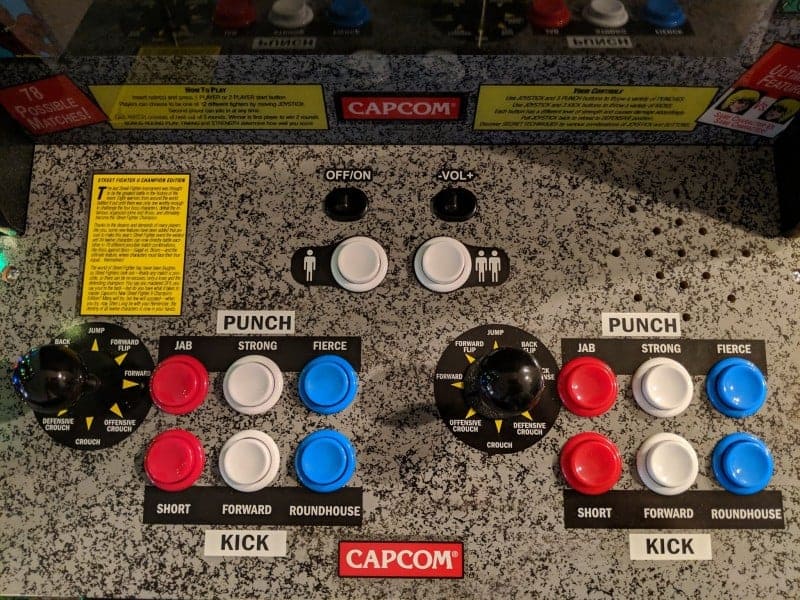 The three Street Fighter 2 games play just like the arcade because they are the arcade versions and are just as hard as you would remember to beat. All 3 games have the bonus rounds where you get to destroy the car or have to hit the falling barrels and with all the same great ends, once you beat it with your favorite character. Plus it even holds the High scores after it's turned off.
Final Thoughts:
The Acrade1 up units are really great units for all ages and definitely bring that arcade feeling home. For anyone that's always wanted to get an arcade unit but thought originals you're just way too expensive and heavy or DIY kits are just not your thing. These units are a good answer to that, with official licensing and six different mini cabinets to choose from with multiple games on them.
Now they are about 4 feet tall so you'll need a chair or stool to play comfortably but they do sell a riser to make the unit taller that cost $40.00 dollars. The Arcade 1UP units can cost $300 to $250 but have been seen on sale for $150.00 last black Friday. You might say it quite a bit for so little, not really these units have so much more potential if you modify them. They can be turned into an all in one arcade station and still cost less than buying an arcade replica or DIY kit.
You can find the Arcade1UP units at GameStop, Walmart, Target, & even Amazon but you might pay a little more on Amazon.
In our next post, we will show you how to modify your Arcade1UP unit with new joysticks/buttons and with a Raspberry PI3.