Team Xecuter, as we've stated, has been a company of their word. Just as quickly and as often as they can, they release updates to their SX OS for Switch. This CFW is the only one as of current that can do certain things that other CFW's cannot do and so it still remains a favorite among Switch enthusiasts. It also can do other stuff, which we're about to talk about, that others cannot do. I've been holding off making these posts as Team Xecuter just keeps dumping them out like hot cakes. But today, we have a round up of the last major update and its subsequent releases. Let's dig into this, shall we?
The first update after 2.0, was 2.01. It introduced some crazy stuff, like a beta program…and then introduced the first beta release at the same time!
'Today, we are back with *two* new versions of SX OS. Huh? Two new versions? Yes, you read that right. As of today, we will be distributing two versions of SX OS. One is the "stable" release which has been extensively stress-tested and the other is the optional "beta" version of SX OS which comes with new functionality that needs to go through a thorough acceptation phase before it will be rebranded as the current stable version. We got a lot of feedback from people who didn't like us bumping the version number of SX OS so often for small fixes, and they are right. 99% of our end-users should not be bothered with small (but important) fixes but would rather enjoy a properly vetted build of SX OS. With the introduction of the beta channel, we hope to address this and introduce new exciting functionality sooner rather than later.'
— 'What's new in SX OS 2.0.1?
Stability improvements
Introduction of optional beta updates available through OTA updater
— What's new in SX OS v2.1 BETA?
SX OS v2.1 beta introduces our brand new cheat engine and cheat finder. Many people requested a way to cheat in games or aid in finding cheats for games, so it has been high up on the priority list for a while. We're curious to hear your feedback about this initial version of our game cheat addition to SX OS.
As of now we don't have a big library of game cheats available yet, but we hope the community will come up with some cool ones that they will share publicly. Finding cheats and making (reliable) cheat codes for Switch games can be a laborious task and is in certain aspects a bit more involved than finding cheats for, say, a classic Gameboy game!
For that reason we have written a small reference guide here for the aspiring cheat hackers out there detailing the format of our cheat codes, caveats that need to be accounted for, and small tips to bring you up to speed.'
They followed that up with the beta of 2.2.
'Today we are back once again with a much anticipated new feature as well as various improvements to existing functionality for SX OS. While this is still labeled as BETA we've had some good success with it internally, we're looking forward to your feedback. Let's jump into the list of changes!'
'Docked USB drive support!
Yes. You read it right. You can now plug a USB mass storage device into your switch' dock and load XCI or install NSP content from there directly. No longer are you limited by the size of your microSD card when playing the switch from the comfort of your couch, but you can now enjoy TERABYTES of content by using external hard disks and such! The filesystem on the drive needs to be either FAT32 or exFAT, and the directories that are being scanned for content are equal to the ones you'd use on the microSD card.
Updates to the cheat system

More accurate progress indication during cheat search
People were reporting "freezes" during cheat searches, often times these were just due to impatience and a sub-optimal UI from our end. The progress bars are more honest and update more frequently now!
Cheat search for exact value requires no initial dump anymore
For 'exact value' searches a big initial dump file on your microSD is not needed, and since this is often the way people start a cheat search we decided to streamline the cheat finder process a bit. You are now prompted with a question of whether you want to start an exact value search or arbitrary value search, in case of the former the process will be much faster.
Automatically apply/disable cheats upon toggle
The interface for "applying" the cheats was a bit counterintuitive, you now no longer have to press the plus (+) button in order to apply cheats. They are automatically applied/disabled once you toggle them. Disabling cheats now properly works as well, so there's no need for having a dummy cheat anymore to work around that limitation.
Ability to add cheats using the UI
Identifying memory locations for cheats using just the console is nice, but previously there was no way of adding an actual cheat-code for a location you found to the cheat code library. This has been addressed, and there is now an interface for doing this directly from our menu.

Show homebrew NSP icons in TX menu
Some homebrew NSP titles were not displaying their icons properly. This has been investigated and fixed.
Fix error 2345-0021 when in docked mode opening TX menu
People who play/cheat in docked mode will like this fix. The frequent crashes that happened when opening the TX menu in docked mode are now a thing of the past!'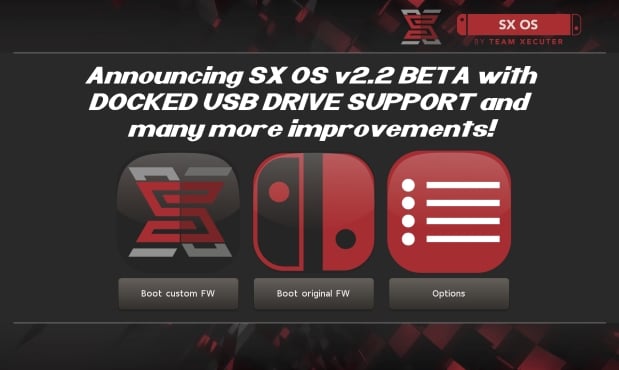 And finally, they hit us with yet another large beta, 2.2.1!
'This update addresses some of the excellent feedback we've had following our v2.2 beta release. We can't thank the community enough for continuously identifying small issues and notifying us about them. Keep the feedback coming!
Support for *big* USB drives
In our last announcement we bragged that you were able to enjoy TERABYTES of content, which was technically correct.. but in practice, you were still limited to USB drives with a capacity up to 2TB. This is now a limitation of the past, as you are now able to use storage devices with a capacity of up to a PETABYTE!
Fix USB disk directory scanning
Due to a small bug in 2.2 beta the subdirectories on your USB disk weren't being properly scanned for content. This has been fixed and you can now rely on the same subfolder structure as on your microSD card.
Fix USB ethernet and keyboard support
The introduction of our USB disk support apparently broke support for existing USB peripherals that were supported by Nintendo's firmware. Fixed!
Add USB drive write support
We have enabled write support for USB drives. In practice for SX OS, this means that NSP files can now actually be deleted after installation. But this also serves a greater purpose.. keep reading!
Eject gamecard on USB eject
When you disconnect a USB disk while in the main menu the (emulated) Game Card will actually be ejected now. A small detail, but a nice addition nonetheless.
Improved LayeredFS support
LayeredFS suffered from incompatibilities with certain games, this has been addressed and fixed. If you find any more problem titles, let us know!
Add support for temporarily disabling LayeredFS by pressing X while launching game/application
If you want to skip loading your LayeredFS patches you can now hold the X key while launching a game/application. The game/app will start normally without any patches applied.
Further improvements to overall system stability..
.. and other minor adjustments to enhance the user experience. You know the drill! 
'
If you like the author's work, follow him on Twitter @V1RACY and don't forget to enter the weekly giveaways!
And as always, stay tuned here on Hackinformer.com for so much more and follow us on Twitter @Hackinformer