Are you waiting for the localization of the famous Senran Kagura Burst Re: Newal? If you are, you might need to read the following.
XSEED Games has announced that the upcoming Senran Kagura game, Senran Kagura Burst Re: Newal will be delayed to Western regions to remove the "Intimacy Mode" from PlayStation 4. This is the request from Sony Interactive Entertainment. While the PC version, Intimacy Mode will be retained.
Here's the official announcement from XSEED Games via Twitter.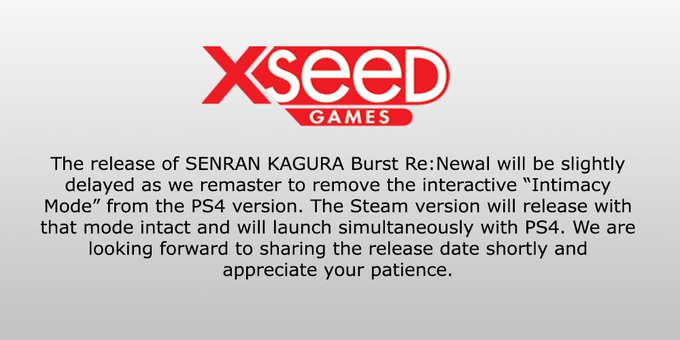 XSEED Games localization producer, Tom Lipschultz adds to the situation with this tweet. See it below.
"If you don't stand up for the stuff you don't like, when they come for the stuff you do like, you've already lost." -Neil Gaiman

I don't like intimacy mode in SK. But I've always stood up for it, because…well, this. This is how it starts, my friends.

Welcome to the new '90s. https://t.co/4epvlENVde

— Tom Lipschultz (@wyrdwad_tom) October 13, 2018
This isn't the first time that Sony Interactive Entertainment takes action against to this kind of content. The localization of Omega Labyrinth Z, a game with sexual innuendos and erotic elements, was canceled by the game publisher PQube to "comply with the wishes of the platform holder."
For the overview of the game, high school girls are secretly trained to be a ninja. To learn the art of ninjitsu, they have to be discreet about this. Senran Kagura: Skirting Shadows is a story about the trainee shinobis of Hanzō Academy. They train to complete some missions and to battle against rival shinobis. On the other hand, Crimson Girls are from Hebijo Clandestine Girls' Academy, and they are also trainee shinobis.
Despite these "changes" for Senran Kagura Burst Re:Newal's Western release, remember that the Steam version will be unaltered and will come out at the same time as the PS4 version.  So get ready for the FULL EXPERIENCE by clicking the button below to stock up on Steam Cards now!