Nyko has been in the game for a long time. They've made tons of great products for gamers over the years. Admittedly, not all of them have been 100% in terms of functionality or execution. So today we're going to find out if their newer product, the dockable Thin Case ($12.99) is one of those half-cocked ideas or if it's a full-on epiphany!
Features and Description:
'Keep the exterior of the Nintendo Switch™ and Joy-Con™ controllers protected with Nyko's Thin Case. Thin Case goes over the Joy-Cons and Nintendo Switch console to form a protective layer and does not obstruct any buttons, ports or the screen. The included tempered glass screen protector will help guard against damage to the screen. Adding a very minimal increase in size, Thin Case can be left attached when docking the Nintendo Switch. The Joy-Cons can be removed from the console without needing to take off Thin Case.
Protects the exterior of the Nintendo Switch and Joy-Cons
Joy-Cons can be removed while Thin Case is attached
Keep Thin Case attached while docking the Nintendo Switch
Includes one tempered glass screen protector

Ultra Thin

Adds very minimal size increase to the Nintendo Switch'
Unboxing and Assembly Video:
Pros:
So let's begin with the pros as there are quite a few of them. First off, the price is automatically less than the other cases you see in stores. So that alone, even if you never dock your Switch, should be a nice benefit. But the fact that it's also dockable and slides right into said dock with no resistance is probably the biggest reason that people are going to buy it. It's the first one on the market to be dockable, but it's also thin for other reasons. Like being able to store it in your small Switch carrying cases as well. This is true as long as they aren't form-fitting cases. However, I doubt that there are any form-fitting cases out there since companies know that shells and cases are the norm for handhelds.
Aside from the ease of putting the whole thing in a dock or a carrying case, you also have ease of installation. The video up above was made in under five minutes and that's with me talking and taking my time. There is no reason that it should take you long at all to snap the two plastic halves together around the Switch body. The same goes for the Joy-Cons. Technically you don't have to apply them, but then it may look a bit strange overall. But if you do, the Joy-Con covers slide right on within seconds.
The quality of these products is very good. I know that everyone knows that Nyko uses solid products, but it's worth mentioning. The case body is made up of a sturdy plastic which will help your Switch resist scratches. Furthermore, if you watched the video up before this section, you'll know that the Joy-Con covers are not a hard plastic. They're all one single piece and they slide over the whole Joy-Con. Think of the rubbery sleeves that used to slide over the Wii Remote but a bit firmer than those. That's because it's more of a TPU material. The material is not only sturdier but also more of a grippy material as well. This probably helps in a multitude of ways.
For those wondering, yes, you still have access to all of your ports. I too have an issue with cases that cover holes and you have to open up something to gain access to a port. And not only are all of the ports available but also the kickstand and the vents as well. It's good to see that they took temperature into account when they designed this product. Access to the buttons are also available, they did not make a device that covers a button and gives you a big rubbery top over the button to press. If having exposed buttons isn't your bag, then you may have to skip this release. I myself love having the native buttons available.
In terms of aesthetics, there are a few color options at your disposal. Nyko is producing a smoke colored one, such as the one I reviewed, a clear one, and a red/blue one. Let me be understood, they don't have a red or blue case. It is a red and blue case that they have for those with the red and blue Joy-Cons. But the body type is the same otherwise. If you're someone like me who has differently colored Joy-Cons, I suggest the clear. That way you can still dock your Switch and show off its awesome colors. Smoke is for default grey Switch and Joy-Cons. The red and blue is for the other default neon red/blue Switch and Joy-Con combos.
Cons:
The first con may be a personal opinion, but the neon red and neon blue themed case may very well be the most hideous creation. Especially considering how great the smoke and clear look respectively. I would say that if you have a beautiful and sexy neon red and blue Joy-Con set, then you should really get the clear instead. I realize that this case makes the whole system red and blue, but it's not entirely the same tone of color and the way they do it just makes me think of a bad custom paint job.
The other issue I have here is that there are openings on the back. I'm aware that these openings are slots so that the case can be dockable. Nevertheless, I would still appreciate stick-on skins that go where the plastic opens up on the back. This way when I'm on the go, those exposed parts are no longer exposed and will not get scratched. These skins could just be 3 inches by 1 inch and could just be thin and clear as to still show the print on the Switch back. I think I would gladly pay another dollar or so to keep those extra parts covered.
One small issue I have is probably something more to do with how good the Joy-Con covers are. But I'm still going to bring it up anyhow. Those covers are incredibly hard to remove! It took me and my girlfriend a long time of her pulling the Joy-Con her direction and me pulling the cover in my direction. Finally a few minutes later we got out one Joy-Con and still had to do the other. I'm not quite certain if there is a lining inside of the cover that makes it stick, but it's a bummer that I cannot easily apply force and remove the covers.
Now for the point that I find to be the bigger bummer of the group. So we all know that this case is going to add some level of thickness. Of course in this regard, I'm speaking specifically about the Joy-Cons. Since they're millimeters thicker now, they cannot be used in Joy-Con grips. That goes for not only the official first-party ones but also other ones, this also goes for any third party products. And not just ones that hold only the Joy-Cons but also ones that hold the whole Switch and Joy-Con combo. Those are all form fitting grips.
So the main point I'm trying to make here is that this product is basically for those who leave their Joy-Cons on the Switch while it's docked. So if you use Pro controllers or an extra set of Joycons for playing while the Switch is docked, great. But if you really rely on your Joy-Cons to play while it's docked, this isn't going to work for you. Especially since the covers are so hard to remove.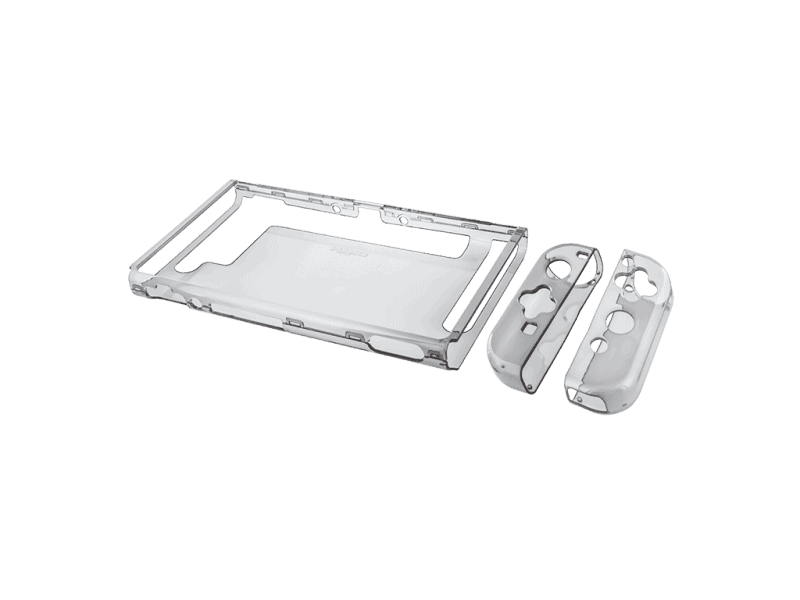 Overall Thoughts:
So, is this product a dud? Nope! I think this thing is stupendous with the exception of the horrifically colored red and blue case. However, I just won't buy that one and I really probably won't be seeing it on the daily.
But this product is solid and I might decide to own both a clear and a smoke case so that no matter which Joy-Cons I want to accessorize with, my Switch will look good. Does the product have some shortcomings? Well yeah, of course, it does. But my own internal assessment is that this case still has way more pros and a lot fewer cons than other cases on the market. If you're into big, bulky leathery cases, then this won't be your thing. If you want Nintendo characters all over your Switch, then this just isn't for you. However, if you're into minimal and protective and want compatibility with your 1st party Nintendo dock then this is 100% for you.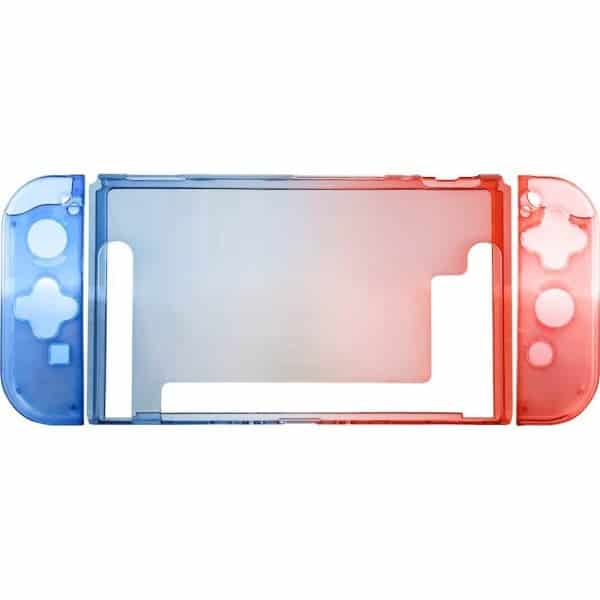 Interested?? Of course! Just click here to buy it!
If you like the author's work, follow him on Twitter @V1RACY and don't forget to enter the weekly giveaways!
And as always, stay tuned here on Hackinformer.com for so much more and follow us on Twitter @Hackinformer