Heya 😀
Here we are. Back with Part 2 of my Gamescom Experience. Again sorry for the delay. Just like at Day 1, the Day began early for me but this time around there were also the masses of the normal visitors.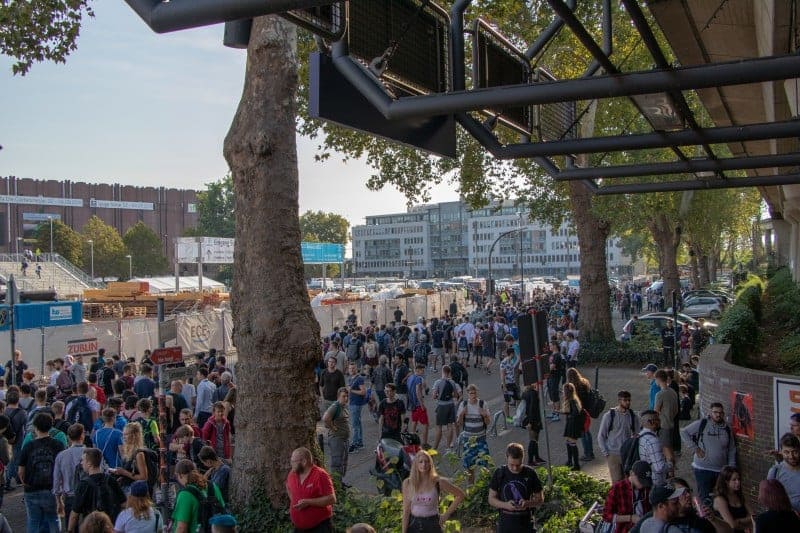 I started the day off with Live is Strange 2. Even though I was relatively well positioned in the queue it still took me around 3 and a half hours until I was able to finally play. This was partially caused by the really long play-time of 30 minutes for every visitor but believe me, those 30 Minutes were really needed to get completely emerged in the world and start to feel with the characters shown in the Demo. I have to say that the Life is Strange 2 Demo was simply gorgeous. It feels like Life is Strange 1 again and is luckily also produced by DontNod again. After finishing the demo you even got a really, really awesome looking shirt 😊

After Life is Strange I went over to Smash Bros over at the Nintendo Booth. Last Game I really played a lot was Smash Bros Brawl on Wii with my friends. I played some Smash Bros on 3DS But Multiplayer sucked balls there and since I didn't have a WiiU I only played it every now and then when I visited one of my more far away friends. I did very much like the variety of characters in the WiiU version though which is another thing I'm very hyped for in the Switch version. It features even more characters (No Waluigi though). The Game played exactly as nice as the WiiU Version and I could even test out some combos thanks to my mates not knowing how to play Smash Bros 😉. Bayonetta seems to have finally been nerfed a bit since she doesn't annoy as much anymore as she did in WiiU when I played with my friends. Not all the characters had been unlocked in the Demo so I couldn't try some other pretty overpowered characters but even if they are it would still be fine for me. After the Demo, everyone got a nice little Pin formed like the Smash Ball.

Just Cause 4 was up next since it was pretty much on the other side of Smash Bros. You couldn't play it yourself sadly but there was some Gameplay shown. The Graphics looked really well done and the mechanics too but I am not so sure what to think of it yet. I played both Just Cause 2 and 3 on my PC already. As for Just Cause 2 I loved being able to do whatever I want and just go to some stations, blow stuff up and then own them. Just Cause 3 offered me the same thing just in better graphics and with some new techniques but it was essentially the same Game concept which is one of the reasons I only played the Story in Just Cause 3 and never even remotely finished taking over every Station on the Map or collecting everything. The thing I'm scared of for Just Cause 4 is that they will continue with this concept and only upgrade the Graphics to look up-to-date, add some new Gameplay features but essentially just make it feel like a better Just Cause 2.

The Last game for that day was Assassins Creed Odyssey. It feels much like Assassins Creed Origins but in a good way. The Graphics looked really nice and the Gameplay was easy to learn (I mean you only have a few minutes to play the game so it would be bad if it wasn't). In the Demo you could choose whether you wanted to play as the male or female character. I chose the female character and was then thrown into the City and told to go to someone to report to him. Upon talking you offer that you could sink some ships for him to make it easier to get his troops on land. After skipping through the small talk it was time to go boat hunting then. You are the commander of the ship and can order your archers to attack other ships, just make sure it's the right one before you attack. Everything said and done it was pretty easy to sink the three required ships even when they tried to evade you by staying behind you in a dead corner where your Archers can't shoot. Sadly, that's where the Demo ended but I am still curious what Ubisoft will make out of this Game. They have finally gotten me back with Origins and I hope they don't loose me again with Odyssey (It does look like they will keep me happy with the new Game though so far 😉)

After that I only went by the ASUS ROG Booth to check out their new Zephyrus Laptop which they made thinner. I don't how in gods name you want to cool thin "Gaming" Laptops well. They are simply bound to Throttle and maybe even die of heat at some point. I far more prefer a bit bulkier Gaming laptop that's is stuffed with a decent cooling and some heat pipes where I don't have to worry that much about heavy throttling and very high temperatures. But, I would never buy a Gaming Laptop anyway just because you can't upgrade them and there are hella expensive for the little things they offer (I mean my current Build costed me around 1300€ and can probably easily stay on par with the new Zephyrus Gaming Laptop. My CPU may be older but also keep in mind that my Build has a 600€ Custom Water-cooling so just from performance per buck a 700€ PC would be on par with a 2000€+ Gaming Laptop. Pheww… Yep. The tiny rant is over so have some nice pics of RGB stuffed things 😀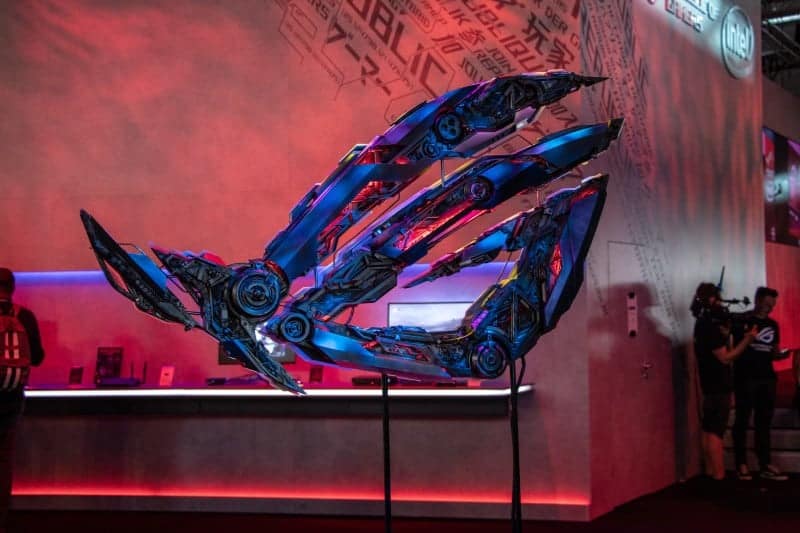 The final spot for the day was the Family and Friends area in Hall 10.2. Its stuffed full of games and other activities for Kids but that's not why I was there. The really interesting part there is the Retro "Corner". I use quotation marks since its pretty much only a corner of the hall but it's stuffed with every old console and PC you could image from your youth. From different Kinds of Spectrum PCs over Amiga, Apple 1, NES, SNES, Arcade Machines, Pinball Machines and whatever you can think of.
It is one of the only places where I can still go and play some Pinball at a real Machine.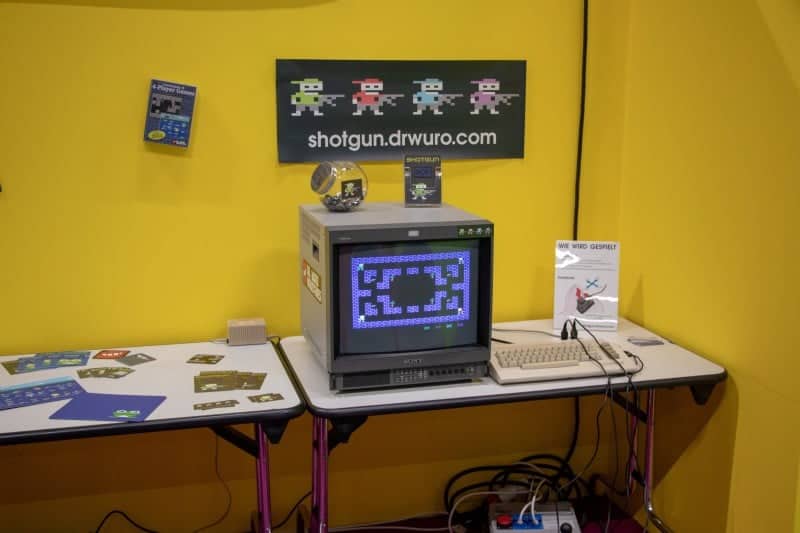 And for those of you who have been in the Scene since the beginning of the PSP you still remember the name Hellcat 😉
Well guess which booth I also visited and stood in awe of all the good old consoles and PCs which were very nicely placed there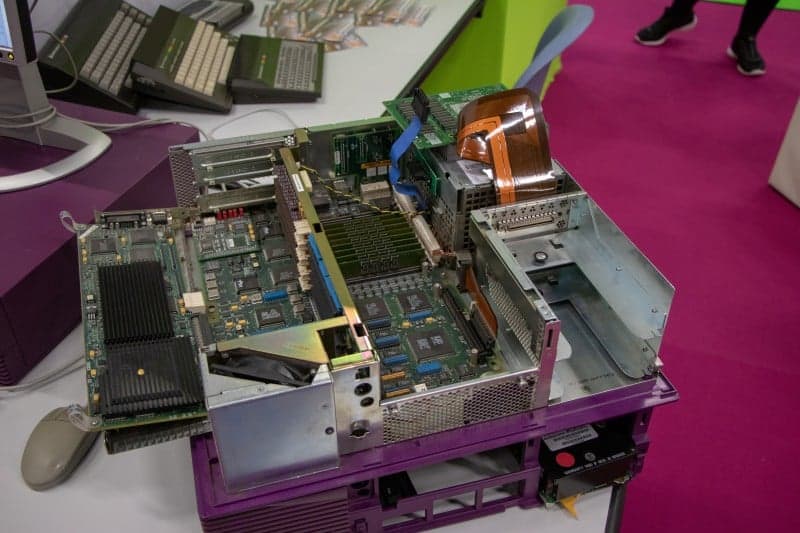 And to give a bit of a taste for what's to come tomorrow in the next post have a picture of good old Samus 😉

Yep that's right. In the Post tomorrow I'll be talking a bit more about games but I also visited the Cosplay Village. What would the Gamescom be without the Cosplay Village? 😊 You could find characters from classics like League of Legends, World of Warcraft and Super Mario but also newcomers like Detroid Become Human and Near Automata next to Anime characters from many different Animes.
So stay tuned for tomorrows post which I will hopefully have done in time for tomorrow (Not like this one <.<)