You may remember that in the past we had reviewed PowerA's Joy-Con Comfort Grip. It was a nice alternative to Nintendo's official offerings and had very little downsides to the product. You can of course read about it here. But today, we're onto our second PowerA review. Today's product is a wired XBOX One/Windows 10 controller with two programmable buttons on the backside. That's where the "Enhanced" comes in. We're going to look to see if its features are all they cracked up to be and see how easy it is to program those two extra buttons.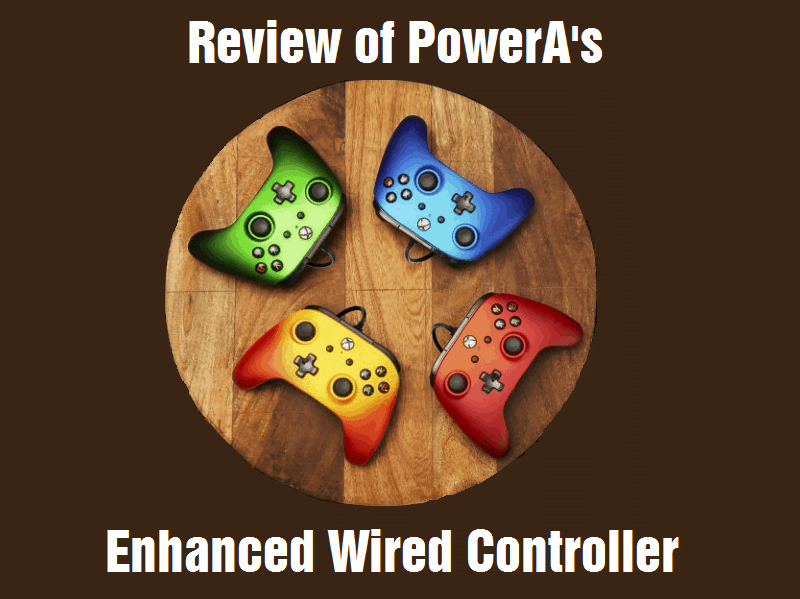 Features:
'2 mappable Advanced Gaming Buttons on back
Unique Design in a variety of colors and styles
Officially licensed and compatible with Xbox One, Xbox One S, Xbox One X, and Windows 10
2 analog sticks: precision tuned to eliminate dead zones
8-way plus shaped Directional Pad (D-Pad)
Traditional ABXY button placement
Left/Right shoulder and trigger buttons
Dual rumble motors licensed from Immersion Tech
3.5mm Stereo headset jack
LED indicator for power and Advanced Gaming Button programming
Detachable 9.8ft (3m) micro-USB to standard USB cable
Dimensions and weight similar to Microsoft XBOX Controllers
2-year limited warranty-Register at PowerA.com'
Unboxing:
Description:
'The PowerA Enhanced Wired Controller for Xbox One introduces a new form factor that looks familiar, feels comfortable in your hands, and is available in a variety of colors/styles. This officially licensed Xbox controller features two mappable Advanced Gaming buttons on back, dual rumble motors, and 3.5mm stereo headset jack to enhance your gaming experience. The controller also offers all the basics, including precision-tuned analog sticks, plus shaped D-Pad, and standard button/shoulder/trigger layout, as well as a 2-year limited warranty.'
Pros:
Well, let's start out with bringing up that most of their marketed features actually ring in as true. Let's go through the features together to break them down. Right off the bat, there are indeed programmable buttons on the back. They are on the left and right side of the back. It's a laughably easy process. You simply press the topmost button down, then press either of the programmable buttons, then just tap the normal button that you want to duplicate. Additionally, they're great fun to use. I think it's fun having the both of them being the A button for shooters, then I just button mash all 3 A buttons and get maximum shots in. But that's just one example out of thousands!
Next up, is the massive amount of colors and styles. They say colors and styles because colors mean the solid colors and designs means the colors that are two-tone. As I said, there are plenty of colors to choose from, I reviewed the Solar Fade color. But there are also seven more that are going to be announced. The date for those are unknown at this time, maybe all seven won't even come out at the same time. If we catch wind of the newer colors, we'll add mention of them here.
This, of course, is fully licensed, so it features fully functional analog sticks and 8-way D-Pad. But it also has the proper rumble that you expect to feel when and where you expect to feel it. And naturally, there is the correctly shaped trigger and face buttons. The whole shape is practically one to one as an official XBOX One controller too. The only obvious difference is that the home button doesn't illuminate, no big deal though. It instead has a small LED indicator light located between the Menu and View buttons. This light helps to let you know that the controller is on and also when you're programming the extra buttons. All of these buttons feel as they should and I think that the trigger buttons may even be a bit more sensitive to touch than the original controllers. This could be seen as a downside, but to me, if I don't have to press as far to get a button press in, I'm happy.
And finally, we can get to the part that thankfully this thing has a corded controller. This means limitless playtime for you as there are no batteries required. And if 9.8 feet doesn't cut it that you can always swap in a longer microUSB cord or toss an extension cord on the end. This is a great upside compared to wireless as you can essentially be as far away from your TV as your couch or chair requires. I'm also glad that you can disconnect it at the controller instead of it being a breakaway cord that disconnects at the other end. This means if you want to keep an extra USB cord in your on the go gaming bag and leave your main USB cord plugged into your XBOX One, you can. Then, just toss the controller into the on the go back and head on over to your friend's house.
Cons:
One of the primary cons for me was a "feature" that I didn't talk about above. That's simply because to me this is not a feature. It's almost a step in the wrong direction. But I suppose everyone's mileage will vary on the subject. I'm talking about the inclusion of the 3.5mm jack. I know we're at a point where people want their headsets to work in a plug and play fashion. I also realize that most accessories use a 3.5mm plug because it just works. But I'm a little peeved that my dedicated XBOX One Headset Adapter that features audio enhancements like mute and volume up and down and such won't work. I know that I'm in the minority, but I already own headsets that don't have those features and don't want to have to buy a new headest. Especially over the features that this product basically removes from my gaming experience. I understand that the port on the bottom of standard XBOX One controllers is most likely proprietary, but it's practically a deal breaker for me.
Overall Thoughts:
So, should you get this product? Well, if you have headsets that have built-in features like mute and such, or if you stay offline, or if you don't use headsets at all, or just need a second controller; definitely. This product is literally half of the cost of a current XBOX One controller. As I had stated before, this form factor is practically one to one. And the cord is extremely long and can come away from the controller (thus saving you from an accident). The inclusion of a cord also means that you don't have to worry about double A batteries ever either. There's the wide variety of colors make it more appealing than most of the dedicated XBOX options without you having to pay tons more money like with the Design Lab controllers. It does indeed touch on every single feature that the list claimed it has. And for fighting games, you should experience less input lag since it is corded. It's not the perfect replacement for an XBOX One official controller, but it is the closest that any third party is going to get to replicating one and doing so with official licenses!
Interested in one of these sleek controllers? Click here!
If you like the author's work, follow him on Twitter @V1RACY and don't forget to enter the weekly giveaways!
And as always, stay tuned here on Hackinformer.com for so much more and follow us on Twitter @Hackinformer