You just bought a Vita and it's on a firmware that doesn't really do something. Let's say it's already on 3.67, you do a quick google search and you find that that does nothing for you in way of mods. You wonder to yourself, "So…should I just update then all of the way to the highest firmware?" You remember that the rule of thumb is to always stay on the lowest firmware you can and you will generally be rewarded later. But maybe there isn't word on the internet about an impending hack for your firmware (yet). Or maybe you're really wanting to play an official game that only exists as an option on a higher firmware. It's hard, you're torn, we've all been there. Well, I decided to try to break it down a little bit more with a little help from TheFloW.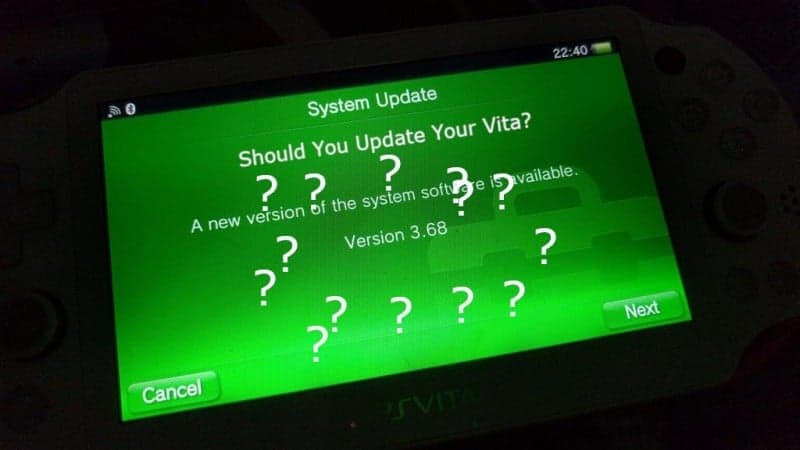 Basically, out of frustration, TheFloW rightfully just came out and answered the age old question for all of you.
Since I get asked daily if it is safe to update:
– if you're on 3.61-3.63, you can update to 3.65 (latest fw that can run enso)
– if you're on 3.67, you can also update to 3.68, there's no big difference

— TheFloW (@theflow0) May 13, 2018
So let's quickly break this down. If you're on a 3.60 or lower firmware Vita, you're golden. There are steps available to you to get the mods done. You can run HENkaku on 3.60, update to enso 3.65 and have a great time with that. If, however, you're on 3.61 or 3.63, you're going to want to update your device to 3.65 and stay there. It can run enso, but not natively right now. Originally TheFloW told us that the only way to get 3.65 enso was through 3.60. Now he's saying update to 3.65 and don't go past it. That's an interesting statement, to say the least. It implies that at some point you will have a native 3.65 entry point.
He goes on to say that if you're a person with a 3.67 Vita, you'd may as well update. The main point here is that there is little to no difference between 3.67 and 3.68. This doesn't definitively tell us that he has an entry point for 3.68, but it does infer such. He would tell you to stay as low as possible if there was no exploit for 3.68. Or, there is a 3.68 entry point, but it has to be more difficult than the one for 3.65, otherwise, he would mention that if you're on 3.61 or 3.63 that you should update to 3.68.
The upcoming jailbreak will support 3.65-3.68

— TheFloW (@theflow0) May 13, 2018
And then he dropped this bombshell of a confirmation on us. He states very clearly that the next jailbreak will support 3.65, 3.67, and 3.68. Now, as I was saying before, I would wager the following guess. I would reckon that just like on the Switch, the older the firmware you're on, the easier the mod. This is just as I was saying in the last paragraph. TheFloW didn't explicitly state that everyone above 3.60 should just update all of the way to 3.68. If he did, it would imply that all of the jailbreak exploits are just as easy as each other. No, he stated to only update to 3.65 if at all possible. And if you're on 3.67, you're not out of luck, you can update to 3.68, it's just not ideal.
We're also on the end of not knowing when this will be. He said that it's an upcoming jailbreak, but technically every day after today is "upcoming". I'd say we answered the question as to whether you should update your Vita. But now we're left with a bigger question of when you'll be able to actually mod it.
If you like the author's work, follow him on Twitter @V1RACY and don't forget to enter the weekly giveaways!
And as always, stay tuned here on Hackinformer.com for so much more and follow us on Twitter @Hackinformer