The number one problem with the Nintendo Switch right now is there is no way to get your games saves off of it and then restore them at a later time. You could wait for Nintendo new service to come out that will upload your saves to the cloud like the PS4 does with PS plus but that still a few months a way.
In the meantime, we look towards the homebrew community to hopefully help with this issue with game saves. Developer BernardoGiordano has done just that with the release of Checkpoint 3.1.0. Now to be able to use this homebrew you'll need to be able to use the homebrew launch and your Switch will need to be on FW 3.1.0 but it's also reported to work on 3.0.0 too.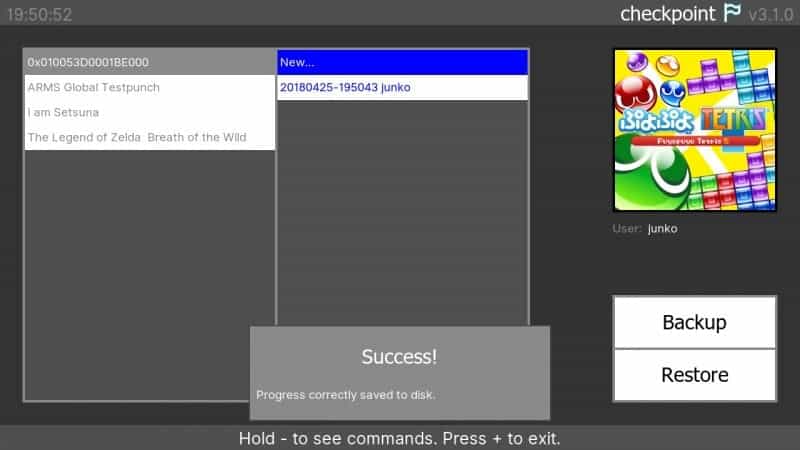 Pre-release for Checkpoint 3.1.0 to use with Switch homebrew. Save backup and restore methods for the Switch are publicly available for a while, so I decided to release my own source code too.
This doesn't work on the latest firmware and has also been reported working on <= 3.0.0. Other firmware may or may not work.
This has been tested multiple times by various testers, but I want to state that I've never really tried it on real hardware because I have no homebrew access. For this reason, there could be imperfections in the UI or in the user experience here and there.
This doesn't work in docked mode, as you're required to use the touchscreen to perform all the operations.
This still relies on the old nx-hbmenu way to draw text on the screen. It'll be updated later in the future to use the shared font.
Use at your own risk. I'm NOT responsible for problems caused, directly or not directly, by the use of Checkpoint.
You can find screenshots here.
For more information, usage instructions and credits please check the readme.