Developer SciresM is at it again after confirming that he was able to exploit Trustzone on 3.x.x he started working on 4.1.0 and now showcased that his déjà-vú dubbed exploit also runs on the currently latest Nintendo Switch Firmware 😀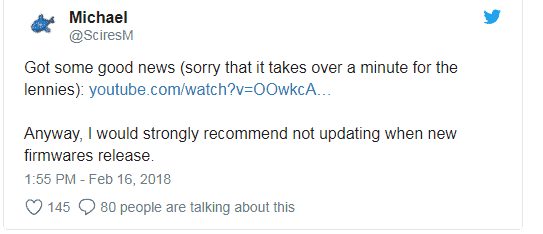 You can see in the video that his Switch is on Firmware 4.1.0 and that he opens the eShop login prompt to open the browser which then loads his webpage with the exploits. One interesting thing to see is that he turns off the screen which means that just like the already released déjà-vú exploit this one is also a "warm-boot" exploit.
SciresM mentions that you should not update past the currently latest firmware 4.1.0 which means that the exploit will probably be fixed in the next firmware update. But for now, you will probably want to stay on 3.0.0 and below to be ready for Homebrew since it is still unclear if this exploit will be released anytime soon (Probably when it get's patched but I wouldn't bet on it)
I really hope that this will help to get a step forward to public Homebrew Access on Firmware up to 4.1.0 since many People just wanted to play Mario Odyssey, Zelda BOTW (Some copies need 3.0.1+) or play online. This would allow them to still enjoy Homebrew when the Homebrew Launcher gets released and we finally have a simple option of running homebrew.
Source: SciresM