We now have reached a world where retro Microconsoles are hitting us from every side. Some of them great like the NES and SNES Classic Editions. Some of them are not so great, like the Retro-Bit Generations that came back a while ago. Can Retro-Bit gain their footing and be among the greats? Or is this new Retro-Cade just as lackluster as the Generations model? Let's take a look, shall we?
Features of the Microconsole:
○ 'Packed with over 90 classic games including original arcade favorites and popular console
titles
○ AV and HDMI® compatible (6 ft. HDMI® cable included)
○ Two 10 ft. wired USB® six button controllers compatible with PC and Mac®
○ Intuitive smart UI with smart filters for easy navigation
○ Internal save states and button tutorials
○ SD card slot to save and transfer game progress
○ Compatible with official or third party USB® controllers'
What's in the Box?:
○' Two 10 ft. wired USB® six button controllers
○ A/C ADAPTER
○ HDMI® cable (6 ft)
○ Instruction Manual
○ Super Retro-Cade Console'
Buttons and Ports:
The one thing that I noticed about this device straight away was how, in terms of ports anyway, there's some decent variety. Other Microconsoles on the market, whether they be the Ouya to the SNES Classic, all rely on HDMI. Now for the Ouya, I see the entire purpose of that. It was trying to find it's footing somewhere in the console market and the Wii U, XBOX 360, PS3 were all stock with an HDMI port. The NES and SNES Classics, on the other hand, I'm hard-pressed to find a reason why they went exclusively with the HDMI port. The Super Retro-cade has both standard Composite and HDMI is the point that I'm getting to. I think that Nintendo should've been the ones to beat the path of having Composite and HDMI as people could definitely want to play those games on an older TV for nostalgia's sake. However, Retro-bit had the idea first and executed on it beautifully. It makes those arcade games look so good if you play them on a CRT. Good on them for choosing to include older hardware with their older games, but also giving their users choice to just use HDMI if they want to.
In terms of buttons, I definitely love the power button on this device. They followed suit by adding a physical button for their power button. This device wasn't around when these games were released, naturally. However, it does act like a device from way back when by having a physical button. Whats more is that they have the button light up when the button is depressed and then when you click it out to turn the device off, the light turns off. I will say that I'm saddened by the lack of a reset button on this machine. They definitely missed the mark there as I would love to just reset a game to its title screen. However, this doesn't let me do that (as of now). The best we can do is press the select and start buttons at the same time, pull up the emulator menu, choose to go back to the main menu of the Super Retro-cade, and then start the game again. The way I found around this is to make a save state on the title screen so you can just load back to the title screen that way, but depending on the game, that could take longer.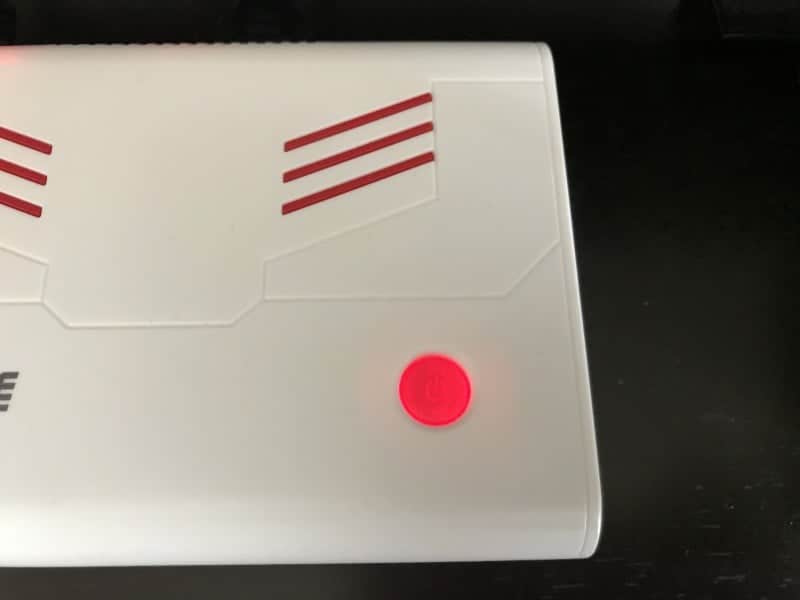 User Interface & Emulation:
So, the right off the bat, the box does mention that in some of the games the player may experience slowdowns or stutters. They continue to mention that you may only see that in arcade games. I wasn't able to test the entirety of all 90 games, but I did notice issues in a couple of them. None of the bad experiences I had were ever even that bad. In fact, it wasn't gameplay issues that I came across in my playthroughs. In both Bad Dudes and Magical Drop (both arcade games), I noticed some pretty bad sound issues. But I just turned off the sound in the settings and it was much better. That was the only real issue with emulation that I had overall. The bummer about turning the sound off is that it applies to all games and the games you want sound on in, you have to re-enable it.
Which leads me to one other point about the emulation which I thought was weird. When you're on the main menu of the Super Retro-cade, and you want to change the resolution for a game, you just hover on the game and change the resolution settings. Then, when you play the game, it looks how you wanted to. You have to do this on a game to game basis and it is not applied across the board to all games. But the sound being turned off is applied to all games? This hardly seems like an issue that should stay permanent. I definitely hope that Retro-bit fixes this. Or, there should be an option for the resolution to be applied across all games, because for me, I like the original resolution.
When it comes to the save states feature on the Super Retro-cade, it is nothing short of confusing. Some games take a solid 30 seconds to save and 30 seconds to load a save file. It uses some system where it shows large yellow text in the lower lefthand corner so that you can see the progress. There are other games though that use a save system that is practically instantaneous and gives a clean little message at the bottom of the screen. My guess here is that there are different emulators built into this and it uses several different emulators. That would bring us to different save state systems in place. It's very annoying for the 30 second save files, but I do feel it's worth it for the games that have it because they're all so great. But maybe you would have an issue waiting half a minute to save and/or load.
The user interface is fine. It's nothing magical by any means, but I do think that it's perfect for what we need. We just need pictures of the title screen of each game and then we just need to be able to press start on it. I also love the fact that you can press the X button on the controller and filter the page by what you want. Alphabetically or by genre and a few other options, helping you find what you're looking for sooner. I love when things are simple and it also makes it very family friendly.
Accessories:
The cord length of the controllers is a solid 10 feet long. This means an average person can now sit on their couch and play retro games again. Or at least can do so without extension cords or wireless gamepads (which may cause a delay). I will mention that the buttons are plastic and when you press them in, they're slightly squishy. But they're totally usable and never fail you. The strange thing is the shoulder buttons. Since the controller is so thin, it's not very ergonomic to have the shoulder buttons where they are. The flip side of that complaint is that the shoulder buttons are almost never used in any of the 90 games. There is a Genesis game in there, but it didn't appear to use the shoulder buttons either.
The box mentions support for third-party controllers. So I definitely through everything that I had at it. I tried to use a generic SNES style USB controller on it, the buttons worked, but the more I used them…the less they worked. After about 2 minutes, the controller didn't work at all. It did once I reset the console again, but within 2 minutes, the controller was useless all over again. I tried a generic USB PC controller (Logitech Dual Action) and it only let the D-Pad and the left thumbstick work. I plugged in a Hori Fighting Stick Mini 4 and it did not let me use anything other than the stick itself. Whether the fighting stick was in PS4 or PS3 mode, it was the same effect. The strange thing is that the Home button on it didn't have a function, but when you pressed it, it made the tick sound that it makes when you go between games. So long story short, we may get better controller compatibility through a patch later on, but for now, just stick with the standard controllers. Lastly, I was hoping that my SN30 controller from 8bitdo would work in Android mode if I plugged my Bluetooth adapter into the USB port. Long story short, I think if they had left in the settings menu from the build of Android that they're using, I would have been able to connect the controller. Again, this could be a patch that happens and it would make me so happy.
In terms of the SD Card, I found that my 32GB card worked just fine. When you plug it into the device and it's already on, it will prompt you to either search the SD Card or the Local Memory. Just choose local memory to go back to your games list. When you play a game, and press Select and Start at the same time, you will have your menu screen. Simply choose the SD Card Slot option to save your saves on the SD Card. The same menu pops up on the home screen if you insert a USB stick into a USB slot, but when you go to save in game, it tells you no SD Slot found. So I guess you'll have to stick to SD Cards for now. Once more, I mention, maybe this could be fixed in a patch allowing USB stick support for saves.
Game Choice and Diversity:
There are 90 games on this system. This isn't just some Chinese clone console with "684 in 1" type thing with tons of repeated games and single homebrew levels. No, this is a solid entry in the Microconsole genre. The sheer amount of games built into the system by default makes this a must-have. There are not just one type of arcade game or console game either. This box is loaded with shoot 'em ups, action games, platformers, puzzles games, and whatever genre Burger Time fits into!
I was absolutely blown away by all of the games listed on the box and the face that Retro-bit got all of these licenses together. And they didn't just get arcade games and console games. They got some games that existed on both console and arcade and put them side by side. I had a blast seeing the difference between the arcade version and the NES version of Hammerin' Harry. The list is simply delightful. There, of course, are arcade games that I would love to see on a Microconsole. I have nothing by love for the original Galaga, Toobin', and Tapper. Obviously, they aren't there, but instead of sitting around moping about what I wished it had, I'm loving it for what it does.
Overall Thoughts:
Great price. Great controller length as well as getting 2 controllers for arcade. I love the physical power button just like the NES/SNES classic. I also love that it's pretty small, which makes it very portable too. Heck, the box itself literally has a handle on the top to make it carryable. If they sold a carrying case like the NES Classic does, it would be a shoe-in for parties and sleepovers. Practically every game has a multiplayer aspect to it, although, they didn't add any games with four players, which is smart as well considering that there are only 2 controllers. My guess is that a USB hub may actually work if more controllers wanted to be introduced, but again, there was no use for it.
The game variety is an absolute masterpiece. Practically every genre was touched upon in the Super Retro-cade. I even found it fun that they included a fair amount of home console iterations of the arcade games that were in this Microconsole. I think had there been the arcade version of the original Galaga or even just Galaga '88, I'd be a happy dude. But that's okay, you can't please 100% of people. And speaking of pleasing people, this system probably isn't for anyone born after 2000 as they most likely haven't either played these games, or they have never visited an old school arcade. But if you're a younger person who can appreciate the technical hurdles that these devs had to leap, you'll love this system. It just oozes with some of the greatest technical feats of the time.
The controller leaves a little bit to be desired, but it's totally playable. And with the ability to maybe make some of your other accessories work (I only tried what I had), you have even more reason to buy this system. The emulation itself is also leaps and bounds better than the Retro-bit Generations and the sheer volume of games (NINETY) is astonishing. I'm not sure if we'll see a sequel sister to this, but I have a feeling patches and DLC or add-on games of some type would show up on this one. Best of all, it's only $60, I mean think of all of the quarters you'll save by staying home and playing these games! 7.5/10
If you're interested in the Super Retro-cade you can find it by clicking here.
Stay tuned here on Hackinformer.com for more reviews and follow us on Twitter @Hackinformer
If you like the author's work follow him on Twitter @V1RACY