It was pretty big news on Christmas Eve morning that a jailbreak for iOS 10.x through 10.3.x came out. However, there are always issues with initial releases, so I refrained from reporting on it. I wanted to wait until the bugs were reported and patched a bit more before posting on it. I think now that at least two days have passed we can finally talk about the jailbreak at all. I'll share the most up to date version of it as well.
What you need to know about the jailbreak:
It is a semi-untethered jailbreak (meaning you have to start H3lix again every time you reboot)
You have to redo steps 3-13 every 7 days unless you have an Apple Developer account
It should not be installed from the Safari browser on your phone
AppSync Unified supports it now
It only works on 32-bit devices
The jailbreak exclusively for iOS 10
It's creator tihmstar is updating it as he can
Not every 32-bit device was tested by tihmstar, but people have confirmed most devices work
It should only be installed as instructed
The jailbreak should not be installed from AppValley, TuTu, or any other "jailbreak alternative" app
 Jailbreak instructions:
Download the most recent of the jailbreak .ipa file of H3lix from here.
Download and run Cydia Impactor.
Plug your 32-bit  iDevice on iOS 10 to the computer.
Wait for Cydia Impactor to recognize your device (if iTunes opens, just kill it).
Drag and drop the .ipa file onto the Cydia Impactor window.
It will prompt you to sign in with your Apple account (whether you have a dev account or not).
After that, it will take a few seconds to run all of the processes. It will let you know when it's done.
Now, unplug the phone, the computer is no longer necessary.
Settings > General > Profile & Device Management and find the profile that it just installed for your app.
Tap on it and then press Trust to allow it to run.
Head back out to your Home screen and start H3lix (illustration above).
Now simply press the large "Jailbreak" button on the screen and wait.
After that, on your home screen you will see Cydia (illustration below)!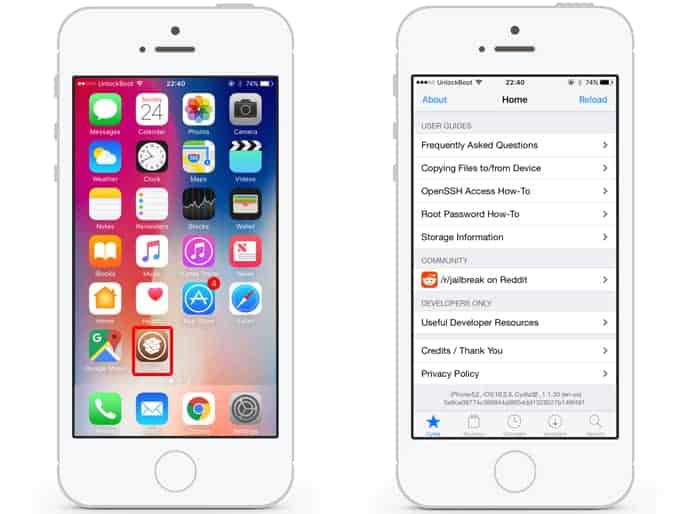 Stay tuned here on Hackinformer.com for more news and guides and follow us on Twitter @Hackinformer
If you like the author's work follow him on Twitter @V1RACY