In this review I'm going to be talking about Hover Cover's newest addition to their skin product line; Switch skins. These skins, as you will see in the pictures below, vary in colors and styles. The company, that released these recently, hopes to bring skins to the world that will not leave a sticky residue or pull off any color or finish from the Switch, its dock, or its matching Joy-Cons once removed. Does Hover Cover deliver on their promise? Let's jump right into this thing, shall we?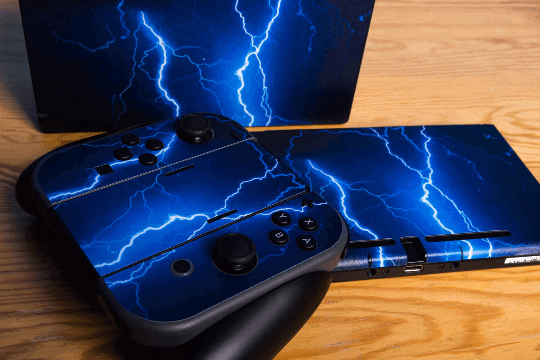 So first, let's check out the advertised features and such, straight from the site:
'Hover Cover custom skin wraps fits the Nintendo Switch Installation takes minutes to install. Won't ruin your Switch when removed. 
Hover Cover vinyl wraps are not permanent and can be removed as quickly as they can be installed.
 *Please note that Hover Cover is intended for cosmetic use ONLY. Hover Cover vinyl decal stickers DO NOT protect against any and all major collusions/scratches.'
Pros:
This product has a fair amount of pros behind it. For example, I think it's great that if you want to keep your multiple docks in different rooms looking separate you can get two or more docks and decorate them differently. For example, this would be a great gift for a set of kids who both have Switches. That way both their dock and their Switches match but still look different from each others. That also keeps them from mixing up their respective Switches, which up to this point meant having to turn on the Switch right quick to see which Switch it was and hoping it was the right Switch for the person. But what if it's just you as a single human gamer? Is it worth it to deck out the Switch with all of these parts?
I think the answer here is yes, there are even more pros here. Such as the fact that you don't just deck out your Switch on it's own. The whole $20 cost gets you a skin for the dock, the Switch, the Joy-Cons, and the Joy-Con grip. So the value here is just so on point. And I know you've been waiting for me to get to the fact as to whether or not it really, genuinely peel off without a hitch? Will it come off nicely without taking any paint and/or finish with it? Can it honestly come off and leave zero sticky residue behind? The answer to all three of those questions is a resounding "yes!". I put on all of the skins that they sent me and ripped off each one (it's rather satisfying, but that's not why you would buy these). My curiosity was piqued as it was when I tasted my The Legend of Zelda: Breath of the Wild Switch cart. And unlike the game cart, this time, I was not disappointed with the outcome. These skins are truly easy to peel. Another great pro here is that there are just a crazy wide array of styles and colors to choose from.
Cons:
The biggest issue that I seemed to have come across here was not anything that couldn't be fixed by the manufacturers. I found that on the back of the Switch, putting the skin on properly aligned was a bit of an ordeal. The same goes for the right Joy-Con. It all comes down to the pre-cut holes. Everything seemed to truly align on the back of the Switch except for the holes that they had cut out for the screws. So what I mean here is that the vent holes aligned, the spaces around the game cart worked, everything was great, but the holes didn't land exactly over the screws. This was oddly frustrating, but I certainly would've thought that it was me, until I tried it across 2 other skins on my Switch.
As I was saying before, the same holds true for the right Joy-Con. Why the right one versus the left one? It all comes down to the plus button on the right Joy-Con. It's such a goofy shape and it's located away from all other buttons. So I knew that I had to work from that button and then go down the Joy-Con. The bummer about this is that the holes looked slightly askew from the rest of the buttons. So I had to pull and crease the skin to make everything else land to look decent. None of this is a huge ordeal, obviously, as you could hardly tell. I'm just letting you know that you may have to make some small compromises with it. That does not mean that it will look bad in the end, that simply means you need to be patient. And who knows, maybe you can do better in one try than I did in three.
Some other small cons worth bringing up. It is a little bit hard pulling the vinyl away from the original piece of paperboard that it is resting on. I very much had a hard time getting a corner up and peeling it away from the paperboard. What I would recommend to anyone who buys this product is to peel away the thin outside border of the sticker, the part that is trash. After that, you'll have more room to be able to get a fingernail underneath and have the leverage to properly pull it up without tearing anything. The last con worth mentioning is that you cannot simply buy a skin for if you buy an extra Switch dock for an extra room and/or TV. This means you have to buy the full $20 set and have extra skins lying around. It would be nice if in the future, Hover Cover sold individual dock skins and individual Joy-Con Grip skins as these are devices you can buy separately from the stores.
Here is a fun video from their site showing how cleanly the vinyl comes off. I also have some videos of my own that show how easily they come off.
After everything is said and done, here would be my final thought on the product. There are slightly more pros than cons in my experience with the product. I would say if you're hesitant, maybe wait about 6 months to really let them hone in on their design before buying one. Otherwise, $20 is a good cost and if you're just patient with the product, even if you buy it right now, you're bound to be ultra happy with the results. 7/10
Want any of these skins or want to see other skins for your Switch? Click here.
Stay tuned here on Hackinformer.com for more reviews and follow us on Twitter @Hackinformer
If you like the author's work follow him on Twitter @V1RACY