3D printing has been around for quite some time and is not a new technology. The only new thing to the 3D printing world is the desktop 3D printer and now with desktop 3D printers being made by all types of companies, the pricing has gone down dramatically.
HP DESIGNJET 3D PRINTER: the Year 2010
At first, there was only a handful of desktop 3D printers that you could get your hands on and they weren't too expensive but still out of most peoples price range, with prices ranging from $700 to $1,200 for a desktop 3D printer. When most DIY kits were first hitting the market BotMaker was one of the first to actually succeed with their desktop 3D printer which paved the way for other companies.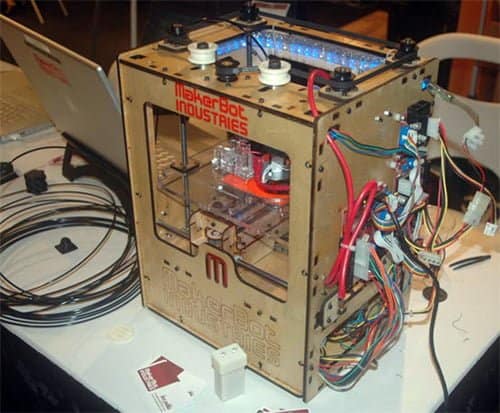 On the other hand, some companies notice that the average consumer wanted to start making things at home and not just to make toys or chess pieces but practical applications that they could use. Like for cosplay, 3D pictures/models or even as simple as fixing a toilet seat or making small part for a faucet.
A lot of companies noticed this and started making inexpensive desktop 3D printers for everyone. So all types of companies started to jump in this new market, which is a great thing because now we have 3D printers that cost about $250.00 to $400.00 dollars that will do very impressive prints. Now you can go and get a do-it-yourself kit where some printers will only cost you about $125.00 to $180.00 dollars plus shipping and handling but you will have to build the 3D printer which some can take 4 hours or 3 days. It's all a matter of how much free time you have, with a do-it-yourself kit like the A8.
The A8 3d printer is a very popular do-it-yourself kit. I've seen these kits range from $125 to $150 dollars on Amazon or 3d printer websites. Since the A8 is very inexpensive it has a big following and community, you can go search these three 3d printing sites like Thingiverse.com, pinshape.com, yeggi.com  and find all kinds of things you can print to make it print even better. That's one good thing about a 3D printer and some of these do-it-yourself kits is you can actually replicate parts for it that you may need later on or just want to make it print better.
Then you have other models that are like BotMaker newest desktop 3D printer, now it will be hard to replicate parts for it because for one it's a new printer. So that is another thing you need to think about, are you going be using it a lot and do you want something where you can add on to it later to make it better or would you rather get a unit that is simple in design to build and very easy to use. For most of us that are just getting into the 3D printing market, I recommend getting something simple and easy to use in design.
There are a lot of desktop models out there that can make very small prints without any assembly to the machine and are very inexpensive. If you're looking for something that's going to do middle-sized prints you are going to end up getting into the market of the $250 – $500 3D printers that are already assembled.  This is where you decide if you're going to be the do-it-yourself guy and save an extra $150.00 or $200.00 or spend $400.00 and get one pre-assembled.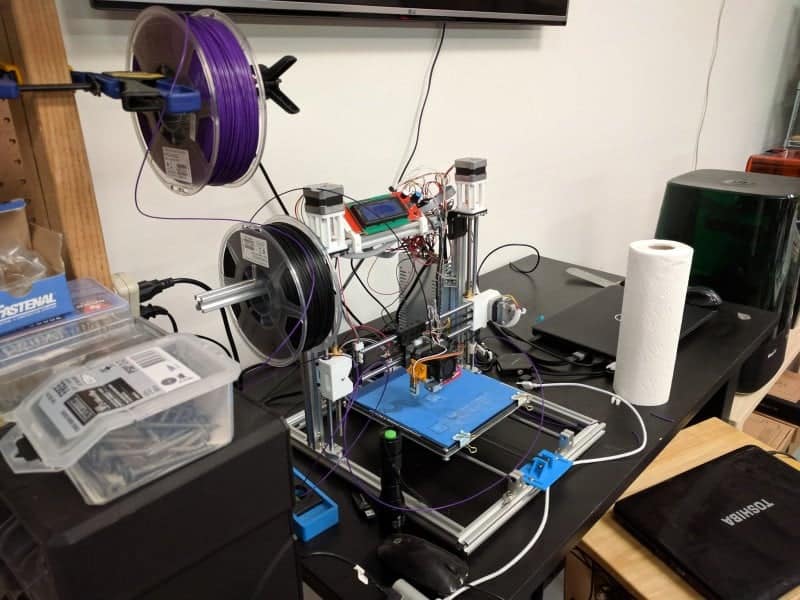 The other thing you might want to look into with getting a 3D printer is do you want one that is a self unit or do you want one that needs a computer all the time and what I mean by that is can the 3D printer just put in a memory card in it and it starts printing or do you need a computer constantly connected via USB to print and if the computer turns off or something happens will it stop printing and I heard a lot of horror stories that way, so a self-contained unit has its pluses but sometimes can be a little more expensive.
Here are my recommendations that I've seen in action for a few desktop 3D printers that are do-it-yourself kits and pre-assembled.
Top 5
Maker Select Plus 3D Printer $399.99
Feature:
Built upon the design of the Maker Select 3D Printer, the Maker Select Plus 3D Printer now features a unified design with an integrated control box and a smaller footprint. Like the previous models, the Maker Select Plus+ 3D Printer features a large 7.9″ x 7.9″ x 7.1″ build area, but with a 50% faster print speed. The LCD menu system has been upgraded to a large 3.25″ touchscreen system, with a simpler and easier to use design with on-the-fly print tuning options. The improved Anti-Jam MK10 extruder features a 0.4mm nozzle diameter and 100-micron layer resolution, allowing you to create smooth, high-quality prints.
HICTOP Auto Leveling Desktop 3D Printer Prusa I3 DIY Kit $297.00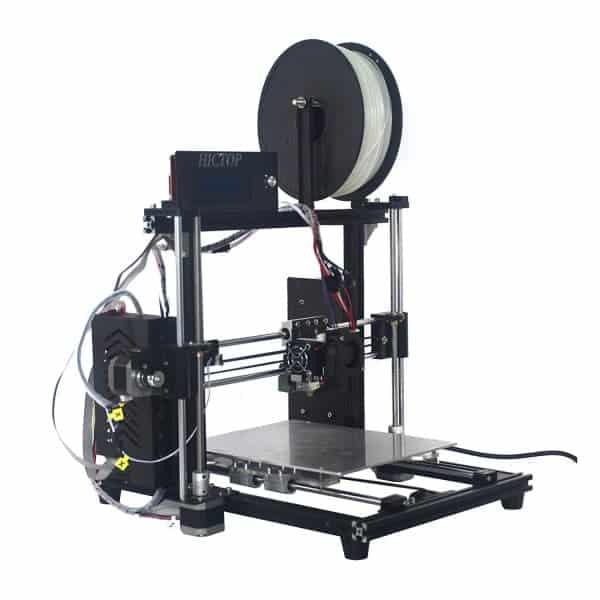 Features:
CONTROL BOARD: Uses ATmega2560 with integrated RAMPS 1.4 onboard. Supports dual extruder. No need to buy another board to do an upgrade.
SUPPORT SEVERAL FILAMENTS: Prints PLA and higher temperature ABS, WOOD, HIPS, NYLON, FLEXIBLE, PC and PET-G. Print MANY filaments and not just PLA.
IMPROVED PARTS: Includes newer T screw rods, injection X axis holders. Higher accuracy and stable printing is here.
PRINTING SIZE: Prints max size of 10.6″ x 8.3″ x 7.4″. No longer will you be limited to small models. Larger printings are waiting for you.
 Features:
Plug and play right out of the box

Simply download models and watch your creations come to life

Achieve high-quality print consistency every time with built-in auto-calibration technology

Sleek, compact, and quiet 3D printer, perfect for indoor use

The only consumer-friendly 3D printer with UL safety rating
Anet A8 3D Printer DIY Kit (about) $220.00
 Features:
Suitable for a wide range of customers, young or old, professional or amateur etc.
Multiple 3D printing filament supportable, support ABS / PLA / Wood / Nylon PVA / PP / Luminescent. 220 x 220 x 240mm printing volume, just right for you
All metal pulleys for improved functionality and performance
Quick-release feed gears for faster and fluent filament feeding
High printing precision, stainless steel rail rods, gears, bearings and connectors for smoother movement
Working environment: Temperature: 10 – 30 Deg.C, humidity: 20 – 50 Deg.C
Creality CR-10 3D Printer DIY kit (about) $600.00
 Features:
Makes Really big prints
(1)Unique extrusion structure: Supports more than 10 kinds of printing materials. 
(2)Linear bearing system: High precision/ Good stability/Low noise. 
(3) Import T screw rod and PCB higher accuracy; Patent V slot, wheel, more stable and noiseless. 
There are so many 3D printers to choose from nowadays it can be hard sometimes but with a little extra research, you can find the right one that fits your budget and how big you'd like your prints to be. Right now I'm using the Maker Select Plus and our full review will be up this week but so far I'm very happy with the prints, here are just a few Pi3 cases I have made with the Maker Select Plus.
Now if you think 3D printers are still too much, just think of it like this most video game systems cost $300 to $400 dollars and a good 4k TV is in the same ballpark, so I would say 3D printers are very inexpensive compared to the early days and it might be time to finally pick one up.