The Nintendo Switch has been on fire these past few months but when it comes to third-party controller you don't really have much of a choice at the moment. You could go out and pick up the pro controller for the Switch but with a price tag of $80 dollars, it's a lot of money to spend on a controller.
Now you can use a few other controllers on the Switch thanks to update 3.0 but they are going to be wired controllers and sometimes wires can get in the way. For example, you have friends over and you're playing a game on the Switch with a wired controller and then they walk right in front of you not seeing the cable and bring the whole system down. I know this has happened to a lot of people before the wireless controller and probably still happen to this day.

To solve that problem I started to look for Wireless Controller Adapters, so I could use my DS4 or Xbox one controller, at first we only found one that you still had to use a USB cable and keep them plugged in. Then I ran across the MAGIC-NS Wireless Controller Adapter for $19.99 and figured I would give it a shot since it supported quite a few controllers.
DESCRIPTION:
Wirelessly connect your PS4, PS3, Nintendo Switch Pro, Nintendo Switch Joy-Con, Wii U Pro, and Xbox One S Bluetooth controllers to your Nintendo Switch, PS3 or PC system
Wired PS4, PS3, Nintendo Switch Pro, Xbox One, Xbox One S, Xbox 360 controllers and fight sticks, and standard wired USB controllers like Logitech rumble gamepad F510 and F310 can be connected to your Nintendo Switch, PS3, and PC system.
Plug and Play!!
As soon as I got the MAGIC-NS I immediately wanted to see if it would work without the dock and with a USB-C to USB A adapter. It worked like a charm, not one problem with it working on the USB Type C to USB A. Just like the Mayflash said, this adapter is Plug and Play, it's that easy, no hooking up a USB cable to read the controller before you can go wireless. You simply just reset your Bluetooth controller like the DS4 and press the little button on the side of the MAGIC-NS to make it sync, it's that easy to use.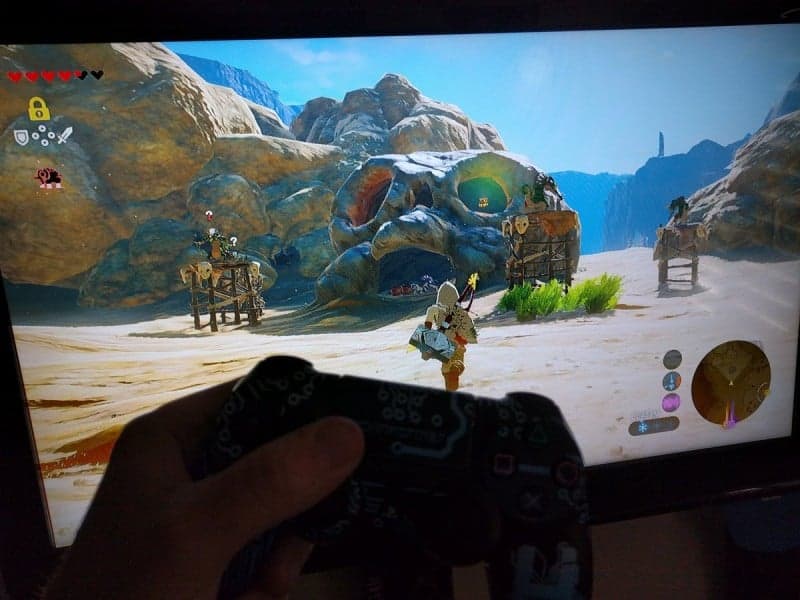 The only thing that does not work with the MAGIC-NS is motion controls like you would get from the joy-cons or pro controller but for me, that was not a big issue as I don't care for that feature in games like Zelda or Splatoon2. I rather use the second analog stick to aim at my enemies but that's just me. While using the MAGIC-NS and the DS4 I did not get any lag or latency nor did it ever disconnect from the Switch. So for $19.99 the MAGIC-NS is definitely worth picking up if you are trying to avoid spending $80 dollars on the pro controller or if you just want to use your favorite controller on the Nintendo Switch.
You can find the MAGIC-NS at PlayAsia for $19.99 and use coupon code informer to save a few bucks too or you can get them on Amazon for $29.99 here.
PlayAsia: MAGIC-NS Wireless Controller Adapter for NINTENDO SWITCH for $19.99
Update: It seems that the price of these adapter has gone up a few days ago and they are now $24.99 to $29.99.