Moonbyte Games has fully overhauled the original 2006 PC racing game Crashday, which is a classic favorite. This game takes several other factors of racing games and mixes them all into one if you've played demolition derby then crash the red line might be for you.
Gameplay:
The game combines various styles of preceding racing games. Several modes are available, including several race variants, a Destruction Derby-like arena, various capture-the-flag variants, and stunt competition. The cars can be upgraded to have weapons, similar to those in Full Auto, with which to attack competitors in both race and arena modes.
The stunt mode involves the player driving around a purpose-built stunt track, performing flips, rolls, and other stunts to receive points. The more combo stunts you perform, the more points you receive. The hold the flag mode contains a flag that should be driven through a number of randomly selected checkpoints. The flag can be stolen from another player by touching his/her car. Race mode includes a mode whereby the last car on each lap is destroyed. There is also a race type called bomb run mode featuring a minimum speed that rises with each checkpoint to avoid a bomb being detonated, in reference to the movie Speed.
Damage is taken to the car as an overall percentage, which causes the car to be "wrecked" at 100%. The lights, windscreens and body trim can all be smashed from the vehicle and wheel and suspension damage is also modeled (affecting the car's actual driving performance). Furthermore, the geometry of the car deforms through collisions, again affecting the car's stability. Though these features are not immediately apparent due to the games 'arcade' feel that allow continual collisions without noticeable damage (there is no realism settings in the options menus), the game can, in fact, be easily modified to allow a more realistic damage model by editing the simple text in the games configuration file.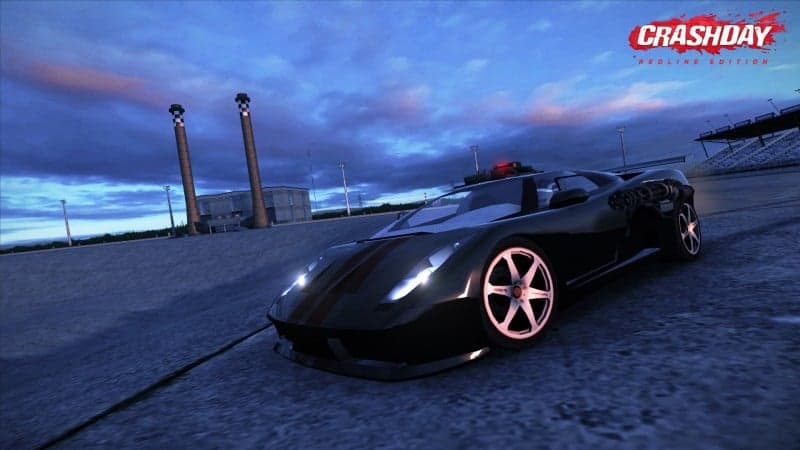 There are many car types available for purchase as well as a system of upgrades. Many of these are cosmetic in nature, however, the cars can be armored to absorb less damage from impacts and gunfire – as well as being reinforced to better resist collision damage (and cause more to other cars). Cars will then take very little damage in collisions against the front of their vehicles. The car's engine performance can be increased, and other more cosmetic improvements include wheels, trims and paint schemes.
Over all experience.
Crashday: Redline has plenty of options to play and different modes to play, but it felt like it was lacking something for me. Next, I had a big problem getting different controllers to work in the options. For example, my Logitech steering wheel would not populate, when it would work on any other game yet Crashday would not. After messing around with the options and configuring for quite some time I gave up and started to just use the keyboard. I went through your basic demolition-missions and stunts but ended up getting bored very fast with the game. It was probably due to none of the joysticks working properly. Gameplay was okay but like I said it felt like it was lacking and it was just a quick fancy upgrade for the new tech. I give this game a 5 out of 10. The only thing I really enjoyed was the soundtrack.