Tiny Trax by Futurlab (PSVR, $19.99) is our first foray into reviewing PSVR racing games and boy does it not disappoint. The team at Futurlab have crafted nothing short of a moutwatering piece of gaming. But if you really want to know about the meat and potatoes of this game, read on as we not only break it down the same way we usually break down games when we review it, but we also break it down in terms of other games that we have personally played on VR in the past.
We have a trailer for you to sink your teeth into before we get into the nitty-gritty of the game, so that you have a better sense of what it is that we're talking about since the game is so unique. Although a 2D video of a fully immersive game leaves something to be desired.
Lastly, before our full review, I have a description straight from the developers website to help get you even more stoked.
'Tiny Trax is the super fun and replayable VR game you've been waiting for!
Childhood imagination comes to life as tiny racers boost around you, jump overhead and drift around bends inches from your face!
Awesome VR gameplay
Inspired by classic slot-car toys like Scalextric, epic tracks are built around your body to make great use of VR.
Steer your vehicle as if it were radio controlled, zipping along walls, dunking underwater, flying overhead, and looping upside-down through ice-caves and space stations!
Addictive arcade fun
Tiny Trax is easy to pick up, and rewards dedication & practice using an innovative drifting/boost-recharge mechanic, invented to provide a satisfying and meaningful drift feel within the context of a slot-car racer.
Stunning scenery
Explore the charming beauty of twelve amazing tracks set across tropical islands, volcanoes, ice caves and outer-space – all constructed around you in dazzling VR!
Online multiplayer
Tiny Trax rewards plucky driving, so pick a vehicle and race with delight through four spectacular cups, competing in real-time with friends in races for up to four players!
Tiny Trax introduces a unique way to enjoy racing in VR. Play for any length of time, as often as you want, either in single player or with friends online!
What are you waiting for?'
Audio: 
Realistic sounds in 3D. The race cars sounds are the focal point,naturally. The background sounds still play a part, but they dont interfere with the primary sounds of the cars. Aside from that, there isn't too much to truly mention with the audio. I do firmly feel that they nailed the 3D sound very well. It's so off putting in VR games when the sound does not directionally match the area in which you're viewing. But since nothing really jumped out at me in terms of sound effects, I can't give it a perfect score.8/10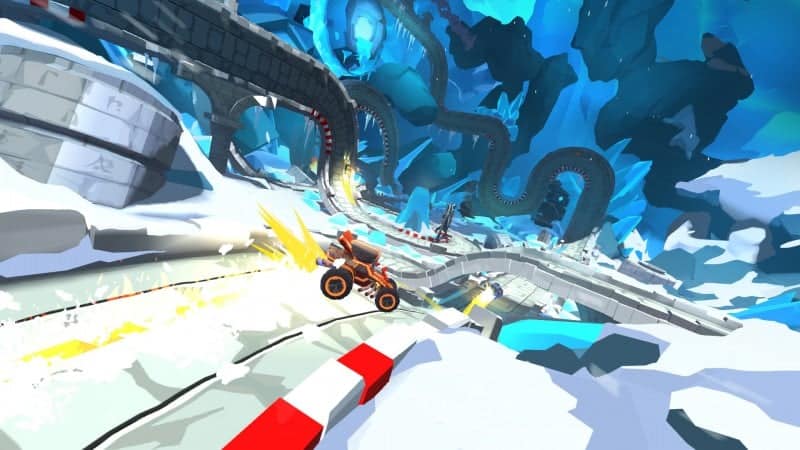 Soundtrack: 
The soundtrack is absolutely a fun and exciting romp for your ears. The songs that I heard and paid attention to evoked memories of Sonic the Hedgehog and Crash Bandicoot soundtracks. They were never speific to one track, it seemed, something that the unrealistic racing games usually specialize in. Or if they were different, they were never different enough that I was able to catch it. The other great thing about the soundtrack was that it was never too repetitive. You focus on the cars and the sounds in the world around you and the fun music is a bonus. 7/10
Visuals: 
Vibrantly bright landscapes that envelope these tracks. They range from frozen tundras to villainously ominous volcanoes to pirate booty filled beaches to space stations (there's more but I won't spoil them for you). I swear these are so detailed with the most fantastical little minute features. You want to pay attention to the race but also, you're so much in awe of the actual beauty (literally) all around you, that you want to stop and admire it all. I notice no clipping, no ghosting, no tearing. I noticed no visual inconsistencies whatsoever. The visuals were so heavily detailed and rich in color that, no lie, after I took my PSVR off, I was saddened how bleak and dank my apartment was in comparison. If anything this game keeps you in it to escape your own real life! 10/10
Gameplay: 
The way a racing game on VR should be. The first racing VR game that didn't make me have overwhelming motion sickness. It makes more sense to view them from a 3rd person point of view. First person VR racing has too much realism on the inside when your focus is supposed to be on what is happening through both your windshield and side windows. Tiny Trax brings slot racing to video games in the most immersive way imaginable. The difficulty was something that I was going to mention, but it appears as though Futurlab just emailed me a memo stating that they have a small patch that makes it easier for new comers to be able to jump in and not feel overwhelmed by the difficulty of the game. The vanilla version of the game did have me ending in 4th place a lot at first with me getting 3rd place the more I played and then 2nd later on. I thought it was actually the perfect balance to force you to learn. However, if you want to slide into it easier, make certain to get that patch. 
The core gameplay is racing around a track featuring loops, straightaways, dastardly curves and other racetrack standards. The unique gameplay feature here is the drifting around turns. If timed right you can achieve proper boost refilling so that when you hit that next straightaway you can gain some distance and potentially beat out that slot car that is just ahead of you. This mechanic is fantastic. It's probably my favorite part of the game. It gives you a meter with a green block at the tail end of the meter and if you drift properly your dial will rest in the green block. The longer you can keep it in that green block, the more boost you achieve.  But not only that, you get around the corner properly. It reminds me oh so much of the good ol' days if Tony Hawk games with their balance meter system. It's rewarding and satisfying and if you fail, you only have yourself to blame because it is anything but a broken mechanic. So you just curse at yourself a little and try it again on the next curve. All in all the gameplay is fun and challenging and I will just come out and say that this game is a reason to get a PSVR. Hands down. It has no real kinks or issues that VR games have been plagued with and it stands alone in terms of gameplay. I don't care what anyone says. It deserves the full 10/10.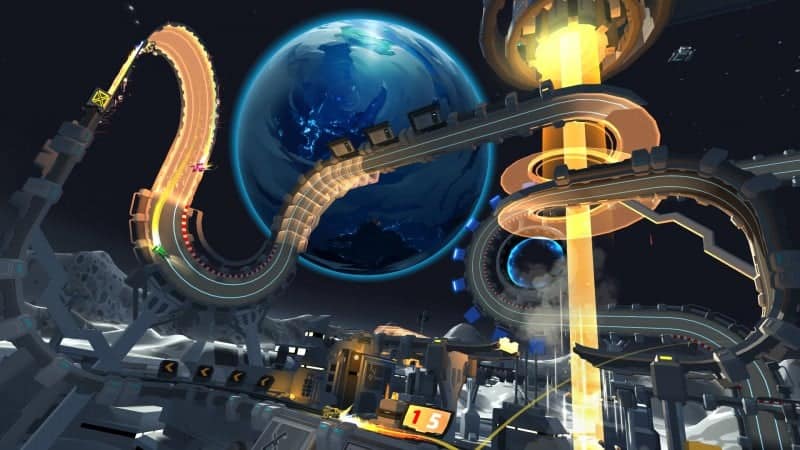 Replay-ability: 
This game is fun to play time and time again. You don't have to have a reason. You can just pop the headset on and get back to slot car racing. Heck, there's even multiplayer for the game. However, when I tried to find any matches, I got zero to show up. I do not know if that is something that was wrong on my end or if the game just had 0% of users playing online, so I didn't get a chance to test it. If nobody ever ends up playing online, then that's a problem, but somehow I doubt that that is a thing. There is a finite amount of modes and tracks obviously, but you can always play them over and over and beat times and places. 7/10
VR Pros and Cons: 
Easy menu to navigate through. Look at what you want to select and then press X. You gain so much depth being immersed the first person in a 3rd person racing game. You can adjust the track height and distance away from you which I thought made focusing on and watching the race occur so much easier on the eyes. The controller setup is the easy one, where you simply pop on your PSVR and put on your headphones, grab your DualShock 4 and just start playing. The game does not require that you have to have the PS Move controllers or you don't have to face the camera and steer with your hands as if you're holding a steering wheel virtually. They made a great choice to use the core controller setup and I applaud them for that.
There was some slight motion sickness that was onset slowly and only became unbearable maybe after an hour.  But a quick drink of cold water and a walk around my apartment helped me regain my equilibrium. This is the least amount of sickness I've experienced thus far in a VR game. Your mileage may vary, obviously. Other than that, I only thought that some of the small core mechanics of the game were hindered by the VR. Such as, you can change lanes by pressing a button in the game, but when the car is so far away from you on the track you can't quite tell if you're in the same lane or separate lanes already. But other than that, I felt that this game was the way that a slot racing game should be translated to video games. It's a solid VR for certain. 9/10
If you wish to buy this game, it is absolutely available now digitally on PSN. Click
here
to purchase it!
Stay tuned here on Hackinformer.com for more PSVR reviews and follow us on Twitter
@Hackinformer
If you like the author, you can also follow him on Twitter
@V1RACY