Developer gdljjrod release his Homebrew Application called "Switch Adrenaline" which does exactly what the name says. It switches your Adrenaline Version with the one you desire. Be it version 3 or the latest 5.1. This tool will also let you update your Adrenaline Installation if a new version gets released. This tool can't install Adrenaline by itself though so in order for it to work you need to already have Adrenaline installed either manually or with Freaklers Adrenaline Easy Installer.
How do I use this? It's pretty much straightforward
Simple Warning before: DO NOT use this on a PSTV if you have a USB Stick mounted as Memory Card. It WILL screw up your Installation (Thanks to ManekiNeko for the Info).
1. Download the latest .vpk and install it on your Vita (If you have TheFlows Download_enabler plugin you can directly download this to your vita)
2. Open the App and if you haven't updated to Adrenaline v5.1 yet it will directly prompt you to update to the latest version


(Yep there's a typo there. See if you can find it ;))
3. If the download finished you're now at the Main Menu of Switch Adrenaline.

4. Just select any Adrenaline version you want to downgrade to now and confirm the install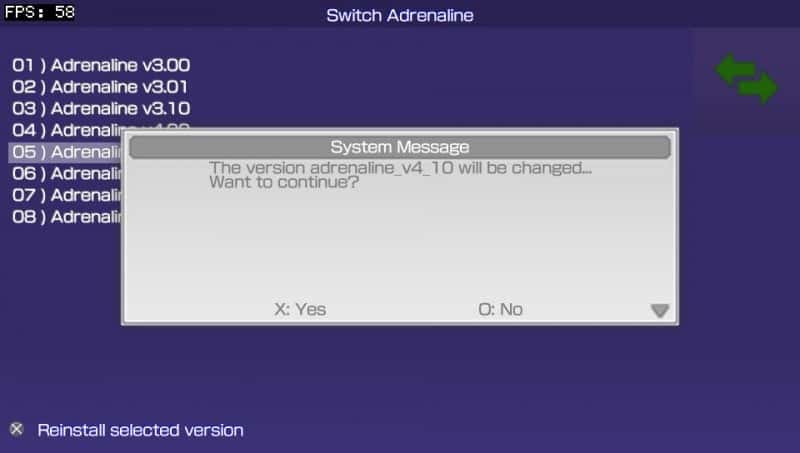 5. You're done. It's as easy as that. Just start Adrenaline up now and it'll boot the version you just installed.
This is a nice little homebrew in case you ever need to downgrade Adrenaline for some reason or just want a simple Homebrew to update Adrenaline. If you already have Adrenaline Easy Installer you can also do the same though.
Source: gdljjrod