Yifan is currently working on creating a 3G PSVita PCI Card that will allow you to use SDCards in your PSVita but he also released something nice for every Playstation TV owner. Playstation TVs have USB ports and thanks to TheFlow you can also mount a USB as your Memory Card.
For this, to work you need to open Vitashell after every boot and then assign the USB Stick as the memory card. Since we will be able to run Henkaku from cold boot soon thanks to Ensō we could launch plugins and unsigned homebrew directly after boot. So Yifanlu made a plugin that utilizes code from TheFlow to directly mount a USB connected to a Playstation TV at boot. This can also be used with normal Henkaku but makes much more sense with Ensō
Here is the changelog and instructions by Yifanlu:
First, you need to install Ensō and use VitaShell to mount your USB drive as ux0. This will copy the required files to your USB drive. Unmount ux0 after the files are copied.
Next, you should move ux0:tai/config.txt on your original memory card to ur0:tai/config.txt if you made changes or just delete ux0:tai/config.txt if you have not made changes. If you have a PSTV or LCD model, you must also delete config.txt from your internal memory. You can mount imc0 from VitaShell and delete imc0:tai/config.txt if it exists.
Finally, modify ur0:tai/config.txt and add ur0:tai/usbmc.skprx under the line that says *KERNEL. You should always use this file to install plugins from now on. Also copy usbmc.skprx to ur0:tai.
Here is an example of how the config.txt should look like (Just ignore all the other plugins):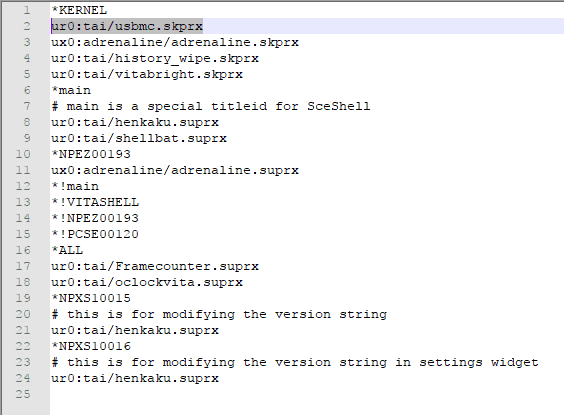 Source: Yifanlu