Hey everybody,
Recently I had the honor and privilege to pick the brain of the amazing artist Mr. Nzaki *aka @Nzaki0716
You may not have heard of that name before or know him but you however may have heard about or even seen pictures of his creations already!
He is the man behind the stunning custom PSP's & Vitas with an eye for beauty unlike anyone else. He dazzles us with his art (as you can see from the pictures) and doesn't do all of this for the money, but as a tribute to the developer's and journalists who share the dedication and work hard for the gaming consoles we love so much!
In his own wonderful way he has done so much for anyone lucky enough to touch, let alone own, one of his works of art. So without further ado here is my interview with a man I call friend Nzaki: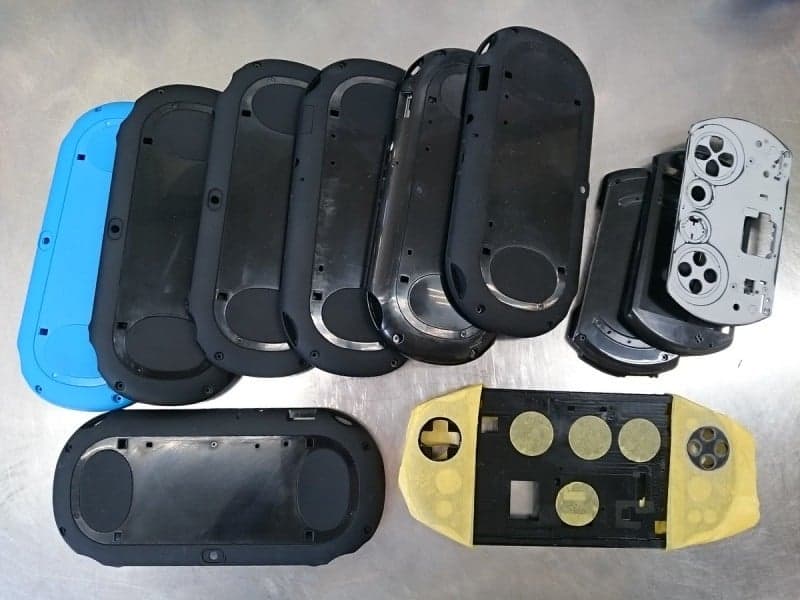 What inspired you to do the custom colored PS Vita/PSP Go?
Nothing in particular.
I am a painter, so I paint anything.
I painted a cellular phone before I painted a game machine.
What do you do when you are not making art with Sony handhelds?
I think mostly I'm working at Jennifer's office as an assistant photographer and a news reporter.
In my spare time, I play PoKeMoNGO or watch Hackinformer.com for hacking the game-machine's while eating German sweets.
What's the reason you make your art?
In the meaning called the overall art, there is no particular reason why I make my art.
I'm a professional coloring engineer, so there is my life itself in art.
You know I'm a coloring designer at Tokyo Disney Resort.
I'm thinking about color design all day long.
About PSPgo and PS Vita, I thought about what I could do for all in this industry.
Thereby I decided to make a custom model and offer a development machine.
I offer my custom model developer and blogger because I hope for awaking their motivation.
I want to make the person's information dispatch power strong.
Because the custom model is newsy and attracts the public eye.
When they release a tool, when they write an article in the blog, I want them to use my custom machine as well.
It is my purpose to help the whole hack scene by doing so.
I think that everyone can receive the benefit if the hack scene swells.
What is your favorite video game system?
That's NeoGeo.
I was addicted to The King Of Fighters and Fatal Fury.
In addition to those, I think CP system2.
I have many pieces of motherboards of Street Fighter series.
In the cellular phone game, I love PSPgo the most because I'm associated with it deeply.
Why is it that you will not take money for your art, as in why do you not sell your art?
Rather than art, this is the proof of thanks and friendship to the person whom I recognized.
I never sell my heart.
What system would you like to paint if you could paint any?
I think at least I must paint DreamCast.
Because I have heard MAZIORA DreamCast was priced at 350, 000 yen at Akihabara.
If I paint it  more beautiful,  will the value be raised more?
And I talked with Kouchan how I want to paint 3DS also.
What do you do for your day job? (If you can tell us)
I'm working at the research institute of the color design.
Mainly I plan the color design and engineering of a car and I'm doing the experiment of that purpose.
The research of the theory about color, the research of the pigment and reverse engineering are my main theme.
What was the hardest PS Vita/PSP Go color you ever did?
When all is said and done, the hardest color was Blood Red.
I had re-done that three times.
Blood Red was the most special and difficult color.
One more difficult color, Cosmic Blue is the color that it's easy to paint, but it's the most difficult to show beautifully.
To tell the truth, MAZIORA is the pigment which has weak point in a bright color.
(To tell the truth, MAZIORA is the difficult pigment to let it color brightly.)
Do you find that Gummy treats help with your processes?
Really, it takes about three or four months to make one custom model.
During a production period, I couldn't have had lunch enough for these past several years because I use all of my recess for making custom model.
I eat the gummys during my work.
The gummy doesn't go bad easily even if I put it away for a long time and it's convenient to carry.
My work cannot miss it.
In closing is there anything you would like to say to your many fans and our readers?
Thank you for looking at my custom model and diffusing my work.
All the PS device hacker of the world come to use the custom device made by Nzaki soon(in the future).
I think that will be wonderful if it can be done.
It is my dream.
MAZIORA PLEIADES Crash Bandicoot color shift. Please confirm it @yifanlu @DaveeFTW @kouchan66 pic.twitter.com/nl55VZY4s3

— N崎 (@Nzaki0716) October 25, 2016
Though I say that I prepare the custom model into only the famous hacker, it is not an absolute.
If a reason and the enthusiasm that you are eager to want it reach me, I may make it without hackers.
Because my body is only one, I cannot prepare  every request. But even if it is one, I want to offer many my works. And I hope we all keep up the hack scene.
I want to thank my friend Riddle which gave me such an opportunity.
Thank you very much, please may we be good friends from now on.
And my buddy Kouchan, always thank you for helping me.
Finally everybody of this scene thanks all the members. 
Let's keep up the hack scene together from now on.
N崎 / Nzaki
I want to thank Nzaki and say he is a wonderful man! It has been an honor to be able to bring his words to you!
And for those of you that still don't have enough and want to see even more, you can get an idea of the complexity, time and love put into each project with the following video:
Please give a follow to @Nzaki0716 on twitter to keep up with the art he has to show.
You can also follow his blog here at yahoo Japan make sure you have a translate tool ready unless you can read Japanese.
Thank you for reading and keep doing it for the love of the game.