Before we had HENkaku, we were able to use ePSP and make custom bubbles on the Vita. With the Pboot exploit not getting patched you can still make custom bubbles like VHBL and use them on FW3.60. (Pboot bubbles work on 3.61 but no access to make them, they had to be done before updating.)
Well today, lalalanno posted our forums how you can use the pboot trick to make other homebrew bubbles, just like the VHBL bubble with a easy to use tool that has everything done for you..
Homebrew without VHBL v1.3 tool will download all the files you need to make these homebrew bubbles on the Vita. The only thing is you will need a PSP game, demo, or mini to use as a base, as it's no different then making a VHBL bubble.

Updated:
Download: Homebrew without VHBL v1.6 added TempGpSp + Data
Old version:
Download: Homebrew without VHBL v1.5 added Rin the GB/GBC emulator, ScummVM, NEOGEO CD, MVS NEOGEO
Download: Homebrew without VHBL v1.4 added Rin the GB/GBC emulator
I didn't think we would get so many download request as it keeps overloading the free server we have this on. So here are the emulators in one big RAR file.
Download: Emulators Pack 1.6g
Download: Homebrew without VHBL v1.3
Download: Homebrew without VHBL  v1.2 inculdes SNES, Bookr, and TG16
Download: Homebrew without VHBL V1.1
Once you download the Homebrew without VHBL tool and run it on your PC, it will look like the picture above, click on which homebrew you like to download. Then unzip/unrar the homebrew you just downloaded, for example, GBA.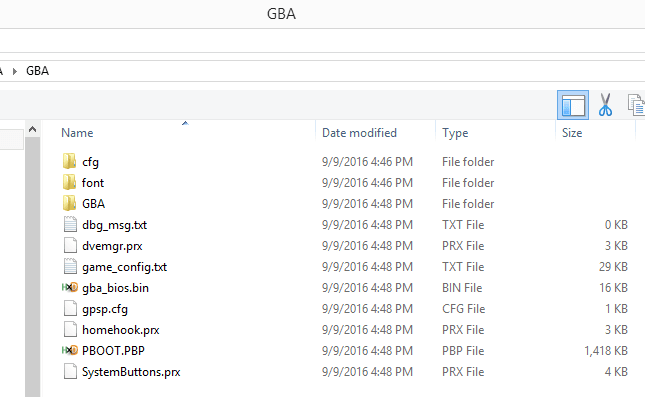 You're going to need to use PSVIMGTOOL or HENkaku and Molecule shell with FTP to put the Pboot and homebrew files into the base game you are going to use, like in the picture below.
Now that you put all the files into your base game, all there left to do is turn off your Vita and go into safe mode then rebuild the database, but if you have any app.db mods (custom themes) they will be wiped away.
The other way is to transfer the base game to your PC using cma or qcma then transfer the base game back on to your Vita and it will change into the homebrew bubble.
You can also use PSVIMGTOOL to install the pboot and files to the base game. You can check out this brief tutorial here.
It's nice to have options like this still but if you have a small memory card you might just want to stick with HENkaku's homebrew & emulators since you don't need any base game for them to work.