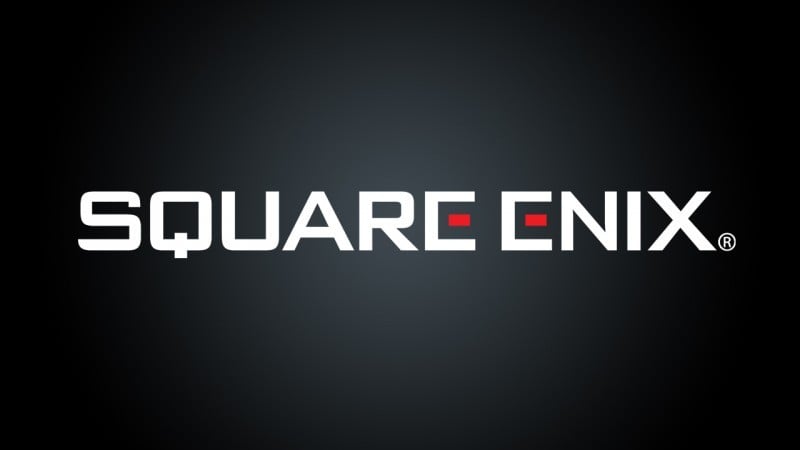 Square-Enix dropped a few things us to see this week. Let's have a quick rundown as to what went down this week.
A new trailer for "A Kings Tale: Final Fantasy XV"
"Taking place in a fictitious 30 years before FINAL FANTASY XV, this game features retro-style inspired graphics centered around a fast-paced combat system with influences from modern gaming. The in-depth combat system blends intense attacks, devastating magic, mighty summons and unique companion attacks into a singular gaming experience through three diverse locations in the world of FINAL FANTASY XV."
As of this writing, this prequel game is GAMESTOP Exclusive in the United States. For EU regions, it could be through Amazon or Game to my understanding.
World of Final Fantasy has 3 editions now, 2 which are exclusive to PS4.
Playstation 4 exclusive Collector's Edition (Exclusive to the Square Enix online Store)
Opening the popup book (which serves as the game box) you will find:
WORLD OF FINAL FANTASY game
Special 80-page hardback art book showing off the stunning World of Final Fantasy creative direction
Original soundtrack featuring enchanting music from the game
Set of three mini figurines including the legendary Cloud, Lightning, and Squall
A Digital Voucher which includes: Sephiroth summon, White Chocobo Mirage, Glow Moogle Mirage, Red Tonberry Mirage, & Japanese VO DLC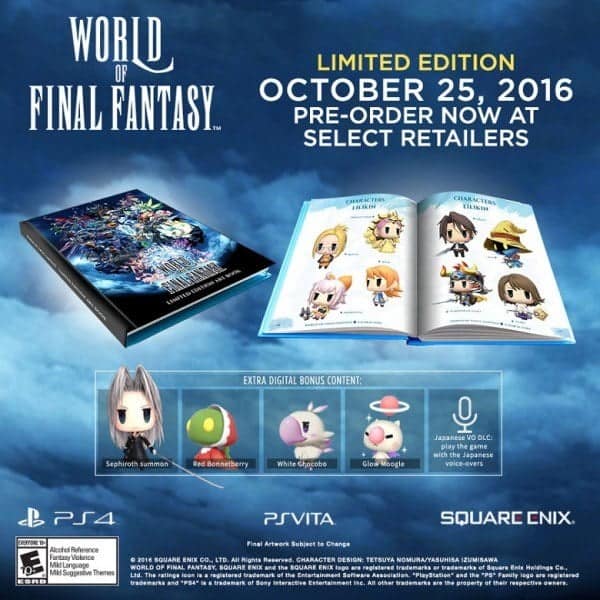 Playstation 4 exclusive Limited edition
Includes:
Game, Art book, and DLC voucher for Sephiroth, Tonberry, Chocobo, Moogle, and Japanese Voice over
As of this writing, available here ($59.99): world-of-final-fantasy-limited-edition-ps4 and World of Final Fantasy
For both PS4 and Vita, Day one Edition
Comes with Voucher for Sephiroth, Tonberry, Chocobo, Moogle, and Japanese Voice Over DLC
Available at retailers everywhere for preorder ($59.99 – Ps4; 39.99 – Vita)
All versions will release October 25th, 2016.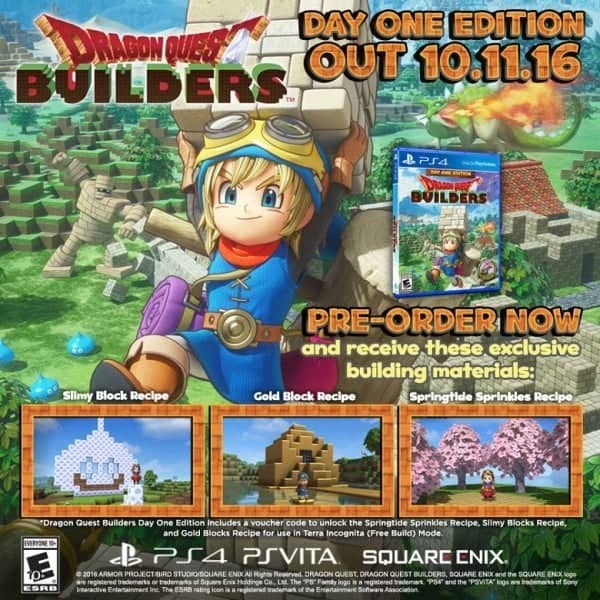 Dragon Quest: Builders gets a Day One edition too.
Comes with a voucher code to unlock: Slimy Block Recipe, Gold Block Recipe, and Springtide Sprinkles Recipe to be used in free mode. It will be available on all versions of the game (PS4 and Vita) no matter where and how it is preordered.
Square has the ball rolling with several big games coming out Fall of this year. Get ready for the JRPG goodness later this year.
Til next time, Mgs2master2 out!