Have you ever wanted to play a buddy game but all your friends we're busy? Well, fret no more  Twin Robots is the game for you!!
Twin Robots for the Wii-U is the game created by Thinice and published by Ratalaika games. It's a 2.5 D platformer where you can switch control between two little robots, They have been imprisoned and need to find their way out of each level and that is, where you come in.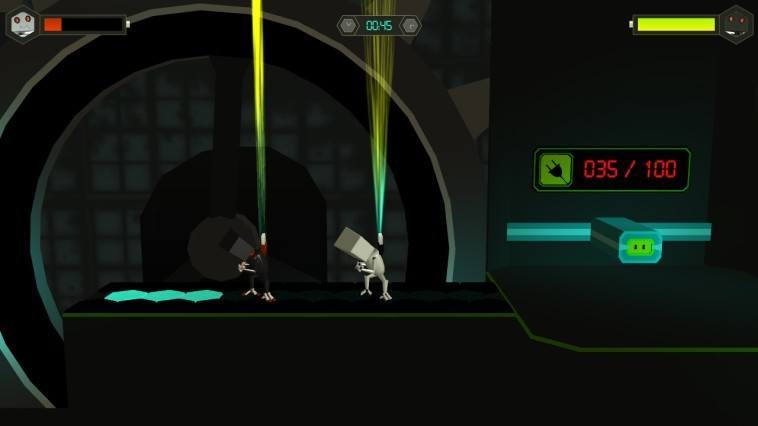 You can play alone or with a friend in local co-op multiplayer, so that each player controls one robot. The games 28 levels can be played  alone or in cooperative mode with a friend thanks to its split screen gameplay. This is what makes this game fun is, you have to play with a clever dose of strategy on maintaining your energy levels so that you can make it through the door at the end of each level.
The puzzle solving will at times require both your little robot friends to work together to help one another solve the challenges ahead of you. This is one of those games that seems to be easy to play, that is until you find yourself yelling at the TV as you watch your tiny friend get crushed and run out of power and this is what keeps you playing Twin Robots.
For the price of $4.99 on the Nintendo eShop for the Wii-U, this game is a good buy for the young ones in your home to learn problem-solving, cooperation and the joy of playing a fun little game.
I have to say the time I have spent playing this I found it to be fun and well worth the price and I would say that it is a wonderful addition to my small Wii-U collection. I will give this game a 7 out of 10 for the fact that all ages can enjoy this title as it is also one of those games that you with kids can enjoy together. Family's who game together stay together and this is one game that will bring about comradery in working together for a common goal, and the joy of helping your new Twin Robot friends succeed.
I would like to thank you all for reading and hope to hear what you have to say in the comments.
And as always keep doing it for the love of the game.