A company EMTEC shared some new information about their three upcoming products: an audio line for unlimited wireless listening Soundunity, a line of wireless storage devices WEYA, and a microconsole GEM Box.
Soundunity
Soundunity is a multi-room, multispeaker audio line. The line consists of six speakers for all rooms, including a a portable waterproof one.
"Whether you've yet to explore wireless audio, you've been disappointed with existing options or are looking to modernize your existing stereo, these speakers are the easiest way to get crystal-clear multiroom
audio at an affordable rate," said Nathalie Lamri, Marketing Director at EMTEC.
Soundunity does not require a local wi-fi network or router. All that you have to do is to pair one Master speaker via Bluetooth which then automatically connects with all other speakers nearby.
As a source can be used music streaming services (including Spotify Connect, Pandora, Amazon Music, YouTube Red, Deezer), online radio stations, personal music libraries, etc. Also, using the Soundunity Streamer, you can bring the music from CDs, records and other formats.
Soundunity will have its free app for iOS and Android to control volume, speakers, playlists, custom zones and more.
The Soundunity line includes:
Soundunity XS – Waterproof, portable, simple and worry-free
○ 6W stereo audio with 6 hour battery life, perfect for the pool or the beach
Soundunity S – Hi-fi sound in a portable compact speaker
○ 15W audio with one driver, dedicated tweeter and 8 hour battery life
Soundunity M – Surprising power brings room-filling audio from a bookshelf-friendly size
○ 30W audio with 2 medium drivers and dedicated tweeter
Soundunity L – Ultimate high fidelity with deep, punchy bass
○ 80W including tweeter, medium driver and bass reflex
Soundunity Home Theater – Soundbar & Subwoofer combine for the ultimate audio
experience
○ 65W via 2 tweeters and 4 medium drivers, plus 35W subwoofer for sofa-rattling
bass
Soundunity Streamer – Quickly and easily modernize existing stereos
○ Affordable way to add wireless capability to existing audio setups
Soundunity will be able to connect up to 30 speakers and will start being sold in early 2016. The price is unknown for now.
More information: www.emtec-soundunity.com
WEYA
WEYA, standing for "WhereEver You Are", is a line of small, lightweight and portable wireless storage devices GoPhoto, GoMusic, and GoMovie.
Using the WEYA line and the devices' own local Wi-Fi netwoek, you will be able to keep your data organized and accessible on the go.
"The WEYA line is a travel companion for your mobile devices, ensuring you never run out of
storage or lose precious memories again," said Nathalie Lamri, Marketing Director at EMTEC.
You will be able to access the library to edit, customize and transfer the files using mobile apps. Here's the companion app of GoPhoto:
The WEYA connected storage line includes:
GoMovie – 1TB – Watch your entire library of movies and TV shows from anywhere, all
managed via free mobile app
GoMusic – 64GB – Play music wirelessly from the device on any Bluetooth speaker, and
share playlists with friends to keep the party rolling
GoPhoto – 64GB – Back up and share photos and videos, and never worry about losing
a photo or running out of storage
WEYA will be available for purchase in fall 2016. The price is unknown for now.
More information: www.emtec-weya.com
GEM Box
GEM Box is an Android-based micro console that we already talked about during CES2015. Now, it has received a huge improvement to already very promising list of features, including apps like Google Play, Netflix, Spotify, or Twitch as well as web browsing, or media apps, and that's a partnership with a streaming service GameFly.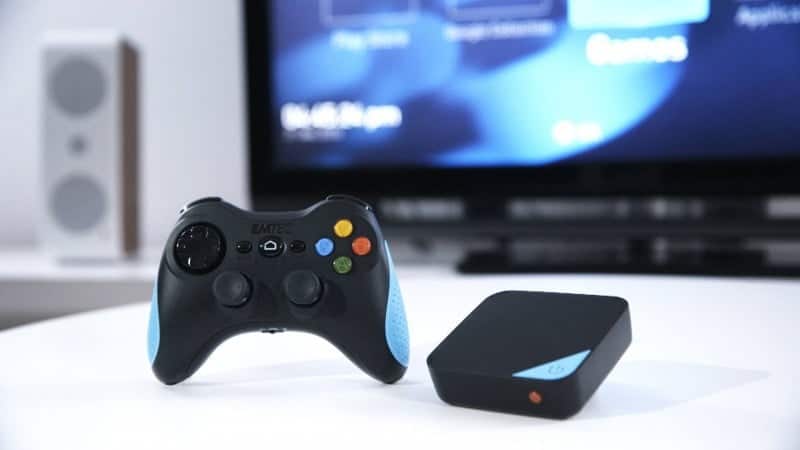 "With GameFly Streaming, the EEMTEC GEM Box turns your TV into a true gaming g hub, giving players
instant access to hundreds of console-quality video games without having to make a huge investment. GameFly Streaming promises the best cloud gaming experience, delivering huge franchises and top titles directly to a player's screen in full HD," said Nathalie Lamri, Marketing Director at EMTEC.
The GameFly Streaming service will cost under $10 per month.
"GameFly has partnered with EM MTEC to deliver the ultimate game-streaming exp perience to any TV. The EMTEC GEM Box microconsole iss designed to optimize streaming quality, bringing games to gamers immediately," said Elad Dror, Senior VP International at GameFly Streaming.
Have a look at the screenshots showing the browser, GEMSTORE and GEM Box UI.
The EMTEC GEM Box will include both the Android-based micro console as well as a premium Bluetooth wireless controller. It will launch in North America in early 2016 for $99.00.
More information: www.emtecgembox.com, https://www.gamefly.com/#!/stream
Source: EMTEC
So what do you think about new EMTEC products? Has any of them caught your eye?