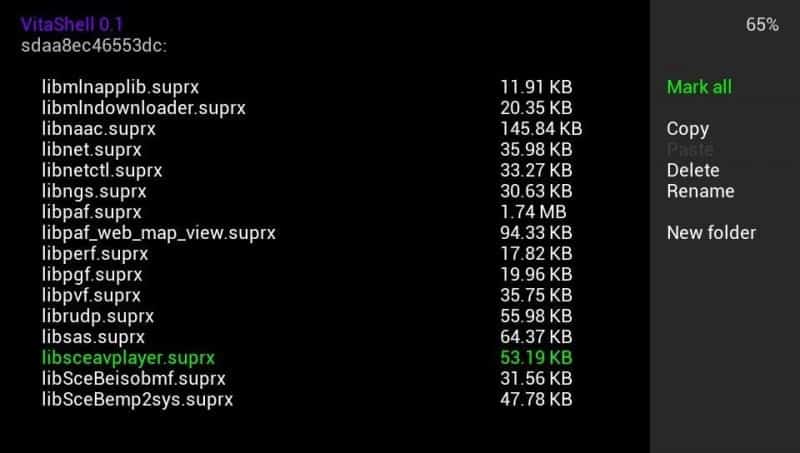 Developer TheFlow has released a new version of his VitaShell, a nice homebrew for rejuvenate that lets you to browse some of your PSVita's internal files with full writing support on pspemu directory and some other extra features, such as a FTP server, images/text/hex viewer, RAR/ZIP/7ZIP extraction, etc…

The new v0.2 brings the ability to sign PSP homebrews, some improvements and fixes for old v0.1 bugs or crashes, and UI changes.
This is the complete changelog of v0.2:
- Added ability to sign PSP homebrews.
- Added sleep prevention when using FTP, deleting and copying files.
- Added a scrollbar.
- Added date and time to info bar.
- Added correct enter and cancel buttons assignment.
- Added some cosmetic changes.
- Fixed crash when deleting marked entries.
- Copied entries now still rest in clipboard after pasting them.
- The application now cleans itself before launching homebrews.
Furthermore, with v0.2 you can also create PSP homebrew bubbles, as the developer himself suggests:
There are 3 steps to create a PSP homebrew bubble:
1) Go to your desired homebrew folder at /PSP/GAME/ where there's the EBOOT.PBP. Press X on this file. If it isn't signable, you'll get the 'Cannot sign this file' or 'Error 0xFFFFFFFE' error. If you have successfully signed the file, a PBOOT.PBP should have been created and EBOOT.PBP renamed to EBOOT_ORI.PBP.
2) Copy any EBOOT.PBP and __sce_ebootpbp file to the current folder.
3) Rebuild database and enjoy.
The compatibility is low, because the homebrews that can be created will be launched from the PS Vita without ANY additional loaders like VHBL, TN-V or ARK. For example static elf's are not supported by original PSP loader.
Download: VitaShell v0.2