New emulators seem to be popping up everywhere this year from the Wii U to the PS2. Now there are a lot of fake websites out there claiming to have 3DS emulators just like the PS3 jailbreak, PSVita and so on. These website are filled with surveys to fill out and other obnoxious pop-up ads that just keep on coming and never letting you download any files. Then there are those websites that let you download files and install these fake 3DS emulators but are filled with unwanted programs and spyware.

Right now there are three emulators being worked on and are in very early development. The first one is called 3dmoo, there isn't much info on this emulator and the last time it was work on was 9 months ago, give or take, but here is what the readme has to say about it.
"3DS Emulator Prototype
To dump the required data archives from a real 3DS run this 3dsx file http://www.mediafire.com/download/d7ffldgk3v5s2ne/data_collector(2).3dsx and press A.
data_collector instructions Press A to start standard data collection (ExtSaveData and User/GameCard SaveData) B to exit X to start ExtSaveData data collection this mode will try all possible ExtSaveData ids so you have to cancel it by pressing the Y button"
The next one is called Tron3DS , this 3DS emulator can actually run some homebrew on the PC. It also has debugger window so if you were working on a new homebrew or just want to tweak one this could come in hand.  I only tested blargSnes on it and got it to run so this 3ds emulator shows promise that one day it might be able to run 3DS games. The last time it was worked on was February 2015.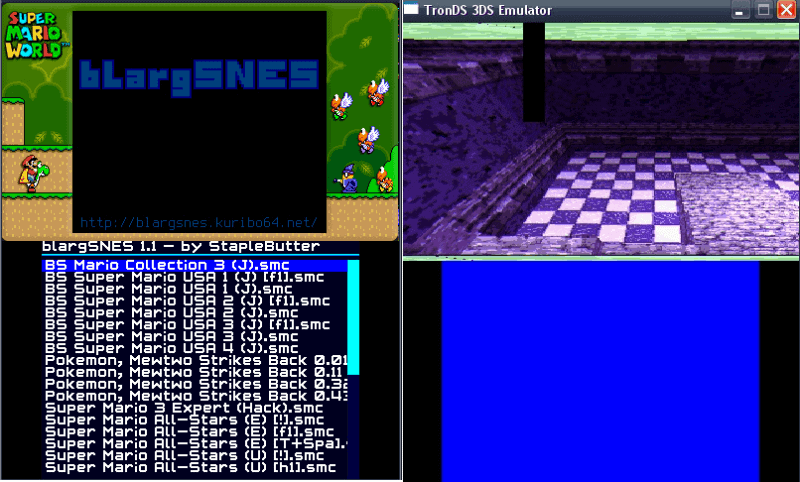 "The first version of TronDS a Nintendo 3DS Emulator, It's very simple and is only capable of running homebrews. It currently supports:
ARM9/ARM11 interpreter for the 3DS app core – the processor core dedicated to running user applications
OS HLE to support userland interaction with the various 3DS OS services
Framebuffer rendering
Debugger with ARM11 disassembler, register view (written in C#)"
You can grab it here.
The last one is called Citra and this 3DS emulator is the best of all of them. Citra is a work-in-progress and can currently emulate some things with success, such as different homebrew programs and some games. Last December they made a breakthrough and were able to load Ocarina of Time 3D for the first time. It was shown running almost at full speed on Citra, with the help of OpenGL renderer. There are a few homebrew demos available, including emulators for other systems running inside of the 3DS emulator, just remember that this is is a work in progress and some games won't run at full speed. Here is Super Monkey Ball3D running in Citra.
Citra can, ostensibly, "play" many different games, including The Legend of Zelda: Ocarina of Time, and Animal Crossing. Many games, however, will not load at all, only showing a black screen. Many other games will only show the title screen and then freeze, or crash.
You can expect many games to run slowly, though, and to exhibit many gameplay and graphical glitches.
If you're interested in 3DS emulation as an experiment, you may gain something out of trying Citra, but if you're simply looking to play games then stick to your 3DS handheld.
We're pleased to say that Citra works on all three major desktop OSs!
Citra is compatible with 64-bit versions of Windows, Linux, and OS X. In the far future, mobile platforms may be targeted as well.
At this point, Citra is simply not fast enough to run most commercial games at full speed, even if your computer can run the most demanding of PC games just fine.
The only hard requirement for Citra is a graphics chip that supports at least OpenGL 3.3, but you definitely want a processor with the highest possible performance per core.
You can grab it here.
So don't fall victim to any of those other fake website claiming to have a 3DS emulator as Citra is going to be the best bet to play 3DS games on your PC. Just remember that this is still a work in progress.